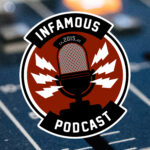 Disco is Dead! But Movies are Forever!
This week on the podcast Brian and Johnny head way back to the "ye ole time of yore… 1975-1979"! That's right, they are knocking out the 70's in one fell swoop!
Brian's Movies
Monty Python and the Holy Grail (1975)
Rocky (1976)
Superman: the Movie (1978)
Animal House (1978)
Grease (1978)
Invasion of the Body Snatchers (1978)
The Jerk (1979)
Breaking Away (1979)
Alien (1979)
Apocalypse Now (1979)
Johnny's Movies
Jaws (1975)
Close Encounters of the Third Kind (1977)
Grease (1978)
Halloween (1978)
Animal House (1978)
Superman (1978)
Alien (1979)
The Black Hole (1979)
Time After Time (1979)
The Warriors (1979)
Infamous Shirts for Naked Bodies

…

You'll feel "shirty" when you buy our gear from the Flying Pork Apparel Co.
New Comics This Week – Sponsored by comiXology

Brian
DETECTIVE COMICS ANNUAL #3
NEW MUTANTS #6 DX
SEX CRIMINALS #26
STAR WARS #2
X-MEN #5 DX
Contact Us
The Infamous Podcast can be found wherever podcasts are found on the Interwebs, feel free to subscribe and follow along on social media. And don't be shy about helping out the show with a 5-star review on Apple Podcasts to help us move up in the ratings.
@infamouspodcast
facebook/infamouspodcast
instagram/infamouspodcast
stitcher
Apple Podcasts
Spotify
Google Play
contact@infamouspodcast.com
Our theme music is 'Skate Beat' provided by Michael Henry, with additional music provided by Michael Henry. Find more at MeetMichaelHenry.com.
The Infamous Podcast is hosted by Johnny Pottorf and Brian Tudor and recorded in Cincinnati, Ohio. The show is produced and edited by Brian Tudor.



Subscribe today!