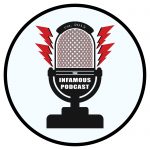 Not Every Closed Door is a New Opportunity
This week on the podcast Brian is joined by frequent guest ScienceFiction.com contributor Darryl Jasper, and they are talking about Locke & Key Season 1, the first half of Picard Season 1, and the 2020 Oscars.
Locke & Key (2020)
Summary
Rendell Locke is murdered at the hands of former student Sam Lesser, so his wife Nina is forced to move with her three children Tyler, Kinsey, and Bode from Seattle to Matheson, Massachusetts and take residence in Rendell's family home, the Keyhouse. The children soon discover a number of mysterious keys throughout the house that can be used to unlock various doors in magical ways. However, they become aware of a demonic entity that is also searching for the keys for its own malevolent purposes.
Cast & Crew
Main Cast
Darby Stanchfield as Nina Locke
Connor Jessup as Tyler Locke
Emilia Jones as Kinsey Locke
Jackson Robert Scott as Bode Locke
Petrice Jones as Scot Cavendish
Laysla De Oliveira as Dodge
Griffin Gluck as Gabe
Recurring Cast
Bill Heck as Rendell Locke
Aaron Ashmore as Duncan Locke
Sherri Saum as Ellie Whedon
Thomas Mitchell Barnet as Sam Lesser
Genevieve Kang as Jackie Veda
Hallea Jones as Eden Hawkins
Kolton Stewart as Brinker Martin
Asha Bromfield as Zadie Wells
Jesse Camacho as Doug Brazelle
Eric Graise as Logan Calloway
Felix Mallard as Lucas Caravaggio
Steven Williams as Joe Ridgeway
Coby Bird as Rufus Whedon
The Crew
Executive producer(s)
Carlton Cuse
Meredith Averill
Lindsey Springer
Tim Southam
Michael Morris
Joe Hill
John Weber
Frank Siracusa
Aron Eli Coleite
Chris Ryall
Ted Adams
Lydia Antonini
Andy Muschietti
Barbara Muschietti
David Alpert
Rick Jacobs
Producer(s)
Ra'uf Glasgow
Kevin Lafferty
Production location(s)
Toronto, Ontario
Lunenburg, Nova Scotia
Cinematography
Tico Poulakakis
Colin Hoult
Editor(s)
Matthew V. Colonna
Lilly Urban
Paul Trejo
Andrew Behrens
Philip Fowler
40–56 minutes
Production company(s)
Genre Arts
Hard A Productions
Circle of Confusion
IDW Entertainment
The Keys
Anywhere Key
The key lets you travel to anywhere in the world you want to go — if that location has a door that you can picture in your mind.
Echo Key
This Key is used to summon an "echo" of a deceased person from Keyhouse's well house.
The Ghost Key
The key allows the user to leave their body and become a ghost when inserted into a specific Keyhouse door, (the one with the same skull symbol printed on the key itself). While a ghost, the user can fly around and interact with other ghosts but is unable to be seen by the living.
Head Key
This key allows the user to open a literal door to the inside of a person's head, giving them access to that person's memories, knowledge, and emotions.
Shadow Key
This key is incredibly powerful when combined with the Crown of Shadows. The key and crown together allow the person wearing them to control a group of shadow-like creatures.
Mending Cabinet Key
This key has to be used with the Mending Cabinet mending anything locked into the cabinet.
Music Box Key
This key lets the person who inserts it inside its accompanying magical music box to have complete control over others.
Matchstick Key
Really a fancy lighter. A really, really scary and effective, fancy lighter.
Identity Key
Allows the user to change the visual appearance of a person after inserting the key into the chin of that person. And you can change the "identity" of people other than yourself.
Mirror Key
Opens a mirror portal to "The Prison of the Self," a location many people have died trying to escape.
Plant Key
The key allows the user to control any plant.
Omega Key
This key opens the Black Door down in The Sea Caves. We don't know a lot about the world that lies beyond that door, but we do know it's where the demon Dodge came from in the first place, back when Rendell and his friends opened the door when they were teens and a "glowing bullet" containing Dodge's demon essence hit Lucas.
Picard (2020)
Summary
Many years have passed since Data's demise and, following the destruction of Romulus and the withdrawal of Federation support for its evacuation, Jean-Luc Picard has resigned from Starfleet in protest. Having recurring dreams about Data, Picard meets the mysterious Dahj, whom he discovers is a biological synthetic based on Data's positronic brain, created by Dr. Bruce Maddox, making her Data's daughter. However, Dahj is murdered by Romulans. Learning that she has a twin, Picard makes it his mission to preserve the legacy of his old friend.
Cast & Crew
Main Cast
Patrick Stewart as Jean-Luc Picard
Alison Pill as Agnes Jurati
Isa Briones as Dahj and Soji Asha
Michelle Hurd as Raffi Musiker
Santiago Cabrera as Cristóbal "Chris" Rios
Harry Treadaway as Narek
Evan Evagora as Elnor
Recurring Cast
Dinero as Number One, Picard's pitbull
Jamie McShane as Zhaban
Orla Brady as Laris
Peyton List as Lieutenant Rizzo
Tamlyn Tomita as Commodore Oh
Cast Reprising Roles
Brent Spiner as Data
Jeri Ryan as Seven of Nine
Jonathan Del Arco as Hugh
Jonathan Frakes as William Riker
Marina Sirtis as Deanna Troi
The Crew
Executive producer(s)
Patrick Stewart
Michael Chabon
Akiva Goldsman
James Duff
Alex Kurtzman
Heather Kadin
Rod Roddenberry
Trevor Roth
Production location(s)
Santa Clarita, California
Production company(s)
Secret Hideout
Weed Road Pictures
Escapist Fare
Roddenberry Entertainment
CBS Television Studios
Distributor
CBS Television Distribution
Episodes Aired
Episode 1
"Remembrance"
January 23, 2020
In 2399, retired admiral Jean-Luc Picard is interviewed about his retirement: In 2385, two years prior to the Romulan supernova,[N 1] an attack on Mars by rogue synthetics resulted in the destruction of the armada tasked with evacuating the Romulan system's inhabitants; Starfleet banned synthetics and reneged on its promise to aid the evacuation, prompting Picard to resign and retire to his vineyard. A woman named Dahj kills Romulan assailants after they infiltrate her apartment and murder her boyfriend. She experiences visions of Picard; after seeing his interview, she seeks him out. Picard visits the Starfleet Archive Museum, where he examines a painting by the late Lieutenant Commander Data that features a woman who resembles Dahj. Dahj asks Picard for his help, but is killed by the Romulan assassins. Picard questions scientist Agnes Jurati about the possibility of creating a sentient organic-passing android, deducing that Dahj is actually Data's daughter; Jurati tells him Dahj must have an identical twin sister. At a Romulan reclamation site located inside a Borg cube, Romulan Narek meets Soji Asha, the sister in question.
Episode 2
"Maps and Legends"
January 30, 2020
A flashback shows a normal day at Mars Utopia Planitia Shipyards 14 years ago, followed by the deadly attack by the synthetics. Following Dahj's death, Picard seeks to track her twin Soji down. With the help of Laris, he investigates Dahj's apartment and finds the place completely scrubbed. Laris suggests that the assassins may have been part of the Zhat Vash, an organization even more secretive than the Tal Shiar that holds a deep-rooted hatred of synthetics. At the Romulan reclamation site, a relationship between Soji and Narek is flourishing. Picard appeals to Starfleet for a ship, but is denied by Admiral Kirsten Clancy. Picard attempts to assemble his own crew, inviting Agnes Jurati and the estranged Raffi Musiker. Meanwhile, Clancy informs Commodore Oh of Picard's request and asks her to look into it. Oh notifies the (secretly Romulan) Lt. Rizzo to have her undercover operative "stay on mission". Via holo-communicator, Rizzo speaks to Narek, her operative and brother. Rizzo warns Narek that if he does not persuade Soji to reveal the location of other synthetics, she would be forced to take more extreme measures.
Episode 3
"The End is the Beginning"
February 6, 2020
A flashback reveals how, in the aftermath of the synth attack on Mars, Picard demanded that Starfleet either agree to his evacuation plan or accept his resignation. They chose the latter; his execuitive officer Raffi, who suspected Romulan involvement in the attack, was fired. In the present, Picard asks Raffi for help; she throws him out, but recommends a pilot for his mission, Chris Rios. Meanwhile, aboard the Borg cube, project director Hugh, a former Borg drone, takes Soji to see a group of Romulan former drones. One of the reclaimed Romulans declares Soji to be "the destroyer" and tries to kill herself; Soji uses her enhanced speed to stop her. Narek's sister warns him not to get emotionally attached to Soji. Picard, Laris, and Zhaban are attacked by Zhat Vash operatives. They kill all but one, who also calls Soji "the destroyer" under interrogation, before dissolving in a pool of acid. Dr. Jurati is approached by Commodore Oh and tells her nearly everything she knows about Picard, before deciding to join Picard on his journey. Picard and Jurati board Rios's ship La Sirena and find Raffi already there. She directs them to Freecloud, where she believes Bruce Maddox is located.
Episode 4
"Absolute Candor"
Jonathan Frakes
February 13, 2020
Picard has Rios make a detour to a planet called Vashti, where he helped relocate a group of Romulan refugees before the synth attack on Mars. He beams down and goes to the temple of the Qowat Milat, warrior nuns who originally helped with the evacuation and have taken on a boy named Elnor, whom Picard had grown close to. At the temple, Picard meets the grown-up Elnor, who is resentful for Picard abandoning him but who has also completed his Qowat Milat training, although he can never be one since they're all women. Picard asks Elnor to join him on his quest. Elnor initially refuses but changes his mind when a group of Romulans attacks Picard. Picard and Elnor beam up to La Sirena, where Rios and Raffi are fighting a battle with a local warlord flying an obsolete Romulan Bird-of-Prey. Then a strange ship shows up and helps La Sirena disable the Bird-of-Prey but is damaged in the process, forcing the pilot to beam over to La Sirena. Picard is shocked to see that the pilot is Seven of Nine. Meanwhile, aboard the Borg cube, Soji is trying to find out more about the Romulan ship that was assimilated by that cube and about "the Destroyer". Narek offers to get her information on the ship, but they have a falling out when he expresses doubt about her past. Rizzo tells Narek that he has a week to get the location of the other synths from Soji before she switches to her own methods.
The Oscars (2020)
Oscars winners https://www.cnet.com/news/oscars-2020-winners-the-full-list-of-results/
Best picture
Parasite
Best actress
Renée Zellweger, Judy
Best actor
Joaquin Phoenix, Joker
Best director
Bong Joon-ho, Parasite
Music (original song)
"(I'm Gonna) Love Me Again" from Rocketman
Music (original score)
Joker
International feature film
South Korea, Parasite
Makeup and hairstyling
Bombshell
Visual effects
1917
Best film editing
Ford v Ferrari
Best cinematography
Roger Deakins, 1917
Best sound mixing
1917
Best sound editing
Ford v Ferrari
Best supporting actress
Laura Dern, Marriage Story
Documentary short feature
Learning to Skateboard in a Warzone (If You're a Girl)
Documentary feature
American Factory
Best costume design
Jacqueline Durran, Little Women
Best production design
Once Upon a Time… in Hollywood
Live-action short film
The Neighbors' Window
Best adapted screenplay
Taika Waititi, Jojo Rabbit
Best original screenplay
Bong Joon-ho, Parasite
Animated short film
Hair Love
Animated feature film
Toy Story 4
Best supporting actor
Brad Pitt, Once Upon a Time… in Hollywood
Infamous Shirts for Naked Bodies

…

You'll feel "shirty" when you buy our gear from the Flying Pork Apparel Co.
New Comics This Week – Sponsored by comiXology

Brian
BATMAN PENNYWORTH RIP #1
NEBULA #1 (OF 5) YOUNG VAR
STAR WARS RISE KYLO REN #3
X-MEN #6 DX
Contact Us
The Infamous Podcast can be found wherever podcasts are found on the Interwebs, feel free to subscribe and follow along on social media. And don't be shy about helping out the show with a 5-star review on Apple Podcasts to help us move up in the ratings.
@infamouspodcast
facebook/infamouspodcast
instagram/infamouspodcast
stitcher
Apple Podcasts
Spotify
Google Play
contact@infamouspodcast.com
Our theme music is 'Skate Beat' provided by Michael Henry, with additional music provided by Michael Henry. Find more at MeetMichaelHenry.com.
The Infamous Podcast is hosted by Brian Tudor and recorded in Cincinnati, Ohio. The show is produced and edited by Brian Tudor.



Subscribe today!