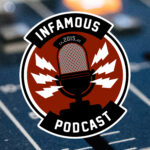 Everything is Permitted Host Julian Brown is Infamous
This week on the show Brian is joined by the Everything is Permitted podcast host Julian Brown. They are talking geek podcasting, Star Wars, Star Trek, Picard, movies, comics and more! Make sure to check out Everything is Permitted Season 3 on March 17th!
Everything is Permitted
Created in the summer of 2018 by Julian Brown and Matt Reppert, Everything is Permitted brings film, gaming and pop culture under one podcast banner. With original segments like The Permitted Minute and new ones like Raiders of the Bargain Bin, Julian, Matt, and the show's newest co-host Brittany Tomes, bring their comprehensive knowledge of all things nerd to the weekly show.
The Crew
Julian Brown
Julian is the host and creator of Everything is Permitted. Along with his co-host Matt, he launched EIP in the summer of 2018. He loves Star Wars and Star Trek equally and likes long walks on the beaches of Risa.
Matt Reppert
Co-host and Raiders of the Bargain Bin Mastermind, Matt is a walking, talking encyclopedia of film, television, and gaming knowledge. He will be the first to admit that he has an unhealthy obsession with steelbooks.
Brittany Tomes
Joining EIP in 2019, Brittany jumped on to become EIP's newest co-host after the season one break. When she's not working at Wade's, she probably thinking about or playing D&D. On EIP, no pun is safe…
Find Everything is Permitted Online
Website
Facebook
Twitter
Instagram
YouTube
Spotify
Apple Podcasts
Infamous Shirts for Naked Bodies

…

You'll feel "shirty" when you buy our gear from the Flying Pork Apparel Co.
New Comics This Week – Sponsored by comiXology

Brian
CABLE #1 YOUNG VAR
NEW MUTANTS #9
STAR WARS BOUNTY HUNTERS #1
STAR WARS DARTH VADER #2
STAR WARS RISE KYLO REN #4 (OF 4)
X-MEN #8
Contact Us
The Infamous Podcast can be found wherever podcasts are found on the Interwebs, feel free to subscribe and follow along on social media. And don't be shy about helping out the show with a 5-star review on Apple Podcasts to help us move up in the ratings.
@infamouspodcast
facebook/infamouspodcast
instagram/infamouspodcast
stitcher
Apple Podcasts
Spotify
Google Play
contact@infamouspodcast.com
Our theme music is 'Skate Beat' provided by Michael Henry, with additional music provided by Michael Henry. Find more at MeetMichaelHenry.com.
The Infamous Podcast is hosted by Brian Tudor and recorded in Cincinnati, Ohio. The show is produced and edited by Brian Tudor.



Subscribe today!