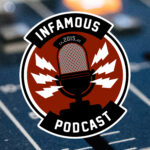 If You Smeeeeellll… What the Ben. Is. Cookin'.
This week on the podcast Brian is joined by Ben Silverio currently from Time II Party With Ben & Erin podcast, and previous from Post-Credits and The Pretentious Film Majors. Brian and Ben will be talking comics, Star Trek, Wrestling and more!
This Week on the Podcast
Avengers Campus Opens in July
MCU – Black Widow
Wrestlemania 36 Predictions
What a Wrestlemania without a crowd can look like!
Time Travel
Ben is New to Star Trek
The Comics Ben (and <cough, cough> Brian) is Behind On
Infamous Shirts for Naked Bodies

…

You'll feel "shirty" when you buy our gear from the Flying Pork Apparel Co.
New Comics This Week – Sponsored by comiXology

Brian
BATMAN #91
FANTASTIC FOUR #20
NIGHTWING #70
ROBIN 80TH ANNIV 100 PAGE SUPER SPECT #1 2000S DERRICK CHEW
STAR WARS #4
Contact Us
The Infamous Podcast can be found wherever podcasts are found on the Interwebs, feel free to subscribe and follow along on social media. And don't be shy about helping out the show with a 5-star review on Apple Podcasts to help us move up in the ratings.
@infamouspodcast
facebook/infamouspodcast
instagram/infamouspodcast
stitcher
Apple Podcasts
Spotify
Google Play
contact@infamouspodcast.com
Our theme music is 'Skate Beat' provided by Michael Henry, with additional music provided by Michael Henry. Find more at MeetMichaelHenry.com.
The Infamous Podcast is hosted by Brian Tudor and recorded in Cincinnati, Ohio. The show is produced and edited by Brian Tudor.



Subscribe today!