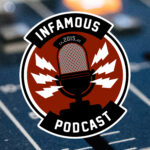 It's War World Time!
This week on the podcast Brian and Darryl are talking about the Picard finale, Westworld Episodes 1 & 2, and some of the coolest Star Wars news this side of the Outer Rim.
Picard Finale
Westworld Episodes 1 & 2
Ahsoka Tano in the Mandalorian (with a little controversy)
Conjecture Corner
Will Ezra and Sabine join Ahsoka in Mando Season 2?
Infamous Shirts for Naked Bodies

…

You'll feel "shirty" when you buy our gear from the Flying Pork Apparel Co.
New Comics This Week – Sponsored by comiXology

Brian
DETECTIVE COMICS #1021
SEX CRIMINALS #28
STAR WARS BOUNTY HUNTERS #2
X-MEN #9
X-MEN FANTASTIC FOUR #3 (OF 4) ELIOPOULOS VAR
Contact Us
The Infamous Podcast can be found wherever podcasts are found on the Interwebs, feel free to subscribe and follow along on social media. And don't be shy about helping out the show with a 5-star review on Apple Podcasts to help us move up in the ratings.
@infamouspodcast
facebook/infamouspodcast
instagram/infamouspodcast
stitcher
Apple Podcasts
Spotify
Google Play
iHeart Radio
contact@infamouspodcast.com
Our theme music is 'Skate Beat' provided by Michael Henry, with additional music provided by Michael Henry. Find more at MeetMichaelHenry.com.
The Infamous Podcast is hosted by Brian Tudor and recorded in Cincinnati, Ohio. The show is produced and edited by Brian Tudor.



Subscribe today!