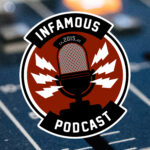 The Movie Industry is Going to Have to Change
This week on the podcast Brian and Darryl, take a look at how the movie experience will have to change due to theater closings, movies foregoing the theatrical release for VOD, and more. Then they are talking Westworld Season 3 Episode 3: The Absence of Field, who is Charlotte Hale, plenty of good choices. And Finally… TIGER KING!
How Can the Movie Industry Evolve
With the global pandemic (wash your hands), the past 3 weekends have had a $0 U.S. Box Office. What can theaters, studios, and moviegoers do to move forward and still celebrate and enjoy movies?
2020 U.S. Box Office News
2020 Worldwide Box Office So Far
West World Season 3
Episode 3 The Absence of Field
If you don't like what you see in the mirror, don't blame the mirror.
Summary
A flashback shows Charlotte on the battlefield during the downfall of Delos' parks. She wakes a host, commanding him to record — and timestamp — a message for Nathan.
In the present, Dolores dresses the body of Charlotte Hale — a new, host Charlotte, with an unknown friend's consciousness inside. The person inhabiting Charlotte's body begins to panic, however, she is told to calm down by Dolores. Dolores reveals that he/she will pretend to be Charlotte Hale in order to gain control of Delos once and for all and that she must return to the company before anyone realizes she is missing.
Airdate
March 29, 2020
Runtime
59 minutes
Writer(s)
Denise Thé
Director
Amanda Marsalis
Tiger King: Murder, Mayhem, and Madness

(Netflix)

Summary

Among the eccentrics and cult personalities in the stranger-than-fiction world of big cat owners, few stand out more than Joe Exotic, a mulleted, gun-toting polygamist and country-western singer who presides over an Oklahoma roadside zoo. Charismatic but misguided, Joe and an unbelievable cast of characters including drug kingpins, conmen, and cult leaders all share a passion for big cats, and the status and attention their dangerous menageries garner. But things take a dark turn when Carole Baskin, an animal activist and owner of a big cat sanctuary, threatens to put them out of business, stoking a rivalry that eventually leads to Joe's arrest for a murder-for-hire plot and reveals a twisted tale where the only thing more dangerous than a big cat is its owner.

Key Players

Joe Exotic
Carole Baskin
"Doc" Bhagavan Antle
Jeff Lowe

Highlight

The disappearance of Don Lewis
Greater Wynnewood Exotic Animal Park
Big Cat Rescue
Myrtle Beach Safari
Infamous Shirts for Naked Bodies

…

You'll feel "shirty" when you buy our gear from the Flying Pork Apparel Co.
New Comics This Week – Sponsored by comiXology

Brian
No New Comics Until the Covid-19 Lockdown Ends
Contact Us
The Infamous Podcast can be found wherever podcasts are found on the Interwebs, feel free to subscribe and follow along on social media. And don't be shy about helping out the show with a 5-star review on Apple Podcasts to help us move up in the ratings.
@infamouspodcast
facebook/infamouspodcast
instagram/infamouspodcast
stitcher
Apple Podcasts
Spotify
Google Play
iHeart Radio
contact@infamouspodcast.com
Our theme music is 'Skate Beat' provided by Michael Henry, with additional music provided by Michael Henry. Find more at MeetMichaelHenry.com.
The Infamous Podcast is hosted by Brian Tudor and recorded in Cincinnati, Ohio. The show is produced and edited by Brian Tudor.



Subscribe today!