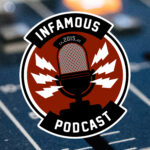 It's a Streaming World… You Just Live in it
This week on the podcast, Brian and Darryl share some standout news from the past week. Then it is time to get into Episode 4 of Westworld "The Mother of Exiles". Finally, they take some time to share some of the things worth streaming while we are all staying at home, and tired of scrolling through Netflix, et al. to find something good to watch.
News Bites
Tom Holland Said to be in 'Venom 2' https://cosmicbook.news/tom-holland-venom-2
Dark Horse Launches Twitch Channel with 'Legends of Korra' Live Reading https://screenrant.com/legend-korra-live-reading-twitch/
Dave Bautista's 'My Spy' Skipping Theatrical Release, Heading Straight to Amazon https://screenrant.com/my-spy-movie-dave-bautista-release-amazon-streaming/
'Star Wars' Editor Felt That 'The Last Jedi' Tried To Undo The Storytelling of 'The Force Awakens' https://geektyrant.com/news/star-wars-editor-felt-that-the-last-jedi-tried-to-undo-the-storytelling-of-the-force-awakens
Westworld Season 3 Episode 4: The Mother of Exiles
"The truth doesn't always set you free."
Summary
William is tormented by nightmares of killing his daughter Emily in Westworld, thinking she was a host. Charlotte wakes William up, needing him to be present at a Delos board meeting to protect the company from Serac. William cleans himself up, and wards off another vision of Emily by telling her it was a conscious decision to kill her. As he leaves, Charlotte comments on his visions of Emily, shocking him.
Believing Dolores has swapped Liam with a host, Bernard and Ashley prepare to infiltrate a private charity event in Los Angeles to abduct Liam. Dolores and Caleb make similar plans after transferring all of Liam's funds out of his account. At the event, Bernard and Ashley grab Liam after he discovers his funds have been lost, but quickly learn Liam is not a host. Bernard runs off with Liam as Caleb chases them down, while Dolores fights with Ashley. Bernard is approached by Martin and Liam's bodyguards, and Bernard realizes Martin is the host when Martin kills the guards. Liam flees, followed by Caleb.
Serac again urges Maeve to help find Dolores, as not only does she hold the encryption key to the Delos data, but also to the Sublime to reunite Maeve with her daughter. He claims that Delos' secret project of mapping of the human mind can improve Rehoboam and prevent humanity from destroying itself after his native Paris was destroyed in a nuclear blast. He knows Dolores had brought five host control modules, "pearls", and coerces an identity broker to reveal a lead to a Singapore organ trade doctor named the Mortician with ties to the Yakuza. The Mortician directs her to the Yakuza's headquarters, and after quickly dispatching the guards, Maeve meets the Yakuza leader, Sato, recognizing him as the Musashi host from Shogun World.
William, Bernard, and Maeve all recognize that Charlotte, Martin, and Sato are all hosts with copies of Dolores' pearl. Dolores, via Sato, tells Maeve that she needs to duplicate herself to prevent Serac from stopping her before critically wounding Maeve. William lashes out at Charlotte on his discovery, and Charlotte has him committed to a mental institution, where he has visions of Dolores as he remembered her from the park. Martin takes Bernard to meet up with Caleb who has cornered Liam, and is soon joined by Dolores, whom Liam recognizes as Lara, the girlfriend he had thought dead.
Directed by
Paul Cameron
Written by
Jordan Goldberg
Lisa Joy
Original airdate
April 5, 2020
Running time
60 minutes
What to Stream During the Lockdown
Darryl
Series
The Witcher (Netflix)
The Expanse (Amazon)
The Boys (Amazon)
Black Mirror (Netflix)
Undone (Amazon)
HM: Stranger Things
Movies
Train to Busan (Amazon)
Moana (D+)
Fighting with My Family (Hulu/Amazon)
Brian
Series
I'm Not Okay with This (Netflix)
Sex Education (Netflix)
Car Masters: Rust to Riches (Netflix)
McMillion$ (HBO)
Mythic Quest: Raven's Banquet (Apple TV+)
Stand-Up Specials
Bert Kreischer: Hey Big Boy (Netflix)
Taylor Tomlinson: Quarter-Life Crisis (Netflix)
Movies
Parasite (Hulu)
The Scheme (HBO)
Marriage Story (Netflix)
Infamous Shirts for Naked Bodies

…

You'll feel "shirty" when you buy our gear from the Flying Pork Apparel Co.
New Comics This Week – Sponsored by comiXology

Brian
Still on LOCKDOWN, no new comics.
Contact Us
The Infamous Podcast can be found wherever podcasts are found on the Interwebs, feel free to subscribe and follow along on social media. And don't be shy about helping out the show with a 5-star review on Apple Podcasts to help us move up in the ratings.
@infamouspodcast
facebook/infamouspodcast
instagram/infamouspodcast
stitcher
Apple Podcasts
Spotify
Google Play
iHeart Radio
contact@infamouspodcast.com
Our theme music is 'Skate Beat' provided by Michael Henry, with additional music provided by Michael Henry. Find more at MeetMichaelHenry.com.
The Infamous Podcast is hosted by Brian Tudor and recorded in Cincinnati, Ohio. The show is produced and edited by Brian Tudor.



Subscribe today!