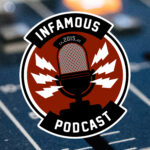 Who Had the Better Gun Battle?
This week on the podcast, Brian and Darryl are reviewing the latest Netflix Original Movie, 'Extraction' from Director Sam Hargrave, starring Chris Hemsworth, and produced by the Russo Brothers! Then they dig into the penultimate episode of Westworld season 3 'Passed Pawns'!
Extraction (2020)
Summary
Tyler Rake (Chris Hemsworth) is a fearless black market mercenary with nothing left to lose when his skills are solicited to rescue the kidnapped son of an imprisoned international crime lord. But in the murky underworld of weapons dealers and drug traffickers, an already deadly mission approaches the impossible, forever altering the lives of Rake and the boy. An action-packed, edge-of-your-seat thriller directed by Sam Hargrave, EXTRACTION is an AGBO Films and TGIM Films, Inc. production, produced by Joe Russo, Anthony Russo, Mike Larocca, Chris Hemsworth, Eric Gitter, and Peter Schwerin.
Cast & Crew
Cast
Chris Hemsworth as Tyler Rake, a former SASR operator turned mercenary.
Rudhraksh Jaiswal as Ovi Mahajan Jr., the son of Indian crime lord Ovi Mahajan Sr.
Randeep Hooda as Saju, a former Para (Special Forces) operator and henchman of Ovi Mahajan Sr.
Golshifteh Farahani as Nik Khan, a mercenary and partner of Tyler.
Pankaj Tripathi as Ovi Mahajan Sr., the incarcerated Indian crime lord, and father of Ovi, who has been jailed.
Priyanshu Painyuli as Amir Asif, the Bangladeshi crime lord who kidnapped Ovi.
David Harbour as Gaspar, a former teammate of Tyler living in Dhaka.
Adam Bessa as Yaz Khan
Shataf Figar as Colonel of Bangladeshi Elite force working for Amir
Suraj Rikame as Farhad, a young boy turned henchmen of Amir.
Neha Mahajan as Neysa, Saju's wife
Sam Hargrave as Gaetan, a mercenary and partner of Tyler.
Crew
Directed by
Sam Hargrave
Produced by
Anthony Russo
Joe Russo
Chris Hemsworth
Mike Larocca
Eric Gitter
Peter Schwern
Screenplay by
Joe Russo
Story by
Ande Parks
Joe Russo
Anthony Russo
Based on Ciudad by
Ande Parks
Joe Russo
Fernando León González
Music by
Henry Jackman
Alex Belcher
Cinematography
Newton Thomas Sigel
Edited by
Peter B. Ellis
Ruthie Aslan
Production company
AGBO
Thematic Entertainment
India Take One Productions
T.G.I.M. Films
Distributed by
Netflix
Release date
April 24, 2020 (United States)
Running time
117 minutes
Country
United States
Language
English
Budget
$65 million
Production
On August 31, 2018, it was announced that Sam Hargrave would direct Dhaka from a screenplay by Joe Russo.[3] In addition, Chris Hemsworth was set to star in the film. In November 2018, the rest of the cast was set.
Production began in Ahmedabad and Mumbai in November 2018. Filming next took place in Ban Pong, Ratchaburi, Thailand and plate shots in Dhaka, Bangladesh.
The cast stayed in Nakhon Pathom. Principal production ended in March 2019. The film's working title was initially Dhaka but was changed to Out of the Fire, before the final title was revealed to be Extraction on February 19, 2020.
Reception
On review aggregator Rotten Tomatoes, the film holds an approval rating of 67% and an average rating of 6.02/10, based on 150 reviews. The website's critics consensus reads: "Spectacular stunt work and an electric performance from Chris Hemsworth can't save Extraction from being dragged down by its aimless violence." On Metacritic, the film has a weighted average score of 56 out of 100 based on 34 critics, indicating "mixed or average reviews".
Rohan Naahar of the Hindustan Times praised the performances of Hemsworth and Hooda, and wrote: "Featuring one of the most stunning action scenes in recent memory… [the film] is breakneck and bonkers."
Entertainment Weekly's Leah Greenblatt gave the film a "B" and wrote that it "mostly delivers what its swaggering trailer promises: international scenery; insidious villains; a taciturn, tree-trunk Aussie."
Writing for Rolling Stone, Peter Travers gave the film 2 out of 5 stars and said: "Aiming for the fight poetry of the John Wick franchise, Extraction comes closer to a series of stunts strung together to look like an ultraviolent video game (think Manhunt 2) in which the avatars are played by actual humans."
Extraction was criticized by several outlets for having perceived "white savior" elements. Variety called the film "a white-savior version of Man on Fire," while Screen Rant said that the film's "regressive white savior elements" drag it down. In an overall positive review, Scott Mendelson of Forbes wrote: "Look, let's get this out of the way. Yes, director Sam Hargrave and writer Joe Russo's Extraction… is an arguably 'problematic' white savior flick".
Links
The Extraction Ending Purposefully Leaves Tyler Rake's Fate Hanging In the Balance
Extraction on Rotten Tomatoes
How 'Extraction' Filmmakers Pulled Off That Sick 11-Minute Shot
Westworld Season 3 Episode 7: Passed Pawn
"A real friend is one who walks in when the rest of the world walks out."
Summary
Charlotte calls Musashi with her belief that the original Dolores is leaving her copies to die, but she announces that she has a plan of her own. Musashi is met by Clementine and Hanaryo—the two hosts Serac brought to help Maeve—who attack and kill him.
Dolores and Caleb head to Serac's re-education facility in Mexico to look for Solomon, the AI that had been developed by Serac's brother Jean Mi prior to Rehoboam. En route, Caleb recounts his military mission to Crimea to deal with a rebel group using data tracking systems. His unit found themselves targets of the same systems, which killed all of them but himself and Francis. They subsequently captured a rebel leader, but when their planned evac failed to arrive, they made their own attempt to escort their captive to safety. Francis and the leader were killed.
Once inside the facility, Dolores asks Solomon for its help to break Serac's system. Solomon reveals that Caleb was one of the few to have been successfully reconditioned by Serac and that those who failed reconditioning were put into cryogenic sleep.[1] Solomon further reveals that both Caleb and Francis had been in the military but were discharged after the Crimea attack; they subsequently became agents to serve Serac's system and round up those outliers, using the Rico app to arrange such abductions. They employed special pills to create false memories that they were still serving in the military. Flashbacks show the rebel leader Caleb captured was really Whitman, the CEO of the pharmaceutical company that provided those pills, considered an outlier by Rehoboam for asking too many questions.
Maeve arrives at the facility to fight Dolores. Dolores implores Solomon to change the story for the world to one that Jean Mi had envisioned fifteen years ago before Serac had put him away. Caleb asks Solomon about Francis' true fate, and Solomon reveals that Whitman, having revealed the truth to Caleb, had warned Caleb that Rico would likely tell Francis to kill Caleb. Caleb had killed Francis first, which he was re-conditioned to forget. As Maeve gains the advantage on Dolores, Solomon provides Caleb a data device with instructions to kill Serac. Dolores makes it inside the Solomon facility and activates an EMP that disables Solomon, Maeve, and herself.
Meanwhile, Bernard and Ashley discover similar information about Caleb being one of the few to survive Serac's reconditioning. As they leave the facility, William reveals he has come to find a new purpose: to rid the world of the hosts. Bernard believes that they will still need him and warns Ashley that Dolores will likely use Caleb to destroy humanity. As they look for transportation, William finds a gun and prepares to kill Bernard and Ashley.
Directed by
Helen Shaver
Written by
Gina Atwater
Featured Music by
Ramin Djawadi
Cinematography by
Matt Flannery
Editing by
Anna Hauger
Original Airdate
April 26, 2020
Running time
58 minutes
Production
The title of the episode related to the chess term passed pawn; a pawn that can make it to the opponent's side of the board without being captured can be promoted to powerful piece but generally requires strategy and sacrifice to make this happen; in this case, Dolores' plan has appeared to involve significant sacrifice to get Caleb to engage with Solomon by the end of the episode.
Reception
On Rotten Tomatoes, the episode holds an approval rating of 56% and an average score of 6.46/10, based on 16 reviews. The website's critics consensus reads: "'Passed Pawn' brings together the seasons' many threads, but the results are mild at best, opening a serviceable path for the grand finale that may leave audiences wanting."
The initial broadcast was watched by 813,000 viewers.
Infamous Shirts for Naked Bodies

…

You'll feel "shirty" when you buy our gear from the Flying Pork Apparel Co.
New Comics This Week – Sponsored by comiXology

Brian
Contact Us
The Infamous Podcast can be found wherever podcasts are found on the Interwebs, feel free to subscribe and follow along on social media. And don't be shy about helping out the show with a 5-star review on Apple Podcasts to help us move up in the ratings.
@infamouspodcast
facebook/infamouspodcast
instagram/infamouspodcast
stitcher
Apple Podcasts
Spotify
Google Play
iHeart Radio
contact@infamouspodcast.com
Our theme music is 'Skate Beat' provided by Michael Henry, with additional music provided by Michael Henry. Find more at MeetMichaelHenry.com.
The Infamous Podcast is hosted by Brian Tudor and recorded in Cincinnati, Ohio. The show is produced and edited by Brian Tudor.



Subscribe today!