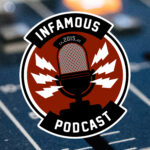 Lots and LOTS of News
This week on the podcast, Brian and Darryl are talking about the plethora of news that dropped this week in the nerddom! We focus on the latest Greg Rucka comic to get live-action treatment with The old Guard, Ruby Rose unceremoniously exits the CW's Batwoman, HBO Max verifies the "Snyder Cut" of Justice League is not only real but coming to the streaming service in 2021. If that's not enough Timothy Olyphant is bring a Star Wars character from page to screen in the Mandalorian Season 2, and the Rock and Emily Blunt re-team for the Netflix superhero film 'Ball and Chain'.
The Old Guard Netflix Original Film Trailer
Netflix Lands Dwayne Johnson, Emily Blunt Superhero Package 'Ball and Chain'
'Batwoman' Shocker: Ruby Rose Exits CW Drama Ahead of Season 2
"It Will Be an Entirely New Thing": Zack Snyder's $20M-Plus 'Justice League' Cut Plans Revealed
'Deadpool 3' Not in Marvel's Five-Year Schedule, Says Comic Book Creator
Timothy Olyphant Joins 'The Mandalorian'
Timothy Olyphant Will Wear Boba Fett's Iconic Armor in 'The Mandalorian' Season 2
Infamous Shirts for Naked Bodies

…

You'll feel "shirty" when you buy our gear from the Flying Pork Apparel Co.
New Comics This Week – Sponsored by comiXology

Brian
Contact Us
The Infamous Podcast can be found wherever podcasts are found on the Interwebs, feel free to subscribe and follow along on social media. And don't be shy about helping out the show with a 5-star review on Apple Podcasts to help us move up in the ratings.
@infamouspodcast
facebook/infamouspodcast
instagram/infamouspodcast
stitcher
Apple Podcasts
Spotify
Google Play
iHeart Radio
contact@infamouspodcast.com
Our theme music is 'Skate Beat' provided by Michael Henry, with additional music provided by Michael Henry. Find more at MeetMichaelHenry.com.
The Infamous Podcast is hosted by Brian Tudor and recorded in Cincinnati, Ohio. The show is produced and edited by Brian Tudor.



Subscribe today!