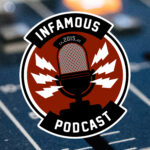 Is the At Home New Release a Better Movie Going Experience?
This week on the podcast Brian and Darryl are talking about the first two major film releases to bypass the movie theaters and release direct to video-on-demand, first as a $19.99 rental, and more recently the ability to buy. Of course, that means they are talking about 'The Invisible Man' and 'The Hunt', a pair of Blumhouse horror flicks.
The Invisible Man (2020)
Summary
After staging his own suicide, a crazed scientist uses his power to become invisible to stalk and terrorize his ex-girlfriend. When the police refuse to believe her story, she decides to take matters into her own hands and fight back.
Cast
Elisabeth Moss as Cecilia "Cee" Kass
Oliver Jackson-Cohen as Adrian Griffin
Aldis Hodge as James Lanier, a San Francisco police detective, Sydney's father, and Cee's childhood friend
Storm Reid as Sydney Lanier, James' teenage daughter
Harriet Dyer as Emily Kass, Cee's sister
Michael Dorman as Tom Griffin, Adrian's brother, and lawyer
Benedict Hardie as Marc
Amali Golden as Annie
Sam Smith as Detective Reckley
Nash Edgerton as a Security Guard
Crew
Directed by
Leigh Whannell
Produced by
Jason Blum
Kylie du Fresne
Written by
Leigh Whannell
Based on
Characters and concepts created by H. G. Wells for The Invisible Man
Music by
Benjamin Wallfisch
Cinematography by
Stefan Duscio
Edited by
Andy Canny
Production Company
Universal Pictures
Blumhouse Productions
Nervous Tick
Goalpost Pictures
Distributed by
Universal Pictures
Release Date
February 27, 2020 (Australia)
February 28, 2020 (United States)
Running time
124 minutes
Budget
$7 million
Box Office
$126.1 million
Production
Development of a new The Invisible Man film began as early as 2006 when David S. Goyer was hired to write the screenplay. Goyer remained attached to the project as late as 2011, with little to no further development on the film.
In February 2016, the project was announced to be revived as part of Universal's cinematic universe, intended to consist of their classic monsters. Johnny Depp was cast as the titular character, with Ed Solomon writing the screenplay. The film was set to be part of Universal Pictures' modern-day reboot of their Universal Monsters, called Dark Universe. The would-be series of films was set to begin with The Mummy and followed by a remake of Bride of Frankenstein in 2019. In 2017, The Mummy director Alex Kurtzman stated that fans should expect at least one film per year in the shared film universe. However, once The Mummy was released to negative critical reception and box office returns deemed by the studio as insufficient, changes were made to the Dark Universe to focus on individual storytelling and move away from the shared universe concept.
In January 2019, Universal announced that all future movies on their horror characters would focus on standalone stories, avoiding inter-connectivity. Successful horror film producer Jason Blum, founder of production company Blumhouse Productions, had at various times publicly expressed his interest in reviving and working on future installments within the Dark Universe films. The Invisible Man was set to be written and directed by Leigh Whannell, and produced by Blum, but would not star Depp as previously reported. In March 2019, Elisabeth Moss entered early negotiations to star, with her official casting the following month. Storm Reid, Aldis Hodge, and Harriet Dyer later joined the cast, with Oliver Jackson-Cohen set to play the titular role in July.
Principal photography began on July 16, 2019, and ended on September 17, 2019, in Sydney, Australia.
On February 22, 2020, during an interview with Cinemablend's ReelBlend Podcast, Whannell stated that the film was never planned to be part of any cinematic universe, including the Dark Universe. He stated,
"It was weird, this film came about in a really random way. It wasn't like I was plugged into some kind of worldbuilding. I had just finished Upgrade, they called me in for a meeting with some of these Universal and Blumhouse execs… I go to this meeting, and they didn't really talk about Upgrade. I mean, they said they liked it and they moved on. So, I'm sitting on this couch thinking, 'What am I here for? What is this meeting about?' And they started talking about The Invisible Man."
Release
The Invisible Man was theatrically released in the United States on February 28, 2020, by Universal Pictures. It was originally scheduled for release on March 13, 2020, but in August 2019 was moved up two weeks. On March 20, it was one of many films prematurely released to streaming platforms for rent in response to the COVID-19 pandemic.
Reception
Box Office
As of March 25, 2020, The Invisible Man has grossed $64.9 million in the United States and Canada, and $59.6 million in other territories, for a worldwide total of $124.5 million.
In the United States and Canada, the film was projected to gross $24–30 million from 3,610 theaters in its opening weekend. It made $9.8 million on its first day, including $1.65 million from Thursday night previews. The film went on to debut to $28.9 million, topping the box office. The film made $15.1 million in its second weekend (dropping 46%) and then $5.9 million in its third weekend. In the film's fourth weekend, due to the mass theater closures around the country caused by the COVID-19 pandemic, it made $64,000 from 111 locations, mostly drive-ins.
Critical Response
Review aggregator website Rotten Tomatoes reported that 91% of 352 reviews of the film were positive, with an average rating of 7.7/10. The website's critics consensus reads: "Smart, well-acted, and above all scary, The Invisible Man proves that sometimes, the classic source material for a fresh reboot can be hiding in plain sight." Metacritic calculated a weighted average score of 71 out of 100 based on 57 critic reviews, indicating "generally favorable reviews." Audiences polled by CinemaScore gave the film an average grade of "B+" on an A+ to F scale, and PostTrak reported it received an overall positive score of 76% and an average four out of five stars, with 53% of people they polled said they would definitely recommend the film.
Manohla Dargis of The New York Times wrote that Moss's performance "gives the movie its emotional stakes," adding, "while her agony can be unnerving, it is even more shivery when her weeping stops and this horror-movie damsel in distress becomes a threat." Writing for The A.V. Club, Jesse Hassenger gave the film a "B+", also praising Moss's performance and the film's centering of her character's experience; the publication followed up with a video review from senior writer Katie Rife and Ignatiy Vishnevetsky, who also gave a positive review, for the aesthetic and filmmaking of Blumhouse Productions and Moss's performance. Alison Willmore of Vulture commented about the effectiveness of Moss's facial expressions, and said that she "has established herself as an empress of the onscreen breakdown, our lady of ruined eye makeup". Patrick Cavanaugh of ComicBook.com gave the film four out of five stars, and wrote that Whannell's film is "an experience that is both effective as a full-blown horror film and as a chilling reminder of the abuse one can suffer from a supposed loved one."
Conversely, Nicholas Barber from BBC gave the film two out of five stars, opining that "the latest remake of the HG Wells tale offers a timely feminist spin – but it's lacking in thrills." He criticized the film's vagueness, concluding, "at a time when small-scale horror movies can be as stunning as A Quiet Place and Get Out, a film as perfunctory as The Invisible Man feels insulting."
Franchise Future
In November 2019, it was announced that a spin-off film centered around the female counterpart to Invisible Man was in development. Elizabeth Banks was set to star in, direct, and produce a new adaptation of The Invisible Woman (1940), based on her own original story pitch. Erin Cressida Wilson will write the script for the reboot of the female monster, while Max Handelman and Alison Small will serve as producer and executive producer, respectively. Banks was allowed to choose a project by Universal Pictures from the roster of Universal Monsters, ultimately choosing The Invisible Woman.
The Hunt (2020)
Summary
Twelve strangers wake up in a clearing. They don't know where they are — or how they got there. In the shadow of a dark internet conspiracy theory, ruthless elitists gather at a remote location to hunt humans for sport. But their master plan is about to be derailed when one of the hunted, Crystal, turns the tables on her pursuers.
Cast
Betty Gilpin as Crystal Creasey
Hilary Swank as Athena Stone
Ike Barinholtz as Staten Island (Moses)
Wayne Duvall as Don
Ethan Suplee as (Shut the F*** Up) Gary
Emma Roberts as Yoga Pants
Chris Berry as Target (Boxer)
Sturgill Simpson as Vanilla Nice
Kate Nowlin as Big Red (Molly)
Amy Madigan as Ma
Reed Birney as Pop
Glenn Howerton as Richard
Justin Hartley as Shane
Sylvia Grace Crim as Dead Sexy
Walker Babington as Bandana Man
Jason Kirkpatrick as Randy
Teri Wyble as Liberty
Macon Blair as Fauxnvoy (Oliver)
Usman Ally as Crisis Mike
J. C. MacKenzie as Paul
Steve Coulter as The Doctor (Ted)
Dean West as Martin
Steve Mokate as Sgt. Dale
Hannah Aline as Kelly (Flight Attendant)
Tadasay Young as Nicole
Jim Klock as Cpt. O'Hara
Crew
Directed by
Craig Zobel
Produced by
Jason Blum
Damon Lindelof
Written by
Nick Cuse
Damon Lindelof
Music by
Nathan Barr
Cinematography by
Darran Tiernan
Edited by
Jane Rizzo
Production Company
Blumhouse Productions
White Rabbit Productions
Distributed by
Universal Pictures
Release Date
March 11, 2020 (United Kingdom)
March 13, 2020 (United States)
Running time
89 minutes
Country
United States
Budget
$14 million
Box Office
$6.5 million
Production
In March 2018, Universal Pictures acquired the rights to the film, which would be directed by Craig Zobel with a script from Nick Cuse and Damon Lindelof. The original title of the script was Red State Vs. Blue State, a reference to the red states and blue states. Later, Universal issued a statement denying that the film had ever had it as its working title. The elite hunters' reference to their quarry as "deplorables" is an allusion to the phrase "basket of deplorables", used by Hillary Clinton during the 2016 United States presidential election campaign to refer to supporters of then-presidential candidate Donald Trump. An early draft of the script depicted working-class conservatives as the film's heroes.
In March 2019, Emma Roberts, Justin Hartley, Glenn Howerton, Ike Barinholtz, and Betty Gilpin were announced as being cast in the film. In April 2019, Amy Madigan, Jim Klock, Charli Slaughter, Steve Mokate, and Dean West joined the cast of the film. Hilary Swank was announced as being cast in July. Filming began on February 20, 2019, in New Orleans, and was completed on April 5.
Nathan Barr composed the film score, replacing Heather McIntosh. Back Lot Music released the soundtrack.
Release
The film was scheduled for release on September 27, 2019. It was, for a time, moved back to October 18 before shifting back to its original release date of September 27. On August 7, 2019, Universal announced that in the wake of the Dayton and El Paso mass shootings, they would be suspending the film's promotional campaign. Several days later, the film was pulled from the studio's release schedule.
In February 2020, the film's release in the United States had been rescheduled to March 13, 2020 (Friday the 13th), with a new trailer, partially in response to the success of the similarly controversial film Joker. Producer Jason Blum stated in an interview that "not one frame was changed" since the delay and that it was "exactly the same movie".
The Hunt was released on March 20 to streaming platforms, before the end of the usual 90-day theatrical run, by Universal Pictures in response to increased restrictions on screenings in movie theaters due to the COVID-19 pandemic.
Reception
Initial reactions
The Hollywood Reporter wrote that there were a pair of test screenings for the film which garnered "negative reactions". The second screening was held on August 6, 2019, in Los Angeles, in which "audience members were again expressing discomfort with the politics" of it, an issue Universal had not foreseen (although other studios had initially passed on the script for that very reason). In a statement to Variety, Universal pushed back on a report that test audiences had been uncomfortable with the film's political slant, and also countered claims that the script had originally had a politically explosive title. "While some outlets have indicated that test screenings for The Hunt resulted in negative audience feedback; in fact, the film was very well-received and tallied one of the highest test scores for an original Blumhouse film," a Universal spokesperson said. "Additionally, no audience members in attendance at the test screening expressed discomfort with any political discussion in the film. While reports also say The Hunt was formerly titled Red State vs. Blue State, that was never the working title for the film at any point throughout the development process, nor appeared on any status reports under that name."
Prior to the film's initial shelving, the film attracted criticism from some of the media as a portrayal of liberal elitists hunting supporters of Donald Trump. Trump himself issued a tweet on August 9, 2019, calling "Liberal Hollywood" "[r]acist at the highest level" and writing: "The movie coming out is made in order to inflame and cause chaos", adding "They create their own violence, and then try to blame others". Although Trump did not specify the name of the film, news vehicles believed that was most likely a reference to The Hunt. Some commentators, such as columnists for National Review, argued that the film actually had a right-wing, anti-liberal tone that was misinterpreted by conservative critics of the film.
Box Office
In the United States and Canada, the film was released alongside Bloodshot and I Still Believe and was projected to gross $8–11 million from 3,028 theaters in its opening weekend. The film made $2.2 million on its first day, including $435,000 from Thursday night previews. It went on to debut to $5.3 million, finishing fifth. The weekend was also noteworthy for being the lowest combined grossing since October 1998, with all films totaling just $55.3 million, in large part from societal restrictions and regulations due to the Coronavirus pandemic.
Critical Response
On the review aggregator website Rotten Tomatoes, the film holds an approval rating of 56% based on 213 reviews, with an average rating of 5.78/10. The site's critics consensus reads: "The Hunt is successful enough as a darkly humorous action thriller, but it shoots wide of the mark when it aims for timely social satire." On Metacritic, the film has a weighted average score of 50 out of 100, based on 45 critics, indicating "mixed or average reviews". Audiences polled by CinemaScore gave the film an average grade of "C+" on an A+ to F scale.
Infamous Shirts for Naked Bodies

…

You'll feel "shirty" when you buy our gear from the Flying Pork Apparel Co.
New Comics This Week – Sponsored by comiXology

Brian
STAR WARS DOCTOR APHRA #1
Contact Us
The Infamous Podcast can be found wherever podcasts are found on the Interwebs, feel free to subscribe and follow along on social media. And don't be shy about helping out the show with a 5-star review on Apple Podcasts to help us move up in the ratings.
@infamouspodcast
facebook/infamouspodcast
instagram/infamouspodcast
stitcher
Apple Podcasts
Spotify
Google Play
iHeart Radio
contact@infamouspodcast.com
Our theme music is 'Skate Beat' provided by Michael Henry, with additional music provided by Michael Henry. Find more at MeetMichaelHenry.com.
The Infamous Podcast is hosted by Brian Tudor and recorded in Cincinnati, Ohio. The show is produced and edited by Brian Tudor.



Subscribe today!