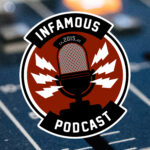 Somethings Are Just a Failure to Launch
This week on the podcast Brian and Darryl will take a little time to talk about the new Netflix Original Series Space Force. Then in a new segment to the show, they each pick a favorite actor and look at what roles they do well, roles where they've struggled, and where they want them to go in the future.
News Bites
Batwoman Season 2 Reportedly Saying Goodbye to Kate Kane, Too
‪X-Men MCU Debut Lineup Revealed? Marvel Phase 5 "Giant Size" Roster
Star Wars: Disney Reportedly Casting Live-Action Ezra Bridger for Post-Rebels Show
Lucasfilm is Reportedly Casting Grand Admiral Thrawn For New Live-Action STAR WARS Series
Space Force (Netflix, 2020)
Summary
Space Force is a workplace comedy series that centers on a group of people tasked with establishing the sixth branch of the United States Armed Forces, the United States Space Force. Carell's character, Mark Naird, is the first general of the Space Force and is in charge of the effort and the series follows his collaboration to get "boots on the moon" by 2024, per the orders of the President.
Cast
Main
Steve Carell as General Mark R. Naird, Space Force's first Chief of Space Operations
John Malkovich as Dr. Adrian Mallory, Space Force chief scientist,
Ben Schwartz as F. Tony "Fuck Tony" Scarapiducci, Space Force social media director,
Diana Silvers as Erin Naird, Mark's teenage daughter,
Tawny Newsome as Captain Angela Ali, a Space Force pilot, and later, astronaut.
Recurring
Noah Emmerich as General Kick Grabaston, Chief of Staff of the United States Air Force,
Alex Sparrow as Captain Yuri "Bobby" Telatovich, a Russian Air Force liaison with Space Force,
Jimmy O. Yang as Dr. Chan Kaifang, Dr. Mallory's lead assistant,
Don Lake as Brad Gregory, a Space Force 1-star brigadier general, who serves as Naird's personal assistant,
Fred Willard as Fred Naird, Mark's father,
Jessica St. Clair as Kelly King, structural engineer and civil contractor,
Lisa Kudrow as Maggie Naird, Mark's wife,
Roy Wood Jr. as Colonel Bert Mellows, Army liaison to the Space Force,
Jane Lynch as Chief of Naval Operations,
Chris Gethard as Eddie Broser,
Diedrich Bader as General Rongley, Chief of Staff of the United States Army,
Dan Bakkedahl as John Blandsmith, Secretary of Defense,
Patrick Warburton as General Dabney Stramm, Commandant of the Marine Corps[9],
Larry Joe Campbell as Admiral Biffoont, Commandant of the Coast Guard[10],
Ginger Gonzaga as Anabela Ysidro-Campos, also known as AYC. She is a parody of Alexandria Ocasio-Cortez.
Concetta Tomei as Representative Pitosi, a parody of Speaker of the House Nancy Pelosi.
Owen Daniels as Obie Hanrahan,
Aparna Nancherla as Pella Bhat,
Spencer House as Duncan Tabner,
Hector Duran as Julio Díaz-José,
Punam Patel as Ranatunga,
Thomas Ohrstrom as Dr. Vandeveld,
Carolyn Wilson as Louise Papaleo,
Jamison Webb as Major Lee Baxter,
Nancy Lantis as Dr. Wolf,
Vivis Colombetti as Hilde,
Alan Blumenfield as Schugler, a parody of Senate Minority Leader Chuck Schumer.
Amanda Lund as Anna,
Marc Sully Saint-Fleur as Jean Baptiste Bosou,
Brandon Molale as Clarke Luffinch,
Scott Michael Morgan as Emmett Bunyan.
Crew
Created by
Steve Carell
Greg Daniels
Music by
Carter Burwell
Country of origin
United States
Original language(s)
English
No. of seasons
1
No. of episodes
10 (list of episodes)
Production
Executive producer(s)
Greg Daniels
Steve Carell
Howard Klein
Brent Forrester
Paul King
Producer(s)
Caroline James
Lauren Houseman
Michael Maccarone
Cinematography by
Simon Chapman
Editor(s)
David Rogers
Susan Vaill
Camera Setup
Single-camera
Running Time
27–36 minutes
Production Company(s)
Deedle-Dee Productions
Film Flam
3 Arts Entertainment
Release
Original Network
Netflix
Original Release
May 29, 2020
Development
On January 16, 2019, it was announced that Netflix had given the production a series order for a ten-episode first season. The series is co-created by Greg Daniels and Steve Carell and is executive produced by Daniels, Carell, and Howard Klein through 3 Arts Entertainment.
Casting
Alongside the initial series order announcement, it was confirmed that Carell would star in the series.
On September 26, 2019, it was announced that John Malkovich, Ben Schwartz, Diana Silvers, and Tawny Newsome had joined that series as main cast and Jimmy O. Yang, Alex Sparrow, and Don Lake as recurring cast. In October 2019, Noah Emmerich, Fred Willard, and Jessica St. Clair joined the cast in recurring roles. In April 2020, it was announced Lisa Kudrow had joined the cast in a recurring role.[18] In May 2020, it was reported that Jane Lynch and Roy Wood Jr. were cast in recurring roles.
The series features the last television performance by comedian Fred Willard, who died on May 15, 2020.
Filming
Principal photography for the first season commenced in Los Angeles, California, on September 26, 2019, and ended on January 10, 2020.
Critical Reception
On review aggregator, Rotten Tomatoes, the first season of the series has an approval rating of 41% based on 78 reviews, with an average rating of 5.72/10. The site's critics consensus reads: "An all-star cast and blockbuster-worthy special effects aren't enough to keep Space Force's uneven blend of earnestness and satire from spinning quickly out of comedic orbit." On Metacritic, it has a weighted average score of 47 out of 100, based on 35 critics, indicating "mixed or average reviews".
Richard Roeper of the Chicago Sun-Times praised Carell, for his "impeccable comedic timing and his uncanny ability to play yet another character who's often an insufferable buffoon with not a speck of self-awareness" but criticized the hit-and-miss humor, and unrealized potential, saying "Don't get me wrong; I enjoyed Space Force… It's just with all the credentials of the main contributors, we hoped for greatness and got … pretty good." Caroline Framke of Variety wrote: "For all the heft behind it, Space Force should be an easy win. Ten episodes later, it's safer to say that Space Force is really just okay." Rahul Desai of Film Companion gave a rather middling review, "Space Force is stuck between the space of The Office and the force of Veep." Nick Allen, writing for RogerEbert.com says, "Space Force has the supporting characters to color its cringe-worthy absurdity," praising its cast but calling out on the story's incompetence. The Guardian gave the first season of the series only 2 out of 5 saying, "Above all, despite occasional laughs to be gleaned from the twist that Malkovich can give the most unpromising of lines, Space Force is not funny, which makes it hard to class as a comedy." Joshua Rivera from The Verge gave Space Force a disappointing review stating that "the show falls apart before it even gets going", chiefly because the show strays away from the sharp political satire that shows such as Veep had nailed and instead "adheres to the conventions of the workplace comedy."
Episodes
1 "The Launch
2 "Save Epsilon 6!"
3 "Mark and Mallory Go To Washington"
4 "Lunar Habitat"
5 "Space Flag"
6 "The Spy"
7 "Edison Jaymes"
8 "Conjugal Visit"
9 "It's Good To Be Back On The Moon"
10 "Proportionate Response"
Actor vs. Actor: Henry Cavill vs. Adam Driver
In this segment, Brian and Darryl have each chosen an actor and they will talk about the roles they have performed, picking a role where they were good, one where they were great, and a role they should probably try to avoid in the future.
Henry Cavill
The Roles
Mission: Impossible – Fallout, Man of Steel, Stardust
The Good
"Mission: Impossible – Fallout" – From the moment he appears onscreen as August Walker, Cavill commands our attention. His confidence arguably surpasses that of Cruise's Ethan Hunt, albeit with a sinister bend. You know that something isn't quite right with his character but it isn't until the end, when the pieces align and Walker is revealed to be the baddie, do we understand. Cavill's charisma and physical presence is a major component of what makes this one of the best M:I movies in the series to-date, finalized by the insane helicopter chase that ends in a brutal one-on-one between Cavill and Hunt that ends the way we expect; in a way, that's disappointing as I would have loved to see more of Cavill's August Walker in the franchise.
The Great
"Man of Steel" – Though not the beacon of hope we've come to know and love, Cavill's Superman captures Snyder's gritty take on the man from Krypton who, after 33 years, remains conflicted on his powers and how to use them (no thanks to the horrible version of Ma and Pa Kent we get). Two scenes that puts a stamp on Cavill as my favorite Man of Steel are 1) the sheer joy of his first flight (when he's not crashing into mountains) and 2) the heartbreak of taking a life when he's forced to kill Zod, the last of his people, in an effort to save humanity. Later DCEU movies are somewhat of a step backwards for Kal-El, never truly moving his character forward; still, Cavill shines in his first outing, despite some of the movie's missteps.
Maybe That Wasn't the Right Role
"Stardust" – This was a tough one but eventually came down to two factors. 1) Cavill should never (and I mean EVER) be a blonde) and 2) His role of the high society, jerkish and somewhat effeminate Humphrey. Even though Stardust was released years before Cavill made his mark as the Man of Steel, by 2007 he had done enough to showcase that he was a man whose roles are best left to those of strong characters. Humphrey is not that.
Adam Driver
The Roles
This Is Where I Leave You, The Dead Don't Die, The Report
The Good
"This Is Where I Leave You" – Adam is really good in this role as the listless youngest sibling of the Altman clan, who have returned home to sit shiva for their atheist father after he's passed away. Adam brings chaos to his family in the role, while also appearing to learn some lessons by the end of the movie. What looked to be a stereotypical 'baby of the family' turned into something with a little more depth in this Shawn Levy directed slice of life.
The Great
"The Dead Don't Die" – In "The Dead Don't Die" Adam plays Officer Ronnie Peterson. Ronnie has a direct connection to Director/Writer Jim Jarmusch and uses that knowledge to help move the story on in a pseudo-fourth wall break. Adam is great in the role because of the restrained performance he gives, and the deadpan delivery to the most spoiler-rific lines (like telling Bill Murray's Chief Cliff Robertson the song 'The Dead Don't Die' is the theme song of the movie, and then letting Cliff know about their impending doom by reveling he has read the script). Adam is hands down my favorite part of this movie and I'd love to see him do more of these "connection to the audience" type of roles in the future.
The Maybe This Wasn't the Right Role
"The Report" – While "The Report" is a very good movie that asks a lot of questions about the morality of war, torture, and intelligence gathering, I found Adam's portal of Dan Jones' petulance whinier and not at all engaging. When you look at the petulance of Kylo Ren in "The Force Awakens", you know it comes from a place of anger and frustration, in Jones, it seems to come from a place of, "gotcha". I wasn't a huge fan of seeing Adam play this bureaucratic role, and while he gives his same level of effort and skill as an actor to the role, it is not the type I'd be eager to see him revisit.
Infamous Shirts for Naked Bodies

…

You'll feel "shirty" when you buy our gear from the Flying Pork Apparel Co.
New Comics This Week – Sponsored by comiXology

Brian
COBRA KAI KARATE KID SAGA CONTINUES #4
NEW MUTANTS #10
NIGHTWING #71
Contact Us
The Infamous Podcast can be found wherever podcasts are found on the Interwebs, feel free to subscribe and follow along on social media. And don't be shy about helping out the show with a 5-star review on Apple Podcasts to help us move up in the ratings.
@infamouspodcast
facebook/infamouspodcast
instagram/infamouspodcast
stitcher
Apple Podcasts
Spotify
Google Play
iHeart Radio
contact@infamouspodcast.com
Our theme music is 'Skate Beat' provided by Michael Henry, with additional music provided by Michael Henry. Find more at MeetMichaelHenry.com.
The Infamous Podcast is hosted by Brian Tudor and recorded in Cincinnati, Ohio. The show is produced and edited by Brian Tudor.



Subscribe today!