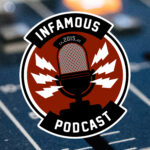 It's All About the Space Fights
This week on the podcast, Brian and Darryl have some news talking about Duh+'s plans for a Star Wars "MCU" (thanks to The Den of Nerds for that awesome analogy), Netflix's newest trailer for the adaptation for Frank Miller's Cursed, and David Koepp complaining about why fans are hard to please. Then they have two main top stories this week… the new flight simulator Star Wars Squadrons and the Duh+ Original film Artemis Fowl.
News Bites
Is Disney+ Planning a Bunch of Star Wars Interconnected Live-Action TV Shows for 2021?
Cool Trailer for Netflix's Adaptation of Frank Miller's Excalibur Story CURSED with Katherine Langford
SPIDER-MAN Writer David Koepp on The Difficulties of Pleasing Fans
Star Wars: Squadrons (10/02/2020)
Summary
Master the art of starfighter combat in the authentic piloting experience Star Wars™: Squadrons. Buckle up, feel the adrenaline of first-person multiplayer space dogfights alongside your squadron, and learn what it means to be a pilot in a thrilling Star Wars™ single-player story.
Studio
Motive
Genre
Action, Shooting, Simulation
Platforms
PC Download, PlayStation®4, Xbox One
STAR WARS™: Squadrons Release Date
October 2, 2020
KEY FEATURES
All Wings Report In – Plan skirmishes with your squadron in the briefing room before taking off to the evolving battlefields across the galaxy. Compete in intense 5v5 multiplayer dogfights or unite with your squadron to tip the scales in monumental fleet battles. Together, you're the galaxy's finest.
Master Legendary Starfighters – Take control of different classes of starfighters from both the New Republic and Imperial fleets – including the agile A-wing and the devastating TIE bomber. Modify your ship, divert the power between its systems, and destroy your opponents in strategic space dogfights.
Live Your Star Wars Pilot Fantasy – The cockpit is your home. Use its dashboards to your advantage and – with just a thin hull of metal and glass between you and the perils of space – feel the intensity of combat from a first-person perspective. Take off in thrilling multiplayer modes and a unique single-player Star Wars story, which covers a key campaign near the conclusion of the Galactic Civil War. Immerse yourself in the pilot's seat completely with the option to play the entirety of Star Wars: Squadrons in VR.
The Mission is Clear – Star Wars: Squadrons is a fully self-contained experience from day one, where you earn rewards through play. Climb the ranks and unlock new components like weapons, hulls, engines, shields, and cosmetic items in a clear path for progression that keeps gameplay fresh and engaging.
5 HIGHLIGHTS FROM THE STAR WARS: SQUADRONS REVEAL TRAILER
Pre-Order HERE
Artemis Fowl (2020)
Summary
Artemis Fowl is a 12-year-old genius and descendant of a long line of criminal masterminds. He soon finds himself in an epic battle against a race of powerful underground fairies who may be behind his father's disappearance.
Cast
Ferdia Shaw as Artemis Fowl II, a 12-year-old human criminal mastermind, with exceptionally high intelligence.
Lara McDonnell as Holly Short, an 84-year-old even reconnaissance officer of the Lower Elements Police (LEPrecon), whom Artemis kidnaps to hold to ransom.
Josh Gad as Mulch Diggums, an imprisoned dwarfus giganticus gentleman thief who agrees to work for the LEP.
Tamara Smart as Juliet Butler, Domovoi's 12-year-old niece and protégé, and Artemis' best friend.
Nonso Anozie as Domovoi "Dom" Butler, Artemis' trusted servant and bodyguard, whose family has served the Fowls for generations.
Colin Farrell as Artemis Fowl I, Artemis' absent father and criminal mastermind.
Judi Dench as Commander Julius Root, Holly's 802-year-old commanding officer in the LEP.
Hong Chau (uncredited) as the voice of Opal Koboi, a pixie from Ho Chi Minh City who kidnaps Artemis' father. Chau physically portrays Koboi in a deleted scene.
Emily Brockmann, Jessica Rhodes and Charlie Cameron physically portray Koboi overlooking the elder kidnapped Fowl, credited as "Shadowy Female Figure".
Nikesh Patel as Foaly, a centaur and the LEPrecon division's technical advisor.
Joshua McGuire as Briar Cudgeon, a power-hungry lieutenant in the LEP.
Chi-Lin Nim as Trouble Kelp, a captain of the LEP.
Lewy Xing as Grub Kelp, a corporal of the LEP.
Adrian Scarborough as the Goblin Chief
Vincenzo Nicoli as the Goblin Sergeant
Conor MacNeill as the Goblin Lieutenant
Adam Basil and Taylor James as the Troll
Crew
Directed by
Kenneth Branagh
Produced by
Kenneth Branagh
Judy Hofflund
Screenplay by
Conor McPherson
Hamish McColl
Based on Artemis Fowl by
Eoin Colfer
Music by
Patrick Doyle
Cinematography
Haris Zambarloukos
Edited by
Matthew Tucker
Production
Production Company
Walt Disney Pictures
TriBeCa Productions
Marzano Films
Distributed by
Walt Disney Studios Motion Pictures
Release date
June 12, 2020 (United States)
Running Time
95 minutes
Budget
$125 million
Production
Development
In 2001, plans were announced for a film adaptation of the series. Miramax Films was named as purchasing the film rights with Lawrence Guterman signed to direct and Jeff Stockwell to write. In 2003, Colfer stated that a screenplay had been finalized and that casting was due to start the same year but expressed skepticism over whether or not this would come to pass. The film remained in development and was assumed to be in development hell until 2011, when it was reported that Jim Sheridan was interested in directing the movie, with Saoirse Ronan attached as Holly Short.
In July 2013, Walt Disney Pictures announced that an Artemis Fowl film covering the events of the first and second novels of the series would be produced by Disney and The Weinstein Company, with the screenplay by Michael Goldenberg. Robert De Niro and Jane Rosenthal signed onto the project as executive producers.
On September 1, 2015, Variety reported that Kenneth Branagh had been hired to direct the film for Disney, with Irish playwright Conor McPherson as screenwriter and Judy Hofflund as an executive producer. On September 12, 2017, Disney announced that the film adaptation would be released on August 9, 2019. The following month, Disney removed Harvey Weinstein as the producer of the film and terminated its production partnership with The Weinstein Company following a sexual misconduct scandal involving Weinstein.
Colfer has stated that he supports the changes from the source material in the film.
Casting
On September 18, 2017, it was reported that Judi Dench was in talks for an undisclosed role. On December 20, 2017, it was announced that Irish newcomer and grandson of Robert Shaw, Ferdia Shaw, had been cast as Artemis Fowl II, alongside Dench as Commander Root, Josh Gad as Mulch Diggums, Lara McDonnell as Captain Holly Short, and Nonso Anozie as Butler. Colin Farrell was revealed as part of the cast as Artemis Fowl I via reshoots through the release of the second trailer in March 2020.
McDonnell's casting as Short brought accusations of whitewashing, given the character in the book series is described as having dark nut-brown skin of a coffee complexion, while similarly Anozie's casting as Butler was criticized for the character being described as Eurasian who can pass as Japanese and Russian in the book series, and because the character's physical description of terrifying anyone in his presence, combined with his backstory of his family having served the Fowl family for centuries and Anozie's casting, was seen as embodying several stereotypes of African Americans, in particular the "scary black man" and "black servant" tropes.
Author Eoin Colfer filmed a cameo appearance as an extra. Describing his one scene, filmed in Northern Ireland, Colfer said: "I walked across a field with a lot of other people. It wasn't too taxing – although I did manage to get it wrong a few times. The only direction they gave was: 'Walk across the field and don't look at the camera.' I must have looked at the camera about 20 times. I have a new respect for actors."
Filming
On March 12, 2018, the rest of the cast was announced (including Nikesh Patel as Foaly) as principal production commenced. The film was shot at Longcross Studios, and in England, Northern Ireland and Ho Chi Minh City in Vietnam, as well as Italy and Scotland.
Release
The film was originally scheduled for a theatrical release on August 9, 2019, by Walt Disney Studios Motion Pictures, but on May 7, 2019, the film was delayed to May 29, 2020. On April 3, 2020, the film's theatrical release was canceled, because of the COVID-19 pandemic, and instead, it was digitally released on Disney+ on June 12, 2020. According to Vulture, Disney moving the film straight to streaming was viewed as "the death knell for Artemis as a film franchise" by industry insiders, because "the platform's subscription revenues [are] incapable of generating a return on investment that would justify the movie's $125 million price tag."
Home Media
Artemis Fowl was released on Disney+ on June 12, 2020. Artemis Fowl was released by Walt Disney Studios Home Entertainment on followed by a 4K Ultra HD, Blu-ray and DVD release on TBA.
Reception
Comic Book Resources wrote that critics were "blasting the film for not being entertaining enough and [for] poor execution." On review aggregator website Rotten Tomatoes, the film holds an approval rating of 10% based on 128 reviews, with an average rating of 3.56/10. The site's critics consensus reads: "A would-be franchise-starter that will anger fans of the source material and leave newcomers befuddled, Artemis Fowl is frustratingly flightless." On Metacritic, the film has a weighted average score of 31 out of 100, based on 33 critics, indicating "generally unfavorable reviews".
Kate Erbland of IndieWire gave the film a "D+" and noted that the film lacked "an effective star, good effects, general coherency, and any sense of actual magic", writing: "Taking serious liberties from the first two books in the series — all the better to slim down a packed plot, one of the few good creative choices that went into the film's making — Conor McPherson and Hamish McColl's screenplay eventually thins down a convoluted story to near-nothingness." Peter Debruge of Variety said the film feels "tortuously long at just 93 minutes" and that "we get a movie with a loosely defined hero, an even vaguer villain and a whole lot of things flying at the screen, in service of one of those endings that suggest we've just watched the origin story for a character we'll never hear from again."
Infamous Shirts for Naked Bodies

…

You'll feel "shirty" when you buy our gear from the Flying Pork Apparel Co.
New Comics This Week – Sponsored by comiXology

Brian
DARK NIGHTS DEATH METAL #1 (OF 6)
NIGHTWING ANNUAL #3
Contact Us
The Infamous Podcast can be found wherever podcasts are found on the Interwebs, feel free to subscribe and follow along on social media. And don't be shy about helping out the show with a 5-star review on Apple Podcasts to help us move up in the ratings.
@infamouspodcast
facebook/infamouspodcast
instagram/infamouspodcast
stitcher
Apple Podcasts
Spotify
Google Play
iHeart Radio
contact@infamouspodcast.com
Our theme music is 'Skate Beat' provided by Michael Henry, with additional music provided by Michael Henry. Find more at MeetMichaelHenry.com.
The Infamous Podcast is hosted by Brian Tudor and recorded in Cincinnati, Ohio. The show is produced and edited by Brian Tudor.



Subscribe today!