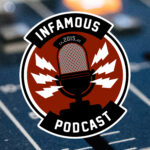 A Time Heist…
This week on the podcast, Brian and Darryl are breaking down what makes a great heist movie, the rules of a heist movie, and some of their favorite heist movies out there.
The Rule of a Heist
1. Pick Something to Rob
2. Pick a Crew
3. Make a Plan
4. Have Something Drastically Change
5. Throw Out the Plan
6. Make a New Plan
7. Kick Off the Heist
8. Have Everything Go Wrong
9. Improvise a New Plan
10. Think The Plan Will Fail
11. Pull the Heist Off at the Last Minute
11a. Plan Fails at the Last Minute
12. Success
12a. Everyone Dies
Heist Movie Beats
The Switch
Everything goes to shit
Improvise. Adapt. Overcome.
Flashback to what really happened
The M Night style twist
Compelling reason for heist
Gathering the team (different skill sets)
Mastermind
Our Favorite Heist Movies
Brian
Takers
Baby Driver
Hell or High Water
The Town
Widows
Darryl
The Town
Baby Driver
Endgame
Heat
Heist Movies Worth Watching
Den of Thieves
Inception
The Town
In Time
Gone in 60 Seconds
Logan Lucky
The Italian Job
National Treasure
Baby Driver
Widows
Now You See Me
Heat
Hell or High Water
Reservoir Dogs
Takers
Die Hard
Lock, Stock, and Two Smoking Barrels
Snatch
The Man from UNCLE
Avengers: Endgame
Triple Nine
Triple Frontier
Rogue One
Code 8
The Dirty Dozen
Infamous Shirts for Naked Bodies

…

You'll feel "shirty" when you buy our gear from the Flying Pork Apparel Co.
New Comics This Week – Sponsored by comiXology

Brian
BATMAN #93
GREEN LANTERN 80TH ANNIV 100 PAGE SUPER SPECT #1 1990S VAR E
SEX CRIMINALS #29
STAR WARS ADVENTURES CLONE WARS #2 (OF 5) CVR A CHARM
STAR WARS BOUNTY HUNTERS #3
Contact Us
The Infamous Podcast can be found wherever podcasts are found on the Interwebs, feel free to subscribe and follow along on social media. And don't be shy about helping out the show with a 5-star review on Apple Podcasts to help us move up in the ratings.
@infamouspodcast
facebook/infamouspodcast
instagram/infamouspodcast
stitcher
Apple Podcasts
Spotify
Google Play
iHeart Radio
contact@infamouspodcast.com
Our theme music is 'Skate Beat' provided by Michael Henry, with additional music provided by Michael Henry. Find more at MeetMichaelHenry.com.
The Infamous Podcast is hosted by Brian Tudor and recorded in Cincinnati, Ohio. The show is produced and edited by Brian Tudor.



Subscribe today!