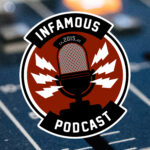 By Our God Powers Combined
This week on the podcast Brian and Darryl, review the first season of the Netflix Original Series, 'Warrior Nun' (based off of the comic 'Warrior Nun Areala'). Plus reviews and reactions to the season 2 trailers for Amazon Prime's 'The Boys' and Netflix's 'The Umbrella Academy' our Sept 4, 2020, and July 31, 2020.
News Bites
The Boys Season 2 – Teaser Trailer
The Umbrella Academy Season 2 – Official Trailer
DC Films' New Gods Director Ava DuVernay Threatens To Discriminate Against White Men When Hiring For Films
'Batwoman' Casts Javicia Leslie as New Series Lead
Warrior Nun (2020)
Summary
Warrior Nun revolves around the story of "a 19-year-old woman who wakes up in a morgue with a new lease on life and a divine artifact embedded in her back. She discovers she is now part of an ancient order that has been tasked with fighting demons on Earth, and powerful forces representing both heaven and hell want to find and control her."
Cast
Main
Alba Baptista as Ava Silva
Toya Turner as Sister Mary / Shotgun Mary
Thekla Reuten as Jillian Salvius
Lorena Andrea as Sister Lilith
Kristina Tonteri-Young as Sister Beatrice
Tristan Ulloa as Father Vincent
Recurring
Olivia Delcán as Sister Camila
Joaquim de Almeida as Cardinal Francisco Duretti
Peter de Jersey as Kristian Schaefer
Lope Haydn Evans as Michael Salvius
Sylvia De Fanti as Mother Superion
Emilio Sakraya as JC
May Simón Lifschitz as Chanel
Dimitri Abold as Randall
Charlotte Vega as Zori
Guiomar Alonso as Areala de Cordoue
William Miller as Adriel
Guest
Melina Matthews as Sister Shannon Masters
Frances Tomelty as Sister Frances
Fred Pritchard as Diego
Alberto Ruano as Mateo
Sinead MacInnes as Sister Crimson
Crew
Created by
Simon Barry
Based on Warrior Nun Areala by
Ben Dunn
Narrated by
Alba Baptista
Composer(s)
Jeff Russo
Country of origin
United States
Original language(s)
English
No. of seasons
1
No. of episodes
10
Executive producer(s)
Simon Barry
Stephen Hegyes
Jet Wilkinson
Dean English
Robert Burke
Producer(s)
Zack Tucker Gangnes
Peter Welter Soler
Matt Bosack
Todd Giroux
Production location(s)
Spain
Running Time
37–50 minutes
Production company(s)
Reality Distortion Field
Distributor
Netflix
Release
Original network
Netflix
Original release
July 2, 2020 – present
Production
Development
On September 28, 2018, it was announced that Netflix had given the production a series order for a first season consisting of ten episodes. Simon Barry was set to serve as showrunner for the series. Barry is also credited as an executive producer alongside Stephen Hegyes with Terri Hughes Burton serving as a co-executive producer for the series. Production companies involved with the series are Barry's Reality Distortion Field and Fresco Film Services. The series premiered on July 2, 2020.
Casting
Sometime after the series order announcement, it was confirmed that Alba Baptista, Toya Turner, Tristan Ulloa, Thekla Reuten, Kristina Tonteri-Young, Lorena Andrea, and Emilio Sakraya would star in the series. On April 1, 2019, it was announced that Sylvia De Fanti had joined the cast as a series regular.
Filming
Filming for the first season took place on location in Marbella, Ronda, Antequera, Málaga, and Sevilla, Spain from March 11, 2019, to July 5, 2019.
Reception
On Rotten Tomatoes, the series holds an approval rating of 74% with an average rating of 6.4/10, based on 23 reviews. On Metacritic, it has a weighted average score of 66 out of 100, based on 5 critics, indicating "generally favorable reviews".
Episodes
Episode 1
Title "Psalms 46:5"
Direct by Jet Wilkinson
Written by Teleplay by : Simon Barry
Episode 2
Title "Proverbs 31:25"
Direct by Jet Wilkinson
Written by Terri Hughes Burton
Episode 3
Title "Ephesians 6:11"
Direct by Agnieszka Smoczyńska
Written by Amy Berg
Episode 4
Title "Ecclesiasticus 26:11"
Direct by Agnieszka Smoczyńska
Written by David Hayter
Episode 5
Title "Matthew 7:13"
Direct by Sarah Walker
Written by Matt Bosack
Episode 6
Title "Isaiah 30:20-21"
Direct by Sarah Walker
Written by Amy Berg
Episode 7
Title "Ephesians 4:22-24"
Direct by Mathias Herndl
Written by Sheila Wilson & Suzanne Keilly
Episode 8
Title "Proverbs 14:1"
Direct by Mathias Herndl
Written by David Hayter & Matt Bosack
Episode 9
Title "2 Corinthians 10:4"
Direct by Simon Barry
Written by Terri Hughes Burton
Episode 10
Title "Revelation 2:10"
Direct by Simon Barry
Written by Simon Barry
Infamous Shirts for Naked Bodies

…

You'll feel "shirty" when you buy our gear from the Flying Pork Apparel Co.
New Comics This Week – Sponsored by comiXology

Brian
Contact Us
The Infamous Podcast can be found wherever podcasts are found on the Interwebs, feel free to subscribe and follow along on social media. And don't be shy about helping out the show with a 5-star review on Apple Podcasts to help us move up in the ratings.
@infamouspodcast
facebook/infamouspodcast
instagram/infamouspodcast
stitcher
Apple Podcasts
Spotify
Google Play
iHeart Radio
contact@infamouspodcast.com
Our theme music is 'Skate Beat' provided by Michael Henry, with additional music provided by Michael Henry. Find more at MeetMichaelHenry.com.
The Infamous Podcast is hosted by Brian Tudor and recorded in Cincinnati, Ohio. The show is produced and edited by Brian Tudor.



Subscribe today!