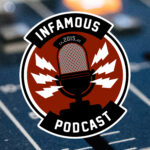 Character Actor vs. Movie Star
This week on the podcast Brian and Darryl go head to head in another installment of Actor vs. Actor. Then they had a chance to check out 'Malek – Reigning Devil' #1 from Jeffrey Haas and Juan Manuel Almiron and they share their thoughts on the book. Plus news about the demise of The DC Universe App, What's going on with movie theaters, and why and how China is reopening theaters so fast.
News Bites
DC Universe Streaming Service Ends Yearly Subscriptions
NATO Chief Believes Movies Should Release in Theaters Despite the Pandemic
'Mulan' Off The Calendar; Disney Also Delays 'Avatar' & 'Star Wars' Movies By One Year As Studio Adjusts To Pandemic
How China Is Reopening Movie Theaters Faster Than The U.S. During The Pandemic
Malek – Reigning Devil' #1
Summary
A new Devil reigns in Hell. Betrayed by God, the fallen angel Malek is burning to get revenge.
Creative Team
Writer/Creator: Jeffrey Haas
Lineart: Juan Manuel Almiron
Colors: Chris McAuley
Editor/Letterer: Phoebe A. Xavier
Cover: Edwin Rwothomio
You can pick up your copy of 'Malek – Reigning Devil' #1 … HERE!!!!
Actor vs. Actor: Chris Pratt vs. Billy Crudup
In this segment, Brian and Darryl have each chosen an actor and they will talk about the roles they have performed, picking a role where they were good, one where they were great, and a role they should probably try to avoid in the future.
Chris Pratt
The Roles
Parks and Rec, Guardians of the Galaxy, Vol. 1, The Magnificient 7
The Good
Parks and Rec (2009)
Andy Dwyer in "Parks and Rec". Despite his longstanding role as Bright Abbott in "Everwood" and a guest-starring role on "The OC", P&R truly allowed Pratt's comedic timing (a major aspect of his charm) to mature. This would serve him well going forward, allowing him to combine a swashbuckling nature of Peter Quill and Jurassic World's Owen Grady. Though rarely a part of the primary storyline, his ability to grab the screen when the opportunity afforded was impressive, particularly when looking at the power of P&R's ensemble cast.
The Great
Guardians of the Galaxy, Vol. 1 (2014)
Peter Quill GotG, Vol 1: One thing the MCU has done throughout its decade-plus run is finding the perfect actor to bring their characters to life. Helped by his stint on Parks & Rec, Pratt's Quill is the embodiment of his manchild that was Andy Dwyer. But unlike Andy, Quill showcased courage and badassery befitting a space pirate. Guardians allowed Pratt to tap into his action/adventure talents, fostered by his ability to use jokes as a shield for the pain of loss. When Quill finally confronts his perceived shame of turning away from his dying mom, Pratt finds an emotional depth that, even now, ranks as one of the most emotional moments of the MCU.
Maybe That Wasn't the Right Role
The Magnificient 7 (2016)
Josh Faraday "The Magnificent Seven". Perhaps this is more due to the blandness of the movie itself, a film that is surpassed by both the 1960 Yul Brenner led version or the original (Arikar Kurasawa's 1954 Seven Samurai) but while Pratt is serviceable, the role would have benefited from Pratt toning down on his at times light-hearted charisma and focused more on his serious side. He lacks the gravitas one would expect of a gunslinger and suggests that perhaps westerns are not in his wheelhouse.
Other Movies
Wanted, Moneyball, Zero Dark Thirty, Delivery Man, The Lego Movie, Jurassic World, Onward
Billy Crudup
The Roles
Almost Famous, Without Limits, Watchmen, Mission: Impossible III
The Good
Watchmen (2009)
I really liked Billy in Watchmen, sure most of the movie he is a monotone and monochromatic god-like figure with his junk out, but his deadpan delivery really sells the aloofness of Doctor Manhattan. Plus the flashbacks as Jon since we actually get to see a little bit of Billy actually in the movie.
The Great
Almost Famous (2000), Without Limits (1998)
In Almost Famous Billy plays Stillwater Guitarist Russell Hammond, and rocker struggling with who he is as an artist and man who takes young William Miller (Patrick Fugit) under his wing. In this role Billy exudes likability and charm, making you root for Russell every step of the way, even when he figuratively stabs William in the heart. In Without Limits, he brings to life my childhood hero American distance runner Steve Prefontaine. Here he captures Steve's essence and does well at showing the best and worst of the uber-competitive athlete. The scenes from the 1972 Olympic Games in Munich really stands out as Billy shows the pain Steve, a descendent of German Jews who was raised in a German-speaking house, felt when the members of the Israel team were murdered during the games.
The Maybe This Wasn't the Right Role
Mission: Impossible III (2006)
Mission: Impossible III wasn't bad because Billy, after MI: 2 and MI: 3 the franchise by all rights should have been put on the shelf, and the smarmy CIA agent trader. At no point during the movie did you not see his villainous heel turn coming, it really was a waste of a perfectly good role for Billy.
Other Movies
Sleepers, Inventing the Abbotts, Big Fish, The Good Shepard, Public Enemies, Eat Pray Love, Spotlight, Alien Covenant, Justice League, The Morning Show
Infamous Shirts for Naked Bodies

…

You'll feel "shirty" when you buy our gear from the Flying Pork Apparel Co.
New Comics This Week – Sponsored by comiXology

Brian
BATMAN #95
DETECTIVE COMICS #1024
EMPYRE #2 (OF 6) CHRISTOPHER 2-PACK ACTION FIGURE VAR
EMPYRE X-MEN #1 (OF 4)
NEW MUTANTS #11
STAR WARS DOCTOR APHRA #2
X-MEN FANTASTIC FOUR #4 (OF 4) ELIOPOULOS VAR
Contact Us
The Infamous Podcast can be found wherever podcasts are found on the Interwebs, feel free to subscribe and follow along on social media. And don't be shy about helping out the show with a 5-star review on Apple Podcasts to help us move up in the ratings.
@infamouspodcast
facebook/infamouspodcast
instagram/infamouspodcast
stitcher
Apple Podcasts
Spotify
Google Play
iHeart Radio
contact@infamouspodcast.com
Our theme music is 'Skate Beat' provided by Michael Henry, with additional music provided by Michael Henry. Find more at MeetMichaelHenry.com.
The Infamous Podcast is hosted by Brian Tudor and recorded in Cincinnati, Ohio. The show is produced and edited by Brian Tudor.



Subscribe today!