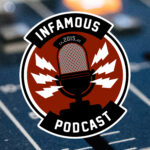 Doing Things at Home is Getting Old
This week on the podcast Brian and Darryl are talking about some of the Comic-Con At Home news (or lack thereof), More AMC Theaters drama, and Tom King shows he is lacking as professionalism and calling out artist Jae Lee for doing his job and not being wrapped up in Twitter Drama for a living. Plus a Season 1 recap of the Umbrella Academy just in time for your Season 2 binge.
News Bites
IDW Publishing Places New Publisher on Administrative Leave
Has Hailee Steinfeld Signed on for Kate Bishop in Hawkeye?
Why Comic-Con 'At Home' Was a Bust
AMC Theaters and Universal Pictures Strike a Deal That Allows Theatrical Films To Debut on VOD Early
Tom King Retracts Statement on Jae Lee's Comicsgate Connection
Jae Lee to Tom King – "We're Not All Good"
Tom King Issues Full Apology to Jae Lee, Removes Tweets
Umbrella Academy Season 1 Recap
Summary
On one day in 1989, 43 infants are inexplicably born to random, unconnected women who showed no signs of pregnancy the day before. Seven are adopted by billionaire industrialist Sir Reginald Hargreeves, who creates the Umbrella Academy and prepares his "children" to save the world. In their teenage years, though, the family fractures and the team disbands. Fast forward to the present time, when the six surviving members of the clan reunite upon the news of Hargreeves' passing. They work together to solve a mystery surrounding their father's death, but divergent personalities and abilities again pull the estranged family apart, and a global apocalypse is another imminent threat. The series is based on a collection of comics and graphic novels created and written by My Chemical Romance lead singer Gerard Way.
Season 1 Episodes
Episode 1 "We Only See Each Other at Weddings and Funerals"
In 1989, forty-three women simultaneously give birth, despite showing no signs of pregnancy prior to each birth. Seven are found and adopted by eccentric billionaire Sir Reginald Hargreeves, who raises them as a superhero team. Years later, Hargreeves' children reluctantly reunite for his funeral. Luther suspects that Hargreeves died of foul play, because the monocle that he always wore is missing. Number Five, who had disappeared 16 years before, appears in a strange ball of blue energy. He claims to have returned from the future and into his prepubescent body, and that he is actually fifty-eight years old. Tensions emerge among the siblings, and Diego gets into a fight with Luther that destroys a statue of their deceased brother, Ben. Later, Five is visiting a doughnut shop when several armed men enter and open fire. After killing the men, he removes a tracker embedded in his arm. Elsewhere, it is revealed that Diego has the monocle and that Klaus can talk to Ben's ghost.
Episode 2 "Run Boy Run"
Five arrives at Vanya's apartment and warns his estranged sister that the world will end in eight days. Vanya thinks Five's mind has been corrupted by time travel, and that the world will not really end. Agents Cha-Cha and Hazel arrive at a motel and begin to track their target. Luther learns that Diego had a boxing match at the time of their father's death, which rules him out as a suspect, and Vanya meets her latest violin student, Leonard. Partly assisted by Klaus, Number Five tries to find out the origin of a prosthetic eye he found in the future, knowing that its owner will soon destroy the world. The brothers learn, however, that the eye has yet to be manufactured in the present. Five visits a department store to see "Delores", a store mannequin who was his companion for thirty years, and is attacked by Cha-Cha and Hazel. Diego's former friend, Detective Eudora Patch, investigates the deaths at the doughnut shop, but her only witness has already been interrogated by Diego. As Allison watches old surveillance videos of her childhood to cheer herself up, she finds a disturbing tape of her father.
Episode 3 "Extra Ordinary"
After Allison shows Luther the videotape of what looks like Grace, the siblings' android "mother", serving poisoned tea to their father, the two ask their mother about the incident. The android claims to remember nothing about it, but the siblings suspect that she is hiding something. Vanya struggles with her violin skill and she and Leonard get to know each other better. Number Five starts an observation of the manufacturer of the prosthetic eye. Agnes, the waitress at the doughnut cafe, describes the umbrella tattoo of Number Five to Cha-Cha and Hazel, leading them to the Hargreeves's house. As Luther and Allison gather the rest of their siblings to watch the footage, Diego reveals he took the monocle from Grace after the funeral and threw it away. The siblings disagree on whether to turn off Grace or not. Cha-Cha and Hazel break into the Hargreeves's house and attack Luther, Diego, Allison, and Vanya, but flee and kidnap Klaus when the siblings fight back. Diego finally turns off Grace, as she is totally oblivious of the fight and shows other malfunctions.
Episode 4 "Man on the Moon"
Seven years ago, Hargreeves sends Luther on a mission that goes severely wrong. To save his life, Hargreeves injects Luther with a serum that also transforms his body into that of an ape. In the present, Allison and Luther find the deactivated Grace and assume the hit-men shut her off. Leonard and Vanya bond and agree to go to dinner. Meanwhile, Cha-cha and Hazel torture Klaus to get information about Five. When they begin to destroy Klaus's drugs, he gives up information, and after sobering up, he begins to see their dead victims. Five threatens the man from Meritech to get more information about the prosthetic eye. Cha-cha and Hazel, now aware of Five's investigation, go to the lab and set it aflame. Diego and Luther find Five passed out drunk. Patch goes to the motel to search for the two hit-men and frees Klaus but gets killed by Cha-cha. Klaus escapes through the vents with the briefcase. As he opens the briefcase, he time travels.
Episode 5 "Number Five"
A flashback shows Number Five's life in the apocalyptic future. He is eventually approached by the Handler, representing an organization called the Commission. She offers him a job. He works some time for them by killing people throughout history until he finds a way to return to the present day. Allison suspects that Leonard is hiding something and makes inquiries, but Vanya dismisses her concerns and becomes angry with her. Vanya stops taking her pills. When she auditions for the first chair in her orchestra, she gets it, but at the same time, a mysterious power within her appears. Klaus destroys the briefcase after returning from his time travel. He fought in the Vietnam War, lost someone close to him, and is heavily traumatized. Luther and Number Five trick the hit-men into setting up a meeting with the Handler in exchange for a different briefcase. She offers Number Five a new job, which he accepts under the condition that his family survives. Vanya gets the first chair and tells Leonard. Unbeknownst to her, he killed the former first chair violinist. Pogo reactivates Grace and asks her to keep a secret from the kids.
Episode 6 "The Day That Wasn't"
During Klaus's time jump, he ended up in the Vietnam war and fell in love with a soldier named Dave. Meanwhile, the Handler takes Five to the Commission's headquarters. Cha-cha is sent orders to terminate Hazel. Luther informs the Academy about the impending apocalypse but fails to inspire the group to fight. Angry at being excluded and with her new powers emerging, Vanya unknowingly causes a rainstorm and bends several streetlamps. Klaus asks Diego to help him sober up, hoping to see Dave's ghost before the world ends. Luther feels betrayed when he discovers his moon research was pointless. Diego discovers that Grace has been reactivated and is dumbfounded. Luther and Allison confess their romantic feelings. Five intercepts orders to protect a man named Harold Jenkins. He alters the orders, telling Cha-Cha to kill Hazel and vice-versa. Vanya discovers her father's notebook at Leonard's house, reads it, and learns her father knew about her powers and suppressed them. Five steals a time-traveling briefcase and flees the Commission. He arrives at the beginning of the episode, altering the timeline, and rallies his siblings to stop the apocalypse.
Episode 7 "The Day That Was"
In 1989, Harold Jenkins is born from a normal pregnancy although his mother dies in labor. Harold idolizes the Umbrella Academy and believes he is like them; Reginald rejects Harold, telling him there is nothing special about him. Harold murders his abusive and alcoholic father and is sentenced to 12 years in prison. Five reveals they must locate Harold and stop him from causing the apocalypse. Diego learns that he is the prime suspect for Detective Patch's murder and Allison recognizes Harold as Leonard from a police file. Diego, Allison, and Five break into Leonard's house, discovering destroyed Umbrella Academy memorabilia. Luther becomes depressed upon learning the truth behind his mission to the moon. He goes to a rave where he gets intoxicated. Klaus follows him and is knocked unconscious in a fight. He sees Reginald, who tells him that Klaus has not fully seen the potential of his powers. Hazel receives orders to kill Cha-Cha but instead incapacitates her. Leonard and Vanya are harassed by a trio of thugs. They beat up Leonard, causing Vanya's powers to burst, killing two of them. Leonard recovers in the hospital, having lost his right eye in the event, while Allison goes looking for Vanya.
Episode 8 "I Heard a Rumor"
Unable to find Vanya, Allison accompanies a police officer investigating the attack on Leonard and Vanya under the guise that she is researching an acting role. As Leonard and Vanya leave the hospital, they learn that the third assailant survived. Allison and the officer question him and learn that he and his friends were paid to attack them. Hazel runs away with Agnes, going on the trip she had always planned. Upon arriving at their first stop, he leaves her to take care of an issue but promises to return. Cha-Cha goes to Agnes' donut shop and discovers where they are heading. Leonard and Vanya continue to train her abilities in the woods, which only grows stronger as Vanya flashes back to moments in her childhood where she was being trained by Reginald. As Reginald feared her powers were too great he isolated her from the others and began medicating her to stabilize her mood. Allison finally finds Vanya at the cabin and confesses that Reginald asked her to use her powers to convince Vanya she was ordinary. Vanya lashes out in anger, slicing Allison's throat with her powers. Leonard arrives and takes Vanya away as Allison bleeds out.
Episode 9 "Changes"
A young Vanya uses her powers to attack several nannies before Reginald ultimately builds Grace. Leonard takes Vanya back to his home, where she is riddled with guilt. Allison survives and is rescued by her brothers. However, she is unable to speak. Klaus tries to get high again, prompting Ben to punch Klaus in the face and revealing that Ben was able to make physical contact thanks to Klaus' powers. At Leonard's, Vanya discovers Reginald's diary. Realizing Leonard's manipulation, she kills him in a fit of rage. His body is discovered by her siblings and Five matches the glass eye to Leonard. Hazel arrives at the Umbrella Academy to volunteer to help stop the apocalypse but learns from Five that with Jenkins dead, it is done. Hazel reveals Cha-Cha to be Patch's killer and leaves their guns to help exonerate Diego. Hazel returns to Agnes, only to find Cha-Cha has taken her hostage. Their fight is interrupted by the Handler. Allison awakes and reveals that Vanya has powers. Vanya returns to the house and Luther incapacitates her before locking her in an isolation chamber. The others protest but Luther refuses. Heartbroken and furious, Vanya gives into her dark powers and breaks out.
Episode 10 "The White Violin"
The siblings escape as Vanya destroys the mansion. Ben is able to physically interact, saving Diego from falling debris. Vanya confronts Pogo, who admits to his knowledge of her powers. She kills him, and Grace is destroyed when the building collapses. The siblings regroup at a bowling alley while Vanya prepares for her concert. Five meets the Handler at the motel, only to realize it is a distraction. The siblings escape for the Icarus Theatre, while Hazel and Cha-Cha are ordered to protect Vanya. However, Hazel betrays Cha-Cha and incapacitates her before returning to the motel, killing the Handler, and rescuing Agnes. As the concert begins, the siblings fail to stop Vanya, and Commission soldiers enter the theatre. Ben manifests physically through Klaus and uses his powers to defeat the gunmen. Allison incapacitates Vanya, as her accumulated energy is redirected out into space and destroys the moon. Fragments begin to rain down upon the world, causing the Apocalypse. Having failed in their mission, Five suggests that they use his abilities to all travel back in time to stop the Apocalypse as a team. As the world is consumed, Hazel and Agnes escape, and the Umbrella Academy transport back in time, reverting to teenagers.
Infamous Shirts for Naked Bodies

…

You'll feel "shirty" when you buy our gear from the Flying Pork Apparel Co.
New Comics This Week – Sponsored by comiXology

Brian
EMPYRE #3 (OF 6) CHRISTOPHER 2-PACK ACTION FIGURE VAR
LEGION OF SUPER-HEROES #7
STAR WARS DARTH VADER #3
X-MEN #10 NOTO EMPYRE VAR EMP
Contact Us
The Infamous Podcast can be found wherever podcasts are found on the Interwebs, feel free to subscribe and follow along on social media. And don't be shy about helping out the show with a 5-star review on Apple Podcasts to help us move up in the ratings.
@infamouspodcast
facebook/infamouspodcast
instagram/infamouspodcast
stitcher
Apple Podcasts
Spotify
Google Play
iHeart Radio
contact@infamouspodcast.com
Our theme music is 'Skate Beat' provided by Michael Henry, with additional music provided by Michael Henry. Find more at MeetMichaelHenry.com.
The Infamous Podcast is hosted by Brian Tudor and recorded in Cincinnati, Ohio. The show is produced and edited by Brian Tudor.



Subscribe today!