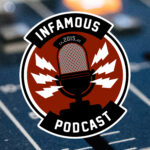 The Apocalypse Won't Stop Following The Hargreeves
This week on the podcast Brian and Darryl (along with a special guest) break down the second season of the Netflix Original Series The Umbrella Academy in great detail with LOTS of spoilers. Plus, lots of news this week about The Expanse, Milan, a Suicide Squad game, and The Boys gets a full Trailer and sneak peek.
News Bites
Exclusive: 'The Expanse' Lands Early Season 6 Renewal at Amazon
'Mulan' to Premiere on Disney Plus as Streamer Surpasses 60.5 Million Subscribers
Suicide Squad game in the works from Batman Arkham maker Rocksteady
The Boys Season 2 – Official Trailer only on Amazon Prime Video
The Boys Season 2 – Exclusive Clip from Amazon Prime Video
Umbrella Academy Season 2 Review
Summary
Five warned his family (so, so many times) that using his powers to escape from Vanya's 2019 apocalypse was risky. Well, he was right – the time jump scatters the siblings in time in and around Dallas, Texas. Over a three year period. Starting in 1960. Some, having been stuck in the past for years, have built lives and moved on, certain they're the only ones who survived. Five is the last to land, smack dab in the middle of a nuclear doomsday, which – spoiler alert! – turns out is a result of the group's disruption of the timeline (déjà vu, anyone?). Now the Umbrella Academy must find a way to reunite, figure out what caused doomsday, put a stop to it, and return to the present timeline to stop that other apocalypse. All while being hunted by a trio of ruthless Swedish assassins. But seriously, no pressure or anything.
Cast
Ellen Page plays Vanya Hargreeves
Tom Hopper plays Luther Hargreeves
David Castañeda plays Diego Hargreeves
Robert Sheehan plays Klaus Hargreeves
Aidan Gallagher plays Five Hargreeves
Emmy Raver-Lampman plays Allison Hargreeves
Justin H. Min plays Ben Hargreeves
Colm Feore plays Reginald Hargreeves
Ritu Arya plays Lila
Yusuf Gatewood plays Raymond Chestnut
Marin Ireland plays Sissy
Kris Holden-Ried plays Axel
Jason Bryden plays Otto
Tom Sinclair plays Oscar
Kate Walsh plays The Handler
Episodes
Episode 1 "Right Back Where We Started"
Five's time travel goes awry as his siblings end up in different years in 1960s Dallas. Five arrives on November 25, 1963, to find his siblings battling against Soviet soldiers. An elderly Hazel suddenly appears, and he and Five escape before the world is destroyed by nuclear weapons. Hazel explains that that was the apocalypse and that the Hargreeves siblings have ten days to stop it. Three Swedish assassins arrive and kill Hazel, though Five manages to escape and ends up in the house of a man named Elliot, who has been monitoring the alleyway Five and his siblings arrived in from 2019, agreeing to help Five. The lives of the other siblings are revealed: Luther is in a boxing ring and lives in a club working as a bodyguard for Jack Ruby, Diego is stuck in a mental asylum and wants to prevent the assassination of John F. Kennedy, Allison has married a civil rights activist named Raymond, Klaus has started a cult, and Vanya, who has amnesia, is living with a married couple, Sissy and Carl, and is the nanny of their son Harlan. After being chased by the Swedish men, Diego manages to escape the asylum with his friend and fellow asylum patient, Lila. Five finds Luther at the club and tells him about the situation, but Luther refuses to help.
Episode 2 "The Frankel Footage"
Three months after having gotten shot by Hazel, the Handler returns to the Commission only to find out that she has been demoted by her boss, a talking fish named AJ. Vanya goes to the club to pick up Carl, and Luther spots her. Ray is arrested by the cops. Five takes Diego and Lila to Elliott's house, and they watch a film that Hazel gave to Five shortly before his death. Watching the film, Diego and Five realize that their father Reginald was present at Kennedy's assassination. In jail, Klaus bonds with Ray and gets released shortly after. When Allison comes to visit her husband, she notices that one of Klaus's followers has the same tattoos on his hands that Klaus does. Luther comes to Sissy's farm and apologizes to Vanya, only to find out that she does not remember him and leaves. Diego and Five sneak into Reginald's company, and Five comes across Pogo, now a baby. Diego and Reginald get into a fight and Reginald stabs Diego before walking away.
Episode 3 "The Swedish Job"
Back at Elliott's house, Lila is able to save Diego, and they have sex. Vanya, having gone out for the night, gets intercepted by the Swedish men, who chase her in a cornfield, and Vanya uses her powers to stop them from killing her. Five finds her and explains the situation. Ray, having been released from prison by Klaus, finds Luther looking for Allison. Still having feelings for her, Luther leaves after finding out Allison is married. Meanwhile, Allison, alongside other African-Americans, participates in a sit-in in a whites only diner. Ray goes to the diner to participate in the sit-in but is arrested alongside the rest of the protestors. Seeing Ray get beat up by a police officer, Allison uses her powers to force the officer to leave Ray alone, resulting in Ray running away from Allison, confused about who she truly is. Finding Dave working at a paint store, Klaus tells Ben that he wants to prevent Dave from going to the Vietnam War. Leaving Diego and arriving at a hotel, it's revealed that Lila works for the Commission, alongside the Handler, who she calls "mum".
Episode 4 "The Majestic 12"
Before returning to Diego, Lila is instructed with protecting Five at all costs. Learning that she caused the original apocalypse, Vanya returns to the Cooper family. Not being able to explain her power to Ray, Allison leaves him and finds Luther, who tells her about the upcoming apocalypse. Meanwhile, Diego, Lila, and Five visit a gala where Reginald was invited to attend. After Diego encounters a now-human Grace, who is romantically involved with Reginald, the trio is attacked by the Swedish men. They manage to fight them off, but Reginald leaves in the process. After hearing Vanya's plan to leave, Harlan runs away. Finding his toy in a lake, Vanya uses her powers to find and save Harlan from drowning. Realizing that Harlan could die if she left, Vanya decides to stay. After failing to convince Dave not to join the Army, Klaus begins to drink and later spends a night at Allison's. At Elliot's house, Luther accidentally reveals the apocalypse arriving in seven days to Elliot while high on nitrous.
Episode 5 "Valhalla"
Vanya begins an intimate relationship with Sissy. At Elliot's house, Luther tells Five and Diego that when he first arrived in Dallas, he went back to the Academy only to be kicked out by Reginald because he wouldn't believe he would adopt seven children in the future, considering his hate for them. In the present, the trio decides to regroup with the rest of the Academy to explain their current situation, and together, they decide to search for Reginald, believing they all showed up in Dallas to save JFK. Having been kicked out of the group by Five, Lila goes back with the Handler to lure Five into meeting with them at an abandoned warehouse. While the Swedish men mourn the death of one of their brothers, Vanya decides to leave the Cooper family after catching Sissy sleeping with Carl. Luther and Diego receive an invitation to a light supper with Reginald, Klaus returns to his cult, and Allison decides to tell Ray "everything."
Episode 6 "A Light Supper"
At the warehouse, The Handler comes to Five and offers him a deal, saying that she will bring his family back to 2019 if he kills the Commission's board during one of their special meetings. The rest of the Academy receive invitations to Reginald's light supper, and together, they visit him and explain their current situation. Allison shows Ray her powers, Diego tells Grace Reginald's plan to kill JFK, and Carl watches as Sissy and Vanya make love in a car. Meanwhile, having been told that Diego killed their brother, the Swedish men visit Elliot, kill him, and leave the message "Öga för öga" (an eye for an eye) written with his blood on the floor. At the hotel, Five agrees to the Handler's deal.
Episode 7 "Öga for Öga"
Having killed the Commission's board, Five is given 90 minutes to regroup with the rest of the Academy to go back to a normal timeline in 2019. Seeing that Sissy is in an unhappy relationship, Vanya decides to take Sissy and Harlan with her to the new timeline, while Allison decides to take Ray. As Ray and Allison prepare to leave, the pair are attacked by the two remaining Swedish brothers but manage to escape when Allison uses her powers to make one of the brothers kill the other. Because Sissy left a note, Sissy, Harlan, and Vanya are stopped by multiple police officers. Vanya uses her powers to try to fight them but is knocked out. Because the Academy didn't regroup in time, Five is forced to throw away the time-traveling briefcase which contained the new timeline.
Episode 8 "The Seven Stages"
At an FBI building, Vanya is interrogated by FBI Special Agent Willy Gibbs, being suspected of being a Russian spy from the KGB, as Vanya can speak Russian. Being drugged and tortured with electrical shocks, Vanya begins to remember her past. Meanwhile, Five decides to meet with an older version of himself, to try and get old-Five's time-traveling briefcase to return to a new timeline. Alone, old-Five tells Luther his plan to prevent Vanya from causing the original apocalypse but having to kill young-Five in the process. Lila kidnaps Diego to force him to stay as her boyfriend and to work at the Commission. With the help of Herb, Diego sees what will occur on November 22, 1963. Instead of JFK being assassinated, an FBI building is destroyed by Vanya, leading to World War III when the Soviets are believed to be the cause; it eventually escalates into a planet-wide nuclear war. With the help of Herb, Diego escapes and along with Klaus and Allison returns to Dallas to prevent her from blowing up the building in one hour. However, the combination of the torture and return of her memories causes Vanya's power to start building towards the explosion as her siblings desperately try to reach her.
Episode 9 "743"
With the others unable to reach Vanya, Ben enters her mind where the traumatized Vanya has retreated into herself. Ben's understanding of her situation and her siblings trying to save her calms Vanya down and averts the explosion and the apocalypse. However, the effort involved proves to be too much for Ben's ghostly form and he departs for the afterlife. Connected to Vanya, Harlan experiences negative effects from the near-explosion and accidentally kills his father when Harlan deflects a bullet that Carl fired. Following up on a clue from AJ, Herb uncovers kill order 743 which he presents to Lila. Lila confronts her mom about it which involved old-Five killing Lila's parents. This causes Lila to become mad at Diego, unaware that the Handler was the one to approve the hit. Young-Five learns of old-Five's plan to kill him and with the help of Luther, manages to send old-Five to the original timeline, but accidentally destroys the briefcase in the process. Because the FBI building wasn't destroyed, JFK continues his parade and is assassinated despite Diego's attempts to stop it. Mad about his death, Reginald visits the Majestic 12, reveals himself to be an alien, and kills them. At the Commission, the Handler tells all her employees over the intercom to prepare for war.
Episode 10 "The End of Something"
The Academy learns that they are now wanted as terrorists for supposedly aiding in the assassination of John F. Kennedy. Sensing that Harlan is in trouble, Vanya, along with the rest of the group, decides to go back to Sissy's farm to help him. The Handler arrives with an army of Commission agents, but Vanya kills them all. Lila reveals herself to have the power to mirror the powers of the Academy who realize that she is another of the forty-three children that were born on the same day and that the Handler had Five murder her parents to get Lila for herself. The siblings reveal the truth to Lila before the Handler kills everyone before being shot by the last Swedish assassin herself. Mortally wounded, Five reverses time by a few minutes and stops the Handler who is killed by the assassin who ends his hunt for the Academy while Lila escapes. Sissy breaks up with Vanya for the sake of Harlan who Vanya removes her powers from. Herb, now the leader of the Commission, allows the Academy to use a briefcase to return to 2019 while Ray receives a goodbye letter from Allison, the Swede is picked up by Klaus' cult, Dave goes off to war and Sissy heads off to a new life with Harlan who retains telekinetic abilities. In an altered 2019, the Academy discovers that Reginald is still alive and has formed the Sparrow Academy instead with a still-alive Ben as Number One, five different
Infamous Shirts for Naked Bodies

…

You'll feel "shirty" when you buy our gear from the Flying Pork Apparel Co.
New Comics This Week – Sponsored by comiXology

Brian
BATMAN #96
EMPYRE #4 (OF 6) CHRISTOPHER 2-PACK ACTION FIGURE VAR
EMPYRE X-MEN #2
FANTASTIC FOUR #22
SEX CRIMINALS #30
STAR WARS #5
STAR WARS ADVENTURES CLONE WARS #3
STRANGE ADVENTURES #4
Contact Us
The Infamous Podcast can be found wherever podcasts are found on the Interwebs, feel free to subscribe and follow along on social media. And don't be shy about helping out the show with a 5-star review on Apple Podcasts to help us move up in the ratings.
@infamouspodcast
facebook/infamouspodcast
instagram/infamouspodcast
stitcher
Apple Podcasts
Spotify
Google Play
iHeart Radio
contact@infamouspodcast.com
Our theme music is 'Skate Beat' provided by Michael Henry, with additional music provided by Michael Henry. Find more at MeetMichaelHenry.com.
The Infamous Podcast is hosted by Brian Tudor and recorded in Cincinnati, Ohio. The show is produced and edited by Brian Tudor.



Subscribe today!