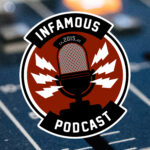 It's the End of Many Worlds
This week on the 250th episode of the podcast, Brian and Darryl are talking about Apocalypse movies. Why they are great, what makes them bad, and everything in between.
News Bites
DC's Jim Lee on the Company's Future: "We Are Still in the Business of Publishing Comics"
Ben Affleck Will Return as Batman in The Flash
Star Wars deepfake puts Harrison Ford into Solo: A Star Wars Story
The Mandalorian Creator Jon Favreau Reverses Course On How Lucasfilm Creatives Deal With Star Wars Fans
Apocalypse Movies/Shows
The guys each picked 5 movies and 5 TV series revolving around an apocalyptic event to celebrate the end of the world we are currently experiencing!
Darryl
Movies
Mad Max Fury Road (2015)
Book of Eli (2010)
28 Days Later (2002)
Edge of Tomorrow (2014)
Reign of Fire (2002)
TV Series
Battlestar Galactica (2004 – 2010)
The 100 (2014 – 2020) Revolution (2012 – 2014)
The Last Ship (2014 – 2018)
Brian
Movies
This is the End (2013)
The World's End (2013)
Pacific Rim (2013)
Zombieland (2009)
Mad Max Fury Road (2015)
TV Series
The Last Man on Earth (2015 – 2018)
The 100 (2014 – 2020)
Falling Skies (2011 – 2015)
Jericho (2006 – 2008)
Battlestar Galactica (2004 – 2010)
Infamous Shirts for Naked Bodies

…

You'll feel "shirty" when you buy our gear from the Flying Pork Apparel Co.
New Comics This Week – Sponsored by comiXology

Brian
BATMAN #897
EMPYRE X-MEN #4 (OF 4)
MAESTRO #1
NIGHTWING#73
Contact Us
The Infamous Podcast can be found wherever podcasts are found on the Interwebs, feel free to subscribe and follow along on social media. And don't be shy about helping out the show with a 5-star review on Apple Podcasts to help us move up in the ratings.
@infamouspodcast
facebook/infamouspodcast
instagram/infamouspodcast
stitcher
Apple Podcasts
Spotify
Google Play
iHeart Radio
contact@infamouspodcast.com
Our theme music is 'Skate Beat' provided by Michael Henry, with additional music provided by Michael Henry. Find more at MeetMichaelHenry.com.
The Infamous Podcast is hosted by Brian Tudor and recorded in Cincinnati, Ohio. The show is produced and edited by Brian Tudor.



Subscribe today!