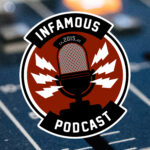 Did DC Comics Out Comic-con Comic-con?
This week on the podcast, Brian and Darryl look at all of the news out of DC Fandome. The Good, The Bad, and the downright Head Scratchers! All of the relevant videos and links are listed in titles below!
DC Fandome Highlights
The Suicide Squad's director had a Q&A session, revealing to fans how he was particularly excited at the chance to write Harley Quinn and that he thinks of his movie as a sequel to John Ostrander's defining Suicide Squad comics. However, likely the biggest news to come out of the panel came when Gunn introduced his full cast and finally revealed who everyone is playing.
Viola Davis – Amanda Waller
Joel Kinnaman – Colonel Rick Flag
Michael Rooker – Savant
Flula Borg – Javelin
Margot Robbie – Harley Quinn
David Dastmalchian – Polka-Dot Man
Daniela Melchior – Ratcatcher 2
Idris Alba – Bloodsport
Mayling Ng – Mongal
Peter Capaldi – The Thinker
Alice Braga – Sol Soria
Pete Davidson – Blackguard
Nathan Fillion – T.D.K.
Sean Gunn – Weasel
Jai Courtney – Captain Boomerang
John Cena – Peacemaker
Steve Agee – King Shark
Juan Diego Botto – General Silvio Luna
In Gotham Knights, Batman is dead and it's up to four young members of the Bat-Family—Nightwing, Batgirl, Robin and Red Hood—to fill the void left by the fallen Dark Knight. WB Games Montreal debuted the game's first trailer, in which a pre-recorded message from Bruce Wayne is sent to the four survivors. The trailer features looks at all four of them in action, each with distinctly different weapons and fighting styles. It also gives us a look at some of the game's villains, including a menacing Mr. Freeze and the Court of Owls.
Milestone Comics
The "Surprise DC Comics Panel" scheduled for the Hall of Heroes midpoint wound up being a celebration of the groundbreaking Milestone Comics that featured a few exciting announcements about the line's return.
The panel touched on Milestone's beginning, visionary and nearly unheard of at the time, and the key role Dwayne McDuffie played in its development. One of the first fan questions the group got concerned plans for Milestone in film, TV and other media outside comics, and the panel mentioned that they are in fact in serious talks about a Static Shock feature film as well as other platforms like animated films, podcasts and even Young Adult content.
The Snyder Cut of Justice League
Debuting on HBO Max in 2021, Snyder's recut Justice League will be divided into four parts, each one hour long. After all four parts have debuted, they'll be edited together into a single film, in case anyone prefers to watch it that way. Finally, he mentioned that they're at work on an international distribution plan so that countries where HBO Max is currently unavailable will still be able to see the film.
Suicide Squad: Kill the Justice League 
DC FanDome's second big videogame panel comes care of the team behind one of the biggest game franchises in gaming history—Batman: Arkham. Rocksteady Studio's Suicide Squad: Kill the Justice League was announced last week with a provocative teaser image and an even more outlandish title reveal. Why is the Suicide Squad killing the Justice League? Is even possible for a ragtag team of super-villains to take down the World's Greatest Super Heroes?
Director Patty Jenkins was joined by Gal Gadot, Chris Pine, Kristen Wiig and Pedro Pascal to discuss their upcoming follow-up to the 2017 megahit, answering questions about where they got the inspiration for the film's '80s-era wardrobe, what their best memory was from the time on set and who would win in a tennis match between Wonder Woman and the Cheetah (that last one was asked by none other than tennis superstar and DC fan Venus Williams).
DC FanDome: Hall of Heroes wrapped up with a 30-minute discussion with director Matt Reeves about The Batman, and it did not disappoint. Introduced by Robert Pattinson and moderated by DC FanDome host Aisha Tyler, the fast-talking Reeves covered quite a bit over the course of the panel, including giving fans a pretty clear idea of what sort of story they're in for when The Batman debuts in October of next year.
Infamous Shirts for Naked Bodies

…

You'll feel "shirty" when you buy our gear from the Flying Pork Apparel Co.
New Comics This Week – Sponsored by comiXology

Brian
BATMAN: THREE JOKERS #1
CHU #2
DETECTIVE COMICS #1026
FANTASTIC FOUR ANTITHESIS #1
RED HOOD: OUTLAW #48
STAR WARS DOCTOR APHRA #3
TEEN TITANS ANNUAL #2
X-MEN #11
Contact Us
The Infamous Podcast can be found wherever podcasts are found on the Interwebs, feel free to subscribe and follow along on social media. And don't be shy about helping out the show with a 5-star review on Apple Podcasts to help us move up in the ratings.
@infamouspodcast
facebook/infamouspodcast
instagram/infamouspodcast
stitcher
Apple Podcasts
Spotify
Google Play
iHeart Radio
contact@infamouspodcast.com
Our theme music is 'Skate Beat' provided by Michael Henry, with additional music provided by Michael Henry. Find more at MeetMichaelHenry.com.
The Infamous Podcast is hosted by Brian Tudor and recorded in Cincinnati, Ohio. The show is produced and edited by Brian Tudor.



Subscribe today!