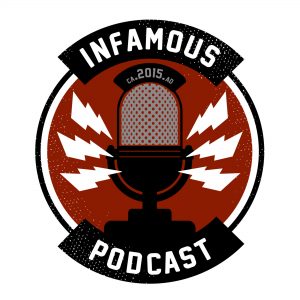 Time Moves Like a River… Except When it Doesn't
This week on the podcast, Brian and Darryl have news about Madden 21, The TENET opening weekend Box Office, and the new trailer for Dune! Then the two main topics are the reviews of Christopher Nolan's TENET, and the episodes one thru three of season 2 of the Amazon Prime Original Series, The Boys.
News Bites
Madden NFL 21 reintroduces an overrated Kaepernick to combat overwhelmingly negative reviews
Madden 21 Has Historically Low Review Scores; What's Wrong With The Game?
Box Office: 'Tenet' Kicks Off With $20 Million in the U.S., Nears $150 Million Globally
Dune Official Trailer
TENET

(2020)

Summary

A secret agent embarks on a dangerous, time-bending mission to prevent the start of World War III.

Cast

John David Washington as the Protagonist, a CIA agent
Robert Pattinson as Neil, the Protagonist's handler
Elizabeth Debicki as Kat, an art auctioneer, and Andrei's estranged wife
Dimple Kapadia as Priya, an arms trafficker
Martin Donovan as Victor, the Protagonist's CIA boss
Fiona Dourif as Wheeler, leader of Blue Team
Yuri Kolokolnikov as a henchman
Himesh Patel as Mahir
Clémence Poésy as Barbara
Aaron Taylor-Johnson as Ives
Michael Caine as Sir Michael Crosby
Kenneth Branagh as Andrei Sator

Crew

Directed by
Christopher Nolan

Produced by
Emma Thomas
Christopher Nolan

Written by
Christopher Nolan

Edited by
Jennifer Lame

Production Companies
Warner Bros. Pictures
Syncopy

Distributed by
Warner Bros. Pictures

Release Date
August 26, 2020 (United Kingdom)
September 3, 2020 (United States)

Running Time
150 minutes

Country
United Kingdom
United States

Language
English

Budget
$200 million

Box Office
$152.3 million
Production
Pre-production
Writer and director Christopher Nolan conceived the ideas behind Tenet over the course of twenty years, but remarked "I've been working on this iteration of the script for about six or seven years." The title is a palindrome, reading the same backward as forwards. Nolan made a conscious effort to abstain from any influence of the spy genre other than his own memory. Spaghetti Western Once Upon a Time in the West (1968) inspired the screenwriting. Special effects supervisor Scott R. Fisher watched World War II movies and documentaries to find reference points for realism. Theoretical physicist Kip Thorne, who worked with Nolan on Interstellar (2014), was consulted on the subjects of time and quantum physics. Production designer Nathan Crowley requested Hamilton Watch Company to manufacture around thirty military wristwatches, each analog with a digital countdown.
Casting
John David Washington, Robert Pattinson, and Elizabeth Debicki were cast in March 2019. Nolan chose Washington for his performance in BlacKkKlansman (2018). Washington, Pattinson, and Debicki were each only permitted to read the screenplay while locked in a room. Washington kept diaries in which he would expand the Protagonist's backstory. Pattinson based his character's mannerisms on those of author Christopher Hitchens. The casting of Dimple Kapadia, Aaron Taylor-Johnson, Clémence Poésy, Michael Caine, and Kenneth Branagh was announced as filming started. Kapadia's screen test was put together by director Homi Adajania while working on his 2020 film Angrezi Medium. Caine was merely given his pages for one day of work. Himesh Patel joined in August. Martin Donovan was revealed in the first trailer. Fiona Dourif and Yuri Kolokolnikov were included later on.
Filming
Principal photography, involving a crew of 250 people, began in May 2019 and took place in seven countries – Denmark, Estonia, India, Italy, Norway, the United Kingdom, and the United States. Filming in Estonia happened in June and July, with the Linnahall, Pärnu Highway, and adjacent streets closed to facilitate it. Kumu Art Museum doubled as the fictional "Oslo freeport". Tallinn mayor Mihhail Kõlvart expressed concerns about potential disruptions as the original shooting schedule required that the arterial Laagna Road be closed for one month. Production eventually reached a compromise involving temporary road closures and detours. Scenes were shot in Ravello, Italy, and Hampstead, England at Cannon Hall late August, and on the roof of the Oslo Opera House and at The Thief hotel in Tjuvholmen, Norway, and in Rødbyhavn, Denmark at Nysted Wind Farm early September. A five-day shoot occurred later that month in Mumbai, where Nolan had traveled in February and April for location scouting. He decided on Breach Candy Hospital, Cafe Mondegar, Colaba Causeway, Colaba Market, Gateway of India, Grant Road, Royal Bombay Yacht Club, and the Taj Mahal Palace Hotel. A restaurant set named "Chaand" was built near the hotel, but never used, serving only as an alternative. Forty boats were positioned at the Gateway of India, where the crew also rescued a man who had attempted suicide. A stunt where someone jumps off a building was done in Grant Road, and a helicopter was applied for aerial footage of the hospital. They proceeded to Victorville, California soon after, disguising it as Oslo, and worked with more than ninety extras. Instead of using miniatures and visual effects (VFX) for the plane crash sequence, Nolan determined that purchasing a Boeing 747 proved more cost-effective. October saw them in a desert outside Palm Springs, where an abandoned city had been constructed and hundreds were clothed in military camouflage uniforms. Director of photography Hoyte van Hoytema used a combination of 70 mm film and IMAX. He prioritized Panavision lenses that would best accommodate lower light. Segments that concerned "time inversion" were captured both in backward and forward mobility and speech. The windfarm vessel Iceni Revenge was brought into play in Denmark, Estonia, and Italy for a total of three months.
Post-Production
Ludwig Göransson composed the score as Nolan's frequent collaborator Hans Zimmer had committed himself to the 2020 film Dune. During the COVID-19 pandemic, Göransson recorded musicians at their homes. The Tenet soundtrack contains "The Plan," a song by Travis Scott. Jennifer Lame replaced Nolan's long-time editor Lee Smith, who was occupied with 2019's 1917. DNEG created about 280 VFX shots.
Reception
Box Office
As of September 7, 2020, Tenet has grossed $20.2 million in the United States and Canada, and $132.1 million in other territories, for a worldwide total of $152.3 million. With a production budget of $200 million, Tenet is Nolan's most expensive original project. IndieWire speculated that the marketing could push the final sum to $300–350 million, though analysts predicted lower advertising costs than usual, owing to inexpensive live sports ads. Observer estimated it would need to make $450–500 million in order to break even. Nolan is reported to receive twenty percent of the first-dollar gross.
According to industry tracking, Tenet was projected to take $25-30 million internationally over its first five days. In South Korea, pre-sale tickets sold out all IMAX screenings and weekend previews totaled $717,000 from 590 venues. Another four days there yielded $4.13 million from about 2,200 screens, bringing the cume to $5.1 million by the end of the week. The film debuted to $53 million in 41 countries, grossing $7.1 million in the United Kingdom, $6.7 million in France, and $4.2 million in Germany, as well as $2.5 million in Canada. Tenet made $58.1 million in its second weekend, with China ($30 million from first showings), the U.K. ($13.1 million), France ($10.7 million), Germany ($8.7 million), and South Korea ($8.2 million) as its largest markets.
With 65% of the American and Canadian theaters operating at 25-40% capacity, the opening weekend acquired $20.2 million from 2,810 theaters.
Critical Response
On review aggregator Rotten Tomatoes, Tenet holds an approval rating of 74% based on 226 reviews, with an average rating of 7.01/10. The website's critical consensus reads: "A visually dazzling puzzle for film lovers to unlock, Tenet serves up all the cerebral spectacle audiences expect from a Christopher Nolan production." On Metacritic, the film has a weighted average score of 69 out of 100 based on 46 critics, indicating "generally favorable reviews." Audiences polled by CinemaScore gave the film an average grade of "B" on an A+ to F scale.
Guy Lodge of Variety described Tenet as a "grandly entertaining, time-slipping spectacle." The Guardian critic Peter Bradshaw felt it was both "madly preposterous" and "amazing cinema." Kevin Maher of The Times awarded the film a full five stars, deeming it "a delightfully convoluted masterpiece." Robbie Collin of The Telegraph likened it to Nolan's Inception and praised the "depth, subtlety and wit of Pattinson and Debicki's performances." In his review for Rolling Stone, Peter Travers praised the film for being "pure, ravishing cinema." A review for The Dispatch called Tenet "the perfect movie to mark the return of theaters because it captures so much of what makes the medium of cinema great." James Berardinelli noted that "[Tenet] may be the most challenging of Nolan's films to date when it comes to wrapping one's mind around the concepts forming the narrative's foundation: backward-moving entropy, non-linear thinking, temporal paradoxes … The film contains some of Nolan's most ambitious action sequences to-date but one wonders whether the plot density—a not inconsiderable obstacle for some who prefer not to devote their undivided attention for 2 1⁄2 hours—might prove to be problematic." Mark Daniell of the Toronto Sun gave the film four out of four stars, deeming it "the cinematic equivalent of a Rubik's Cube, presented in towering Imax and featuring a polished cast set amidst some of the world's most gorgeous locations." Richard Roeper of the Chicago Sun-Times gave it 3 1⁄2 out of 4 stars, and noted that the movie "reaches for cinematic greatness and, though it doesn't quite reach that lofty goal, it's the kind of film that reminds us of the magic of the moviegoing experience."
Branagh's Andrei Sator was described by some critics as a stereotypical Russian villain. Christina Newland of New York noted that Sator is "played by a silly-accented Kenneth Branagh as a Bond-villain-esque Russian mastermind." Leslie Felperin of The Hollywood Reporter felt Washington was "dashing but a little dull," but remarked that Debicki's performance "adds color to Nolan's palette, and [she] has persuasive chemistry with Branagh in their joint portrait of a violent, dysfunctional love-hate relationship." She further concluded that Tenet makes "for a chilly, cerebral film—easy to admire, especially since it's so rich in audacity and originality, but almost impossible to love, lacking as it is in certain a humanity." Mike McCahill of IndieWire noted that it was "the summer's most keenly awaited event movie" but gave it a "C-" grade and called it "a humorless disappointment." Poor sound mixing on 35 mm movie film "often" rendered dialog inaudible, stated Brian Lloyd of Entertainment.ie; viewing the film on Digital Cinema Package files reduced the problem. Michael Phillips of the Chicago Tribune awarded the film 2 out of 4 stars, writing, "I wish Tenet exploited its own ideas more dynamically. Nolan's a prodigious talent. But no major director, I suppose, can avoid going sideways from time to time."
Ann Hornaday of The Washington Post opted not to review the film, citing the absence of a digital option to watch it. Hornaday wrote, "We were held hostage to Tenet's marketing rollout—given a high-minded sheen by Nolan's vaunted artistic purity—and we chose not to play."
The Boys Season 2

(Episodes 1-3)

The Boys Season 2 Is Being Review-Bombed on Amazon Due to Its Release Schedule

S02 E01 · The Big Ride
Sep 4, 2020
With Butcher still missing, Hughie, Mother's Milk, Frenchie, and Kimiko are now fugitives, and Homelander and Vought are more powerful than ever; just as the Boys are about to leave the country, they are pulled back into the fray.

S02 E02 · Proper Preparation and Planning
Sep 4, 2020
Butcher is back with the Boys; Homelander spends quality time with his new "family;" Starlight and Stormfront bond at a press junket and the Boys hunt down a super terrorist with a startling identity.

S02 E03 · Over the Hill With the Swords of a Thousand Men
Sep 4, 2020
The Boys take to the high seas to safeguard their prisoner. Homelander plays house, then pushes Ryan over the edge. Starlight is forced to make an impossible choice, and Stormfront reveals her true character.
Infamous Shirts for Naked Bodies

…

You'll feel "shirty" when you buy our gear from the Flying Pork Apparel Co.
New Comics This Week – Sponsored by comiXology

Brian
BATMAN #99
DETECTIVE COMICS #1027
EMPYRE FALLOUT FANTASTIC FOUR #1 ALEX ROSS TIMELESS VAR
RISE OF ULTRAMAN #1 (OF 5) YOUNG VAR
Contact Us
The Infamous Podcast can be found wherever podcasts are found on the Interwebs, feel free to subscribe and follow along on social media. And don't be shy about helping out the show with a 5-star review on Apple Podcasts to help us move up in the ratings.
@infamouspodcast
facebook/infamouspodcast
instagram/infamouspodcast
stitcher
Apple Podcasts
Spotify
Google Play
iHeart Radio
contact@infamouspodcast.com
Our theme music is 'Skate Beat' provided by Michael Henry, with additional music provided by Michael Henry. Find more at MeetMichaelHenry.com.
The Infamous Podcast is hosted by Brian Tudor and recorded in Cincinnati, Ohio. The show is produced and edited by Brian Tudor.



Subscribe today!