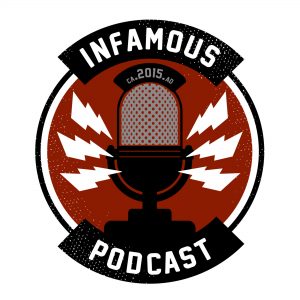 Avengers… What the Heck Assemble Already!
This week on the podcast, Brian and Darryl review Marvel's Avengers (on the PS4). Talk about Episode 4 of The Boys season 2. And dive deep into the NEW The Mandalorian Trailer and the accompanying rumors of Pedro Pascal's hissy fit.
News Bites
She-Hulk: Tatiana Maslany Cast as Marvel Hero for Disney Plus Series
The Mandalorian Season 2 Trailer
Rumor: Pedro Pascal Quit Filming The Mandalorian Season 2 Halfway Through Production
Grace Randolph's Original Video Breaking the Story
The Boys (Season 2 Ep 4)
Title "Nothing Like It in the World"
Directed by: Fred Toye
Written by: Michael Saltzman
Release Date: Sept. 11, 2020
Summary
Mallory provides Butcher with information on a superhero known as Liberty and Becca's location. Butcher infiltrates the facility, but Becca refuses to leave because Butcher will not accept Ryan. Black Noir discovers Butcher's infiltration. Threatened by Homelander, Starlight joins Hughie and MM in investigating Liberty. The three learn that Liberty is Stormfront, who committed a racially-charged murder in the 1970s. Starlight leaves Hughie, fearing that they are becoming comfortable with the danger surrounding them. Growing more unstable from Stormfront usurping his popularity, Homelander puts A-Train on medical leave from the Seven, outs Maeve on live television during an interview with Maria Menounos, and kills Doppelganger when he tries to seduce him. Meanwhile, the Church of the Collective enters the Deep into an arranged marriage.
Cast
Karl Urban … Billy Butcher
Jack Quaid … Hughie Campbell
Antony Starr … Homelander
Erin Moriarty … Starlight / Annie January
Dominique McElligott … Queen Maeve
Jessie T. Usher … A-Train
Laz Alonso … Mother's Milk
Chace Crawford … The Deep
Tomer Capon … Frenchie
Karen Fukuhara … Kimiko Miyashiro
Nathan Mitchell … Black Noir
Colby Minifie … Ashley Barrett
Aya Cash … Stormfront
Elisabeth Shue … Madelyn Stillwell
Shantel VanSanten … Becca Butcher
Dan Darin-Zanco … Doppelganger
Jordana Lajoie … Cherie
Dawnn Lewis … Valerie
Howard Campbell … Myron
Marvel's Avengers (PS4)
Summary
Marvel's Avengers is an action role-playing brawler video game co-developed by Crystal Dynamics and published by Square Enix. Based on the Marvel Comics superhero team the Avengers, the game is mainly inspired by the Marvel Cinematic Universe's iteration of the group, as well as the long-running comic book mythology.
Game Info
Initial release date: August 14, 2020
Publisher: Square Enix
Platforms: PlayStation 5, PlayStation 4, Xbox Series X and Series S, Xbox One, Google Stadia, Microsoft Windows
Developers: Crystal Dynamics, Crystal Northwest, Nixxes Software BV, Eidos-Montréal
Designers: Alisha Thayer, Magali Stretton
Reception
Marvel's Avengers received mixed reviews from critics, according to review aggregator Metacritic.
Destructoid summarized its 6/10 review by calling the game "Slightly above average or simply inoffensive. Fans of the genre should enjoy it a bit, but a fair few will be left unfulfilled." Shacknews praised the campaign and unique character abilities but noted the "convoluted and uninspired" menus and bug issues.
USgamer scored the game 2.5/5 stars and wrote: "If Marvel's Avengers was just the single-player story campaign, it would be amazing. There, Crystal Dynamics sells you on its version of the Avengers and introduces the charming and endearing Ms. Marvel to players everywhere. Combat has depth to it, and each hero truly feels distinct. Unfortunately, the endgame is where our heroes falter, with broken matchmaking, rough options in terms of progression, and endlessly reused environments and enemies."
Electronic Gaming Monthly said "Marvel's Avengers squanders the potential of what might have been a fun superhero romp by grafting on an annoying, overly repetitive games-as-a-service component. Playing as the cast of heroes offers decent thrills, and the campaign tells an enjoyable enough story, but odds are good you'll get bored long before you grind your way to the top."
Game Informer gave the game an 8.75/10, writing: "Developer Crystal Dynamics delivers a powerful superhero showcase that taps into each Avenger's unique abilities to light up the battlefield in thrilling ways, but when the dust settles, it slows down to show a softer, human side that is every bit as engaging, placing a character you wouldn't expect in the central role."
IGN gave the game 6/10, praising its combat, superhero flavor, and campaign, but criticizing its technical issues, loot system, and recycled repetitive end-game.
Infamous Shirts for Naked Bodies

…

You'll feel "shirty" when you buy our gear from the Flying Pork Apparel Co.
New Comics This Week – Sponsored by comiXology

Brian
BATMAN #99
DETECTIVE COMICS #1027
STAR WARS #6
STAR WARS DARTH VADER #5
X-MEN #12
X-MEN MARVELS SNAPSHOT #1
Contact Us
The Infamous Podcast can be found wherever podcasts are found on the Interwebs, feel free to subscribe and follow along on social media. And don't be shy about helping out the show with a 5-star review on Apple Podcasts to help us move up in the ratings.
@infamouspodcast
facebook/infamouspodcast
instagram/infamouspodcast
stitcher
Apple Podcasts
Spotify
Google Play
iHeart Radio
contact@infamouspodcast.com
Our theme music is 'Skate Beat' provided by Michael Henry, with additional music provided by Michael Henry. Find more at MeetMichaelHenry.com.
The Infamous Podcast is hosted by Brian Tudor and recorded in Cincinnati, Ohio. The show is produced and edited by Brian Tudor.



Subscribe today!