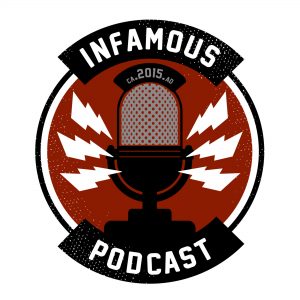 It's a News Heavy Day
This week on the podcast, Brian and Darryl take an opportunity to catch up on news from the past week including the WandaVision trailer. Then head off to Vought HQ to talk bout The Boys Episode 5 "We Gotta Go".
Episode Index:
Intro: 0:44
WandaVision Trailer: 4:09
Bethesda Bought: 9:08
Supergirl Cancelled: 16:16
Peacemaker Spin-off: 22:24
The Mandalorian Rumors: 28:03
Snyder-Cut: 35:00
The Boys Spinoff: 39:15
The Boys – "We Gotta Go Now": 43:10
News Bites
WandaVision Trailer
Microsoft acquires Bethesda Softworks in $7.5B deal
Supergirl Cancelled, Season 6 Will Be Last
The Suicide Squad Spinoff Peacemaker, Starring John Cena, Ordered to Series at HBO Max; James Gunn to Write/Direct
New Rumor Claims To Provide Update On Pedro Pascal's Rumored Exit From The Mandalorian Season 2
Zack Snyder's JUSTICE LEAGUE Reshoots Will Reportedly Cost $70 Million
The Boys (Season 2 Episode 5)
Title: "We Gotta Go Now"
Directed by: Batan Silva
Written by: Ellie Monahan
Release Date: Sept. 18, 2020
Summary
The movie on the formation of the Seven has been rewritten to include Queen Maeve's sexuality and Vought wants to bring Elena into the public sphere, but she is uninterested. A-Train is unhappy with his portion of the movie, which includes his exit, but is overruled. Butcher has trouble accepting his wife's decision to stay in her current situation and plans to retire, but a challenge from Black Noir brings the team back together. The Deep's marriage is announced as he becomes the public face of the Church of the Collective. Homelander fights one of his own-creation super-terrorists but kills a bystander by mistake causing a drop in his popularity. He tries to quell the protests against him and ends up fantasizing about mass murder. He and Stormfront end up together, attracted by their mutual invulnerability.
Cast
Karl Urban … Billy Butcher
Jack Quaid … Hughie Campbell
Antony Starr … Homelander
Erin Moriarty … Starlight / Annie January
Dominique McElligott … Queen Maeve
Jessie T. Usher … A-Train
Laz Alonso … Mother's Milk
Chace Crawford … The Deep
Tomer Capon … Frenchie
Karen Fukuhara … Kimiko Miyashiro
Nathan Mitchell … Black Noir
Colby Minifie … Ashley Barrett
Aya Cash … Stormfront
Giancarlo Esposito … Stan Edgar
Shawn Ashmore … Nurse (SPOILERS, he's Lamplighter)
Infamous Shirts for Naked Bodies

…

You'll feel "shirty" when you buy our gear from the Flying Pork Apparel Co.
New Comics This Week – Sponsored by comiXology

Brian
FANTASTIC FOUR ANTITHESIS #2 (OF 4) ALEX ROSS SILVER SURFER
JUGGERNAUT #1 (OF 5) YOUNG VAR DX
STAR WARS BOUNTY HUNTERS #5
X OF SWORDS CREATION #1 MERCADO VAR
Contact Us
The Infamous Podcast can be found wherever podcasts are found on the Interwebs, feel free to subscribe and follow along on social media. And don't be shy about helping out the show with a 5-star review on Apple Podcasts to help us move up in the ratings.
@infamouspodcast
facebook/infamouspodcast
instagram/infamouspodcast
stitcher
Apple Podcasts
Spotify
Google Play
iHeart Radio
contact@infamouspodcast.com
Our theme music is 'Skate Beat' provided by Michael Henry, with additional music provided by Michael Henry. Find more at MeetMichaelHenry.com.
The Infamous Podcast is hosted by Brian Tudor and recorded in Cincinnati, Ohio. The show is produced and edited by Brian Tudor.



Subscribe today!