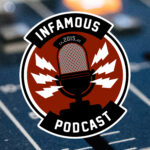 He Really is More Powerful Than a Locomotive
This week on the podcast, Brian and Darryl are reviewing the latest DC Comics animated release 'Superman: Man of Tomorrow". Then they dig deep into episode 6 of The Boys. Plus all the news of the week worth sharing.
Episode Index:
Intro: 0:44
The Sandman Casting: 3:32
Jamie Foxx Electro News: 8:20
Spider-Man Remastered: 12:48
Ms. Marvel Casting: 17:45
Superman: Man of Tomorrow: 25:45
The Boys – "The Bloody Doors Off": 50:00
News Bites
Liam Hemsworth and Dacre Montgomery in the Running to Play The Corinthian in Netflix's THE SANDMAN
Spider-Man 3′ Jolt: Jamie Foxx Returning as Electro
The Spider-Man Remaster changes a lot — including Peter Parker's face
Report: Marvel Studios Wanted To "Stay True To The Character" In Casting Ms. Marvel Actress Iman Vellani
Superman: Man of Tomorrow (2020)
Summary
It's the dawn of a new age of heroes, and Metropolis has just met its first. But as Daily Planet intern Clark Kent—working alongside reporter Lois Lane—secretly wields his alien powers of flight, super-strength and x-ray vision in the battle for good, there's even greater trouble on the horizon. Follow the budding hero as he engages in bloody battles with intergalactic bounty hunter Lobo and fights for his life to halt the attack of power-hungry alien Parasite. The world will learn about Superman…but first, Superman must save the world!
Cast
Darren Criss … Superman / Clark Kent (voice)
Zachary Quinto … Lex Luthor (voice)
Ike Amadi … Martian Manhunter (voice)
Eugene Byrd … Ron Troupe (voice)
Alexandra Daddario … Lois Lane (voice)
Brett Dalton … Parasite / Rudy Jones (voice)
Neil Flynn … Jonathan Kent (voice)
Ryan Hurst … Lobo (voice)
Piotr Michael … Perry White (voice)
Bellamy Young … Martha Kent (voice)
Director: Chris Palmer
Producers: Butch Lukic, Jim Krieg, Kimberly S. Moreau, Sam Register
Writers: Tim Sheridan
The Boys (Season 2 Episode 6)
Summary
While Butcher, Hughie, and Annie stand guard; MM, Frenchie, and Kimiko infiltrate Sage Grove and discover captive Compound V patients. Frenchie recognizes an orderly as Lamplighter, causing a scuffle that leads to patients breaking out. An escaped patient injures Hughie, forcing Starlight and Butcher to rush him to a hospital. Forced to work together with Lamplighter, he informs the Boys that Vought is attempting to stabilize Compound V in adult subjects. Lamplighter is spared by Mallory at Frenchie's behest over his remorse for killing her grandchildren. Stormfront tells Homelander she is the first successful Compound V subject and founder Frederick Vought's widow, wanting him to lead the superpowered to world domination. Maeve obtains a video of Homelander abandoning the plane as leverage against him. Unstable patient Cindy escapes Sage Grove. A-Train is lured into the Church of the Collective.
Title: "The Bloody Doors Off"
Directed by: Sarah Boyd
Written by: Anslem Richardson
Release Date: Sept. 25, 2020
Cast
Karl Urban … Billy Butcher
Jack Quaid … Hughie Campbell
Antony Starr … Homelander
Erin Moriarty … Starlight / Annie January
Dominique McElligott … Queen Maeve
Jessie T. Usher … A-Train
Laz Alonso … Mother's Milk
Chace Crawford … The Deep
Tomer Capon … Frenchie
Karen Fukuhara … Kimiko Miyashiro
Nathan Mitchell … Black Noir
Colby Minifie … Ashley Barrett
Aya Cash … Stormfront
Shawn Ashmore … Lamplighter
Andrew Jackson … Love Sausage
Infamous Shirts for Naked Bodies

…

You'll feel "shirty" when you buy our gear from the Flying Pork Apparel Co.
New Comics This Week – Sponsored by comiXology

Brian
BATMAN: THE JOKER WARZONE #1
BATMAN: THREE JOKERS #2 (Batgirl Cover)
CHU #3
FANTASTIC FOUR #24 ALEX ROSS HUMAN TORCH TIMELESS VAR EMP (actually all 4 Alex Ross Covers)
STAR WARS ADVENTURES CLONE WARS #5
STAR WARS DOCTOR APHRA #4
Contact Us
The Infamous Podcast can be found wherever podcasts are found on the Interwebs, feel free to subscribe and follow along on social media. And don't be shy about helping out the show with a 5-star review on Apple Podcasts to help us move up in the ratings.
@infamouspodcast
facebook/infamouspodcast
instagram/infamouspodcast
stitcher
Apple Podcasts
Spotify
Google Play
iHeart Radio
contact@infamouspodcast.com
Our theme music is 'Skate Beat' provided by Michael Henry, with additional music provided by Michael Henry. Find more at MeetMichaelHenry.com.
The Infamous Podcast is hosted by Brian Tudor and recorded in Cincinnati, Ohio. The show is produced and edited by Brian Tudor.



Subscribe today!