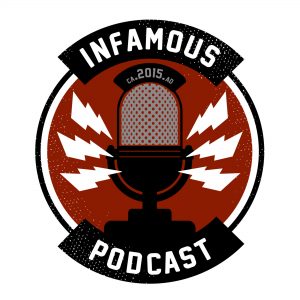 Helmets on Helmets off… who knows?
This week on the podcast, Brian and Darryl find out there is more than one way, breaking down The Mandalorian 'The Heiress'. Plus News Bite updates on Johnny Depp, Wonder Woman 1984, WandaVision, and Lucas's Star Wars Sequel.
Episode Index
Intro: 0:45
Johnny Depp: 2:33
Wonder Woman 1984: 8:45
WandaVision: 23:35
Lucas' Sequels: 26:20
The Heiress: 43:56
News Bites
Warner Bros. Still Has To Pay Johnny Depp For Fantastic Beasts Despite The Actor Resigning
'Wonder Woman 1984': Warner Bros. Mulls January HBO Max Release or Delay to Summer 2021
'WandaVision' Release Date Announced
Darth Maul's sequel role and 9 other Star Wars tidbits from Taschen's new prequel book
The Mandalorian (Season 2 Episode 3)
Summary
The Mandalorian braves high seas and meets unexpected allies.
Title: Chapter 11: 'The Heiress
Directed by: Bryce Dallas Howard
Written by: Jon Favreau
Release Date: November 13, 2020
Cast
Pedro Pascal … The Mandalorian
Misty Rosas … Frog Lady
Sasha Banks … Koska Reeves (as Mercedes Varnado)
Katee Sackhoff … Bo-Katan
Simon Kassianides … Axe Woves
Titus Welliver … Imperial Captain
Giancarlo Esposito … Moff Gideon
Norwood Cheek … Mon Calamari Server
Kevin Dorff … Deck Officer
Alexander Wraith … Freighter Pilot
Philip Alexander … Security Officer
Production
Development
The episode was written by series creator Jon Favreau and directed by Bryce Dallas Howard.
Casting
On May 12, 2020, it was announced that Katee Sackhoff had joined the cast of The Mandalorian and that she would be portraying Bo-Katan Kryze, a role she had previously portrayed in animation on Star Wars: The Clone Wars and Star Wars: Rebels.
Reception
On Rotten Tomatoes, the episode received an approval rating of 93% based on reviews from 15 critics, with an average rating of 8.27/10. The website's critics consensus reads, "Bryce Dallas Howard returns behind the camera to deliver an action-packed installment that has enough Easter eggs to keep diehards happy while setting up plenty of exciting things to come."
Infamous Shirts for Naked Bodies

…

You'll feel "shirty" when you buy our gear from the Flying Pork Apparel Co.
New Comics This Week – Sponsored by comiXology

Brian
DETECTIVE COMICS #1030
PUNCHLINE #1
STAR WARS DARTH VADER #7
Contact Us
The Infamous Podcast can be found wherever podcasts are found on the Interwebs, feel free to subscribe and follow along on social media. And don't be shy about helping out the show with a 5-star review on Apple Podcasts to help us move up in the ratings.
@infamouspodcast
facebook/infamouspodcast
instagram/infamouspodcast
stitcher
Apple Podcasts
Spotify
Google Play
iHeart Radio
contact@infamouspodcast.com
Our theme music is 'Skate Beat' provided by Michael Henry, with additional music provided by Michael Henry. Find more at MeetMichaelHenry.com.
The Infamous Podcast is hosted by Brian Tudor and Darryl Jasper, is recorded in Cincinnati, Ohio. The show is produced and edited by Brian Tudor.



Subscribe today!