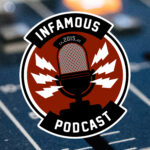 That Damn Baby Yoda and his Evil Stomach
This week on the podcast, Brian and Darryl are talking about The Mandalorian Chapter 12: 'The Siege'. They are breaking down the episode's highs, lows, and what comes next on the journey of The Mandalorian. All that PLUS News Bites on changes to the Apple App Store, Wonder Woman 1984 streaming, Steppenwolf, and Squadrons gets an update.
Episode Index
Intro: 0:45
Apple App Store: 4:00
Wonder Woman 1984: 10:35
The Snyder Cut: 18:05
Star Wars Squadrons: 22:41
Supernatural Finale: 27:28
The Siege: 39:20
News Bites
Apple to cut App Store commission to 15% for some devs
'Wonder Woman 1984' Going In Theaters & HBO Max On Christmas Day, Unprecedented For A Superhero Tentpole
Zack Snyder Unveils New Justice League Trailer and Steppenwolf Image, Discusses Sequel Rumors
STAR WARS: Squadrons Salutes Fans with New Starfighters and MORE!
The Mandalorian (Season 2 Episode 4)
Summary
The Mandalorian returns to his friends Greef Karga and Cara Dune on Nevarro for repairs on his ship but is talked into blowing up an old imperial base. Little to everyone's knowledge there is a lot more taking place at the base.
Title: Chapter 12: 'The Siege'
Directed by: Carl Weathers
Written by: Jon Favreau
Release Date: November 20, 2020
Cast
Pedro Pascal … The Mandalorian
Gina Carano … Cara Dune
Carl Weathers … Greef Karga
Horatio Sanz … Mythrol
Omid Abtahi … Dr. Pershing
Giancarlo Esposito … Moff Gideon
Production
The episode was written by Jon Favreau, the series creator, and directed by Carl Weathers, who also co-starred in the episode as Greef Karga.
Infamous Shirts for Naked Bodies

…

You'll feel "shirty" when you buy our gear from the Flying Pork Apparel Co.
New Comics This Week – Sponsored by comiXology

Brian
BATMAN #103
FANTASTIC FOUR #26
NIGHTWING #76
STAR WARS BOUNTY HUNTERS #7 CHRISTOPHER ACTION FIGURE VAR
Contact Us
The Infamous Podcast can be found wherever podcasts are found on the Interwebs, feel free to subscribe and follow along on social media. And don't be shy about helping out the show with a 5-star review on Apple Podcasts to help us move up in the ratings.
@infamouspodcast
facebook/infamouspodcast
instagram/infamouspodcast
stitcher
Apple Podcasts
Spotify
Google Play
iHeart Radio
contact@infamouspodcast.com
Our theme music is 'Skate Beat' provided by Michael Henry, with additional music provided by Michael Henry. Find more at MeetMichaelHenry.com.
The Infamous Podcast is hosted by Brian Tudor and Darryl Jasper, is recorded in Cincinnati, Ohio. The show is produced and edited by Brian Tudor.



Subscribe today!