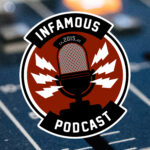 Who is Grogu?
This week on the podcast, Brian and Darryl are breaking down all of the Ahsoka Tano goodness from Chapter 13: The Jedi. Plus to get ready for The Expanse season 5 premier they look at how James Holden, Captain of the Rocinante, stacks up to some other famous sci-fi captains. And of course, there are News Bites!
Episode Index
Intro: 0:45
The Expanse Season 6: 4:02
Mads Mikkelsen in Fantastic Beasts: 12:32
Titans' Starfire's new clothes: 16:55
The Star Wars Story Group: 20:29
James Holden vs. the Captains: 27:34
The Jedi: 44:45
News Bites
'The Expanse' Renewed For Sixth & Final Season By Amazon Ahead Of Season 5 Premiere
Death Stranding Star Mads Mikkelsen To Officially Replace Johnny Depp in 'Fantastic Beasts'
Anna Diop's Starfire Costume for Titans: Season 3 Revealed in New Photos!
Star Wars Story Group Writer Matt Martin Admits His Lack of Rebel and Republic B-Wing Knowledge
James Holden Vs. The Captains
Who is James Holden?
Played by Steven Strait on the Amazon Original Series, James "Jim" Holden is the captain of the Rocinante. Born between 30 BXT and 21 BXT in Montana on Earth, Holden joined the United Nations Navy, being dishonorably discharged after seven years of continuous duty. Following the destruction of the Canterbury, Holden, along with Shed Garvey, Naomi Nagata, Amos Burton, and Alex Kamal, went on a quest to uncover the true culprit. Holden always strives to do what he believes is right.
The Captains
Captain James T. Kirk (USS Enterprise)
Captain Mal Reynolds (Serenity)
Captain Han Solo (Millennium Falcon)
Jean-Luc Picard (USS Enterprise – D)
Captain Kathryn Janeway (USS Voyager)
Stanley H. Tweedle (LEXX)
The Mandalorian (Season 2 Episode 5)
Summary
The Mandalorian and the Child continue their journey through a dangerous galaxy.
The Mandalorian
Title: Chapter 13: 'The Jedi'
Directed by: Dave Filoni
Written by: Dave Filoni
Release Date: November 27, 2020
Cast
Pedro Pascal … The Mandalorian
Michael Biehn … Lang
Rosario Dawson … Ahsoka Tano
Diana Lee Inosanto … Morgan Elsbeth
James Croak … Prisoner
Wing Tao Chao … Governor Wing
Clark Schierle … Villager
Production
The episode was written and directed by executive producer Dave Filoni.
Casting
The co-starring actors cast for this episode are Michael Biehn as Lang, Rosario Dawson as Ahsoka Tano, and Diana Lee Inosanto as Magistrate Morgan Elsbeth. This episode marks Ahsoka Tano's first proper live-action appearance in the franchise.[a] Created by George Lucas and Filoni, the character was first introduced in the 2008 animated film Star Wars: The Clone Wars and later appeared in the animated television shows Star Wars: The Clone Wars and Star Wars Rebels, voiced by Ashley Eckstein. Additional guest-starring actors cast for this episode include James Croak as a prisoner, Dylan Alvarado as a village boy, Mai Brunelle as a village girl, Wing Tao Chao as Governor Wing, and Clark Schierle as a villager. Brendan Wayne, Lateef Crowder, and Barry Lowin are credited as stunt doubles for the Mandalorian. Caitlin Dechelle, Lauren Kim, and Mickey Giacomazzi are credited as stunt doubles for Ahsoka Tano, Morgan Elsbeth, and Lang, respectively. Grogu was performed by various puppeteers.
Music
Ludwig Göransson composed the musical score for the episode. The featured tracks will be released in the second volume of the season two soundtrack.
Infamous Shirts for Naked Bodies

…

You'll feel "shirty" when you buy our gear from the Flying Pork Apparel Co.
New Comics This Week – Sponsored by comiXology

Brian
DETECTIVE COMICS #1031
CHU #5
DUNE HOUSE ATREIDES #2 CVR B JONES
STAR WARS DOCTOR APHRA #6
X OF SWORDS DESTRUCTION #1 HENRICHON LCSD VAR
X-MEN #15 XOS
Contact Us
The Infamous Podcast can be found wherever podcasts are found on the Interwebs, feel free to subscribe and follow along on social media. And don't be shy about helping out the show with a 5-star review on Apple Podcasts to help us move up in the ratings.
@infamouspodcast
facebook/infamouspodcast
instagram/infamouspodcast
stitcher
Apple Podcasts
Spotify
Google Play
iHeart Radio
contact@infamouspodcast.com
Our theme music is 'Skate Beat' provided by Michael Henry, with additional music provided by Michael Henry. Find more at MeetMichaelHenry.com.
The Infamous Podcast is hosted by Brian Tudor and Darryl Jasper, is recorded in Cincinnati, Ohio. The show is produced and edited by Brian Tudor.



Subscribe today!