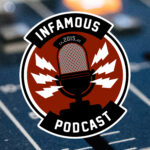 Disney isn't messing around… be afraid Netflix
This week on the podcast, Brian and Darryl finish up with The Expanse crew to get ready for next week's premiere. PLUS Disney was dropping BOMBS at their Investor's call by introducing a new slate of movies and TV shows headed to Disney Plus over the next few years. Plus, finishing up with The Expanse crew prep to get ready for next week's premiere
Episode Index
Intro: 0:45
Cobra Kai: 5:17
Obi-Wan Kenobi: 10:32
Ahsoka Tano: 14:53
The Bad Batch: 19:13
Cassian Andor: 22:55
Lando Series: 25:14
Rogue Squadron: 31:21
Alien Series: 38:05
Indy 5: 41:10
The Expanse: 53:30
News Bites
Cobra Kai: Season 3 Official Trailer from Netflix https://www.youtube.com/watch?v=LcDQqGJG8pA
'Obi-Wan' Disney+ Series: Hayden Christensen Returning As Darth Vader https://deadline.com/2020/12/obi-wan-disney-series-hayden-christensen-returning-as-darth-vader-1234654326/
'The Mandalorian' Spinoff 'Ahsoka Tano' & 'Rangers Of The New Republic' In The Works https://deadline.com/2020/12/the-mandalorian-spinoff-ahsoka-tano-rangers-of-the-new-republic-in-the-works-disney-investor-day-1234654074/
The Bad Batch on Disney+ https://www.youtube.com/watch?v=YB9DIxdB198
Disney+'s Cassian Andor Series Is Currently Filming https://www.cbr.com/disney-plus-cassian-andor-series-filming/
Lando Calrissian Series In The Works At Disney+ https://deadline.com/2020/12/lando-calrissian-series-in-the-works-with-dear-white-people-creator-justin-simien-at-disney-1234654359/
'Star Wars': Patty Jenkins Tapped To Direct New Movie 'Rogue Squadron' https://deadline.com/2020/12/star-wars-patty-jenkins-1234654018/
'Alien' Series In The Works At FX With 'Fargo' Creator Noah Hawley https://deadline.com/2020/12/alien-series-in-the-works-at-fx-with-fargo-creator-noah-hawley-ridley-scott-in-advance-talks-to-ep-1234654111/
'Indiana Jones' Movie Shooting Next Spring; Harrison Ford Returning https://deadline.com/2020/12/indiana-jones-movie-shooting-next-spring-harrison-ford-returning-1234654373/
The Expanse: Alex, Amos, and the Rocinante 
Alex Kamal (played by Cas Anvar)
Alex was born on Mars, in the Mariner Valley. Having grown up there, Alex was raised with the incongruous Texas drawl that has caught on among the largely Indian and Chinese population who live there. Unlike the rest of his sizable family on Mars, Alex looked at the generations-long terraforming project with a sense of restlessness and dread.
With dreams of flying fast attack gunships, he enlisted in the Martian Congressional Republic Navy.
After his tour, honorable service discharge, a sentiment of adventure developed within him and made him determined to seek a pilot job in the industrial navy of the Asteroid belt. Alex served aboard the Pur'n'Kleen ice hauler, Canterbury as one of her pilots alongside his crewmates until the vessel's destruction.
Amos Burton (played by Wes Chatham)
Amos Burton is a ship mechanic originating from Earth. Currently, he works aboard the Rocinante and is one of the four crew members.
A skilled mechanic and combatant, he is a master of survival in the dog-eat-dog world of the system and has a tendency towards violence.
The Rocinante
The Rocinante ("Roci") is a Corvette-class light frigate with multiple roles, such as torpedo bomber and boarding party insertion.
Originally commissioned as the MCRN Tachi  (ECF 270), the ship was stationed onboard the MCRN battleship Donnager. It was renamed by James Holden after he and his crew used it to escape from the Donnager.
The ship's construction is like a narrow building, layered floor by floor from the drive cone and reactor up to the engineering deck, to the machine shop, then the galley and crew cabins and medical bays, storage deck containing the crew airlock, then on up to the command deck and pilot's farthest forward. Under thrust, g-forces then provide a "down" amenable to human orientation.
Her normal crew complement was over a dozen navy personnel and officers, and on many missions she'd also carry six marines.
In addition to the ship's weapon systems, it carries three Reconnaissance Drones, named "Peart", "Lee", and "Lifeson".
Infamous Shirts for Naked Bodies

…

You'll feel "shirty" when you buy our gear from the Flying Pork Apparel Co.
New Comics This Week – Sponsored by comiXology

Brian
BATMAN BLACK & WHITE #1
DARK NIGHTS: DEATH METAL THE LAST STORIES OF THE DC UNIVERSE #1
DETECTIVE COMICS #1032
STAR WARS #9 CHRISTOPHER ACTION FIGURE VAR
Contact Us
The Infamous Podcast can be found wherever podcasts are found on the Interwebs, feel free to subscribe and follow along on social media. And don't be shy about helping out the show with a 5-star review on Apple Podcasts to help us move up in the ratings.
@infamouspodcast
facebook/infamouspodcast
instagram/infamouspodcast
stitcher
Apple Podcasts
Spotify
Google Play
iHeart Radio
contact@infamouspodcast.com
Our theme music is 'Skate Beat' provided by Michael Henry, with additional music provided by Michael Henry. Find more at MeetMichaelHenry.com.
The Infamous Podcast is hosted by Brian Tudor and Darryl Jasper, is recorded in Cincinnati, Ohio. The show is produced and edited by Brian Tudor.



Subscribe today!