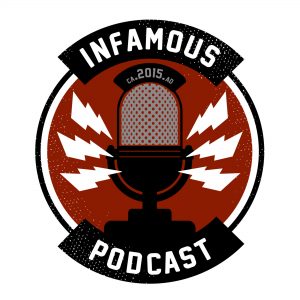 Use the Force Luke… Use it Like You Stole it!
This week on the podcast, Brian and Darryl are celebrating endings and beginnings! First, they celebrate the season 5 premiere of The Expanse on Amazon Prime. Then, they say goodbye to season 2 of The Mandalorian and speculate on the future of the Star Wars streaming future.
Episode Index
Intro: 0:45
The Expanse Exodus: 4:12
The Mandalorian The Rescue: 26:17
The Expanse (Season 5 Episode 1)
Summary
A Belter faction attacks a science vessel near Venus, killing all aboard. The Rocinante is at Tycho for long-term repairs. Naomi gets word that her son is on the asteroid Pallas and makes plans to go alone. Holden is contacted by Monica Stewart about protomolecule research she's heard about. Amos is on his way to Earth because an old friend has died and Alex is headed to Mars to try and make amends with his family. Bobbie works with Avasarala to investigate Martian weapons trafficking.
The Expanse
Title: Exodus
Directed by: Breck Eisner
Written by: Naren Shankar
Release Date: December 16, 2020
Cast
Steven Strait … James Holden
Cas Anvar … Alex Kamal
Dominique Tipper … Naomi Nagata
Wes Chatham … Amos Burton
Frankie Adams … Bobbie Draper
Cara Gee … Camina Drummer
Shohreh Aghdashloo … Chrisjen Avasarala
Nadine Nicole … Clarissa Mao
Keon Alexander … Marco Inaros
Chad L. Coleman … Fred Johnson
Jasai Chase Owens … Filip Inaros
Anna Hopkins … Monica Stuart
Michael Irby … Admiral Delgado
José Zúñiga … Bull
Bahia Watson … Sakai
Sandrine Holt … Oksana
Brent Sexton … Cyn
George Tchortov … Leveau
Olunike Adeliyi … Karal
Vanessa Smythe … Michio
Stephan Tracey … Bertold
Wilex Ly … Serge
Samer Salem … Josep
The Mandalorian (Season 2 Episode 8)
Summary
Bo-Katan and her fellow Mandalorian Koska Reeves agree to help rescue Grogu in exchange for Bo-Katan getting the Darksaber from Gideon and the Mandalorian considering her offer to help them liberate Mandalore. The group kidnaps Dr. Pershing and uses his shuttle to get close enough to crash land on Gideon's cruiser, with Fett pretending to attack them in Slave I before attacking the Imperials. Bo-Katan, Koska, Fennec, and Dune fight through stormtroopers to the cruiser's bridge. Meanwhile, the Mandalorian finds the Dark Troopers, defeats one of them with the Beskar spear, and ejects the rest into space. He fights Gideon with the spear and overpowers the Moff, making him the new rightful owner of the Darksaber. The Dark Troopers return, but they are all destroyed by Luke Skywalker, a Jedi that Grogu had contacted on Tython. The Mandalorian gives Grogu permission to go with Skywalker to complete his training. Later, Fett and Fennec travel to Jabba's Palace on Tatooine where Fett kills Bib Fortuna and claims Jabba's throne.
The Mandalorian
Title: Chapter 16: 'The Rescue'
Directed by: Peyton Reed
Written by: Jon Favreau
Release Date: December 18, 2020
Cast
Pedro Pascal … The Mandalorian
Omid Abtahi … Dr. Pershing
Temuera Morrison … Boba Fett
Gina Carano … Cara Dune
Sasha Banks … Koska Reeves (as Mercedes Varnado)
Katee Sackhoff … Bo-Katan Kryze
Ming-Na Wen … Fennec Shand
Giancarlo Esposito … Moff Gideon
Mark Hamill … Luke Skywalker
Thomas E. Sullivan … Co-Pilot
Luke Baines … Pilot
Gabriel Ebert … Gunnery Officer
Katy M. O'Brian … Comms Officer (as Katy O'Brian)
Max Lloyd-Jones … Double for Jedi
Matthew Wood … Bib Fortuna
Infamous Shirts for Naked Bodies

…

You'll feel "shirty" when you buy our gear from the Flying Pork Apparel Co.
New Comics This Week – Sponsored by comiXology

Brian
BATMAN #105
EXPANSE #1 (OF 4) CVR A FORBES
NEW MUTANTS #14
NIGHTWING #77
STAR WARS DARTH VADER #8
Contact Us
The Infamous Podcast can be found wherever podcasts are found on the Interwebs, feel free to subscribe and follow along on social media. And don't be shy about helping out the show with a 5-star review on Apple Podcasts to help us move up in the ratings.
@infamouspodcast
facebook/infamouspodcast
instagram/infamouspodcast
stitcher
Apple Podcasts
Spotify
Google Play
iHeart Radio
contact@infamouspodcast.com
Our theme music is 'Skate Beat' provided by Michael Henry, with additional music provided by Michael Henry. Find more at MeetMichaelHenry.com.
The Infamous Podcast is hosted by Brian Tudor and Darryl Jasper, is recorded in Cincinnati, Ohio. The show is produced and edited by Brian Tudor.



Subscribe today!