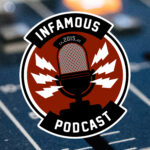 The State of DC Comics
On this week's show Johnny and Brian break down the state of the DC Comics movie, tv and comic book universes after seeing the new Suicide Squad trailer. They also talk Vader Down, Secret Wars and more!
DC Comics Movies Update
New Suicide Squad trailer
First look Wonder Woman
New Batman vs Superman footage
DC Comics TV Shows Update
The Flash Returns
Arrow Returns
Legends of Tomorrow Premiere
Star Wars News
Star Wars Episode VIII pushed from May 26, 2017 to Dec 15, 2017
Star Wars Rebels season 2.5 trailer
Talk the conclusion of Vader Down
Marvel News
Secret Wars Conclusion
Captain America 75th Anniversary Special
Coming up on the Infamous Podcast
Man vs. Rock interview
Guest host David Griffen from Colider Video/ThinkHero/Screen Rant
Comics This Week
Johnny
AMAZING FOREST #1
AMERICAN MONSTER #1
ASTRO CITY #31
BIG TROUBLE IN LITTLE CHINA #20
CAPTAIN MARVEL #1
CLEAN ROOM #4
EXMORTIS #3
FABLES THE WOLF AMONG US #13
HERCULES #3
HORRORHOUND #57
I HATE FAIRYLAND #4
IMPERIUM #12
LUCIFER #2
RED THORN #3
STAR WARS #15
STEAM MAN #4
TOKYO GHOST #5
WRATH OF THE ETERNAL WARRIOR #3
Brian
ASTONISHING ANT-MAN #4
BATMAN AND ROBIN ETERNAL #16
CAPTAIN MARVEL #1
ROBIN SON OF BATMAN #8
STAR WARS #15
STAR-LORD #3
TITANS HUNT #4
TOKYO GHOST #5
UNCANNY INHUMANS #4
UNCANNY X-MEN #2
Contact Us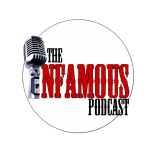 The Infamous Podcast can be found wherever podcasts are found on the Interwebs, feel free to subscribe and follow along on social media. And don't be shy about helping out the show with a 5 star review on iTunes to help us move up in the ratings.
@infamouspodcast
facebook/infamouspodcast
stitcher
iTunes
theinfamouspodcast@gmail.com
The music in this episodes is Pomade by Silent Partner. The Infamous Podcast is Johnny Pottorf and Brian Tudor, and is produced and edited by Brian Tudor.