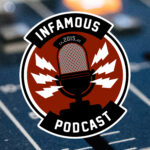 Come on Hot Wheels, let's get this show going!
This week on the podcast, Brian and Darryl review The Expanse Season 5 Episode 6 Aftermath and call out the highlights from Cobra Kai Season 3! Plus News Bites on Star Wars Rumors, the continuing Ray Fisher drama, and speculate on what WB and Disney will do about WW84 bombing.
Episode Index
Intro: 0:45
RJD Star Wars:
Ray Fischer Flash Rumors:
Patty Jenkins:
Cobra Kai:
Aftermath:
News Bites
Report: Robert Downey Jr In Talks to Join Favreau-Filoni Star Wars Universe
Warner Bros. Reportedly Denies Rumors of Cyborg Actor Ray Fisher's Recasting, Appearance In The Flash
Patty Jenkins Says Warner Bros. Didn't Trust Her to Make Wonder Woman
Cobra Kai Season 3 Highlights
Episodes
Episode 1 "Aftermath"
Direct by: Jon Hurwitz & Hayden Schlossberg
Written by: Josh Heald & Jon Hurwitz & Hayden Schlossberg
Two weeks after the school fight, the All-Valley Community is still shaken up coming to grips with the consequences, so the school has since put an anti-physical contact rule in action. Sam, still shaken by the fight, is suffering from panic attacks, and the duel between the 2 dojos is still strong. Johnny, who wants to visit Miguel in the hospital, purposely hurts himself so he can sneak into the ICU and tells Miguel words of encouragement. When Daniel finds out Robby stole a van from the dealership, Daniel and Johnny team up to find him.
Episode 2 "Nature Vs. Nurture"
Direct by: Jon Hurwitz & Hayden Schlossberg
Story by : Josh Heald & Jon Hurwitz & Hayden Schlossberg & Joe Piarulli & Luan Thomas
Teleplay by : Joe Piarulli & Luan Thomas
Daniel and Johnny visit Shannon at her rehab center in order to look for Robby and are directed to visit Robby's former gang acquaintances. The search eventually leads the pair to a group of thieves who have stolen the van from Robby, leading the pair to dispatch them in self-defense. Johnny attempts to visit Miguel but is rebuffed. Daniel finds Robby at the rehab center and has the police take him into custody in order to lessen his sentence. Meanwhile, Kreese attacks Tory's landlord in order to remove the pressure she has on taking care of her ill mother and ensure her loyalty to Cobra Kai.
Episode 3 "Now You're Gonna Pay"
Direct by: Lin Oeding
Story by : Josh Heald & Jon Hurwitz & Hayden Schlossberg & Stacey Harman
Teleplay by : Stacey Harman
Johnny solicits Bobby for advice on how to help pay for Miguel's surgery. The Miyagi-Do students carry out a car wash fundraising event to help fund the surgery, only for Cobra Kai to steal the money from them. Johnny reluctantly approaches Sid to ask for the money to pay for the surgery but is rebuffed. Johnny resorts to stealing one of Sid's valuable statues to pawn it off for Miguel's surgery. Meanwhile, Daniel learns that his business rival Tom Cole has convinced Doyona Industries to cut their business ties with Daniel, prompting him to visit the company headquarters in Tokyo. Sam makes preparations for the Miyagi-Do students to fight against Cobra Kai. Robby has a rough acclimation at his juvenile detention center and feels abandoned when Johnny reluctantly stays with Miguel for a longer period of time than needed.
Episode 4 "The Right Path"
Direct by: Lin Oeding
Story by : Josh Heald & Jon Hurwitz & Hayden Schlossberg & Michael Jonathan Smith
Teleplay by : Michael Jonathan Smith
Daniel is rejected by Doyona, so he decides to travel to Okinawa, Mr. Miyagi's hometown. Johnny tries to reconcile with Robby, who is on community service, but it doesn't go so well. At school, Hawk instigates fights with the Miyagi-Do students but stands loyal to the anti-physical contact rule. Daniel visits Tomi Village, which has been turned into a mall, and is reunited with his old love interest Kumiko and unexpectedly encounters his rival Chozen. Johnny then personally oversees Miguel's physical rehabilitation.
Episode 5 "Miyagi-Do"
Direct by: Steven Tsuchida Story by : Josh Heald & Jon Hurwitz & Hayden Schlossberg & Bob Dearden
Teleplay by : Bob Dearden
When Miyagi-Do student Chris is openly harassed at his job in Golf N' Stuff, Sam and the rest of the Miyagi-Do students attack Eli's team at the amusement park, only to be ambushed by Tory. While Sam suffers from a panic attack, Eli breaks Demetri's arm, traumatizing her. Meanwhile, Daniel and Chozen reconcile after undergoing some sparring sessions, with Chozen giving Daniel a martial arts scroll as a parting gift. Daniel later meets an adult Yuna, the little girl he saved from the typhoon, learning that Yuna has become the Vice President of Sales for Doyona, who gladly offers to let him keep the dealership. Robby gets involved in a fight with Shawn and both earned each other's respect for not snitching on each other. Johnny helps Miguel with his rehabilitation and takes him to a concert under the guise of being terminally ill, allowing Miguel to regain feeling in his legs. Johnny later accepts Ali's friend request. Amanda confronts Kreese and slaps him at the Cobra Kai dojo.
Episode 6 "King Cobra"
Direct by: Steven Tsuchida
Story by : Josh Heald & Jon Hurwitz & Hayden Schlossberg & Joe Piarulli & Luan Thomas
Teleplay by : Joe Piarulli & Luan Thomas
Inspired by his Special Forces recruitment process, Kreese approaches various athletes to bolster the Cobra Kai ranks, including Kyler and Brucks. Kreese's recruitment process disturbs Hawk, prompting Hawk to brutalize Brucks in order to prevent his enrollment. Daniel and Amanda attempt to file a restraining order against Kreese, but already learn that Kreese filed one against Amanda. Left with no other option, they approach Armand Zarkarian with bribes in an attempt to evict Kreese, only for Armand to reluctantly void his deal with the LaRussos after a failed eviction attempt. Meanwhile, Miguel helps Johnny take photos in order to build up his Facebook profile in order to help him look impressionable for Ali, only to inadvertently meet Tory in the process. Enraged by the whole incident, Miguel calls Johnny out on his hypocrisy about abandoning people after helping them but manages to stand up in the process. Seeing the truth in Miguel's words, Johnny uploads photos of his positive accomplishments with his students and Miguel's recovery before sending Ali a heartfelt message on Facebook.
Episode 7 "Obstáculos"
Direct by: Jennifer Celotta
Story by : Josh Heald & Jon Hurwitz & Hayden Schlossberg & Alyssa Forleiter
Teleplay by : Alyssa Forleiter
Sam has a dream where she and Tory duel in the Miyagi-Do dojo. After days of training, Miguel can finally walk again. Daniel spends the day with Sam in order to help her overcome her fear of Tory. At school, Miguel finds out about the Golf N' Stuff fight and cuts his ties with the Cobra Kai students. Johnny then decides to take his loyal students and makes a new dojo called "Eagle Fang Karate". The Cobra Kai students then confront Johnny, where Kreese decides to leave Johnny permanently.
Episode 8 "The Good, The Bad, and the Badass"
Direct by: Jennifer Celotta
Story by : Josh Heald & Jon Hurwitz & Hayden Schlossberg & Mattea Greene
Teleplay by : Mattea Greene
The local city council removes the permit for the All-Valley Karate Tournament championship in order to politically distance itself from the fallout, prompting Daniel, Kreese, and Johnny to make their cases respectively. However, all three of them are dismissed from making their case when personal attacks on Kreese are brought in by Amanda. Miguel and Sam make their respective appearances, making their case about the need for Karate, prompting the city council to change their minds and reinstate the tournament. During the aftermath, Miguel and Sam catch up, leading to a friendly sparring session. However, Robby, having completed his sentence, mistakenly sees the sparring session as Samantha cheating on him. Robby turns to Kreese for help. Meanwhile, Johnny and Carmen sleep with each other.
Episode 9 "Feel The Night"
Direct by: Josh Heald
Story by : Josh Heald & Jon Hurwitz & Hayden Schlossberg & Michael Jonathan Smith
Teleplay by : Michael Jonathan Smith
Ali is in town for the holidays to visit her parents, and Johnny meets her for lunch. The Cobra Kai students are wary about Robby's presence but warm up to him after he steals a snake at the local zoo for Kreese. Miguel and Daniel start to find some common ground about Johnny and Daniel's childhood, and Ali and Johnny spend the day together at Golf N' Stuff to reconcile with each other. Sam and Miguel create an alliance between Eagle Fang and Miyagi-Do in order to make preparations against Cobra Kai.
Episode 10 "December 19"
Direct by: Josh Heald
Story by : Josh Heald & Jon Hurwitz & Hayden Schlossberg & Bob Dearden
Teleplay by : Bob Dearden
While Ali and Johnny mingle with Daniel and Amanda at a Christmas party to lay past issues to rest, Tory leads the rest of the Cobra Kai in instigating a fight at the LaRusso residence. During the ensuing melee, Hawk turns on his Cobra Kai peers while Sam conquers her fear with Tory and gains an upper hand on her, and Miguel overcomes his limitations to defeat Kyler. Before Tory escalates, Hawk intervenes, telling her the fight is over, prompting her to leave. Johnny and Daniel separately learn of the ensuing conflict after the party, with Johnny instigating a fight and winning his first fight with Kreese. Robby chooses to fight Johnny and is accidentally knocked out after being pushed into a set of lockers. Kreese uses the opportunity to murder Johnny, but Daniel intervenes and gains the upper hand using pressure point techniques he learned from Chozen. Daniel barely spares Kreese after being stopped by Sam and Miguel. Kreese agrees to cease hostilities until the upcoming tournament, while Robby sides with Kreese. During the aftermath, Kreese gives a call to Terry Silver in order to solicit a favor for saving Silver's life during the Vietnam War, while Daniel and Johnny train their students together at the Miyagi dojo.
The Expanse (Season 5 Episode 6)
Summary
Holden takes the Roci out after verifying their software is valid. Avasarala meets the new Secretary-General, who is out of his league, and asks for her support. Bobbie and Alex use some trickery to defeat a Belter boarding party and their ship. Drummer's clan meets with Marco. After some tense words and discussion, they align with him. While talking with Filip, Drummer talks about Naomi and her role on board the Behemoth. Filip asks Naomi for details while Marco watches in the surveillance system. Amos and Clarissa avoid respectable support sites to make their own way of planning to get to Baltimore. Amos mentions to Clarissa his intentions to join his crew.
The Expanse
Title: Tribes
Directed by: Jeff Woolnough
Written by: Hallie Lambert
Release Date: January 6, 2021
Cast
Steven Strait … James Holden
Cas Anvar … Alex Kamal
Dominique Tipper … Naomi Nagata
Wes Chatham … Amos Burton
Frankie Adams … Bobbie Draper
Cara Gee … Camina Drummer
Shohreh Aghdashloo … Chrisjen Avasarala
Nadine Nicole … Clarissa Mao
Keon Alexander … Marco Inaros
Chad L. Coleman … Fred Johnson
Jasai Chase Owens … Filip Inaros
Anna Hopkins … Monica Stuart
Michael Irby … Admiral Delgado
José Zúñiga … Bull
Bahia Watson … Sakai
Sandrine Holt … Oksana
Brent Sexton … Cyn
George Tchortov … Leveau
Olunike Adeliyi … Karal
Vanessa Smythe … Michio
Stephan Tracey … Bertold
Wilex Ly … Serge
Samer Salem … Josep
Infamous Shirts for Naked Bodies

…

You'll feel "shirty" when you buy our gear from the Flying Pork Apparel Co.
New Comics This Week – Sponsored by comiXology

Brian
FUTURE STATE: SUPERMAN OF METROPOLIS #1
STAR WARS #10 CHRISTOPHER ACTION FIGURE VAR
STAR WARS HIGH REPUBLIC #1
Contact Us
The Infamous Podcast can be found wherever podcasts are found on the Interwebs, feel free to subscribe and follow along on social media. And don't be shy about helping out the show with a 5-star review on Apple Podcasts to help us move up in the ratings.
@infamouspodcast
facebook/infamouspodcast
instagram/infamouspodcast
stitcher
Apple Podcasts
Spotify
Google Play
iHeart Radio
contact@infamouspodcast.com
Our theme music is 'Skate Beat' provided by Michael Henry, with additional music provided by Michael Henry. Find more at MeetMichaelHenry.com.
The Infamous Podcast is hosted by Brian Tudor and Darryl Jasper, is recorded in Cincinnati, Ohio. The show is produced and edited by Brian Tudor.



Subscribe today!