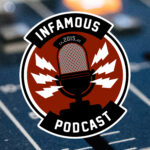 Hey, Beltalowda That Was a Trip and a Half!
This week on the podcast, Brian and Darryl are review the first two episodes of the Marvel Original Series WandaVision on Disney+, then they talk about The Expanse Season 5 Episode 7, Oyedeng. Plus some very interesting New Bites from the MCU, DCEU, and Lucasfilm Games.
Episode Index
Intro: 0:45
Captain MCU: 5:38
Cryborg?: 11:08
Star Wars Games: 19:33
WandaVision: 30:30
Oyedeng: 43:30
News Bites
Captain America Eyes Return To The MCU As Chris Evans Nears Deal To Reprise Role In Future Marvel Project https://deadline.com/2021/01/captain-america-eyes-return-to-the-mcu-as-chris-evans-nears-deal-to-reprise-role-in-future-marvel-project-1234672430
Ray Fisher, WarnerMedia Offer Dueling Accounts of 'Flash' Exit https://variety.com/2021/film/news/ray-fisher-confirms-removal-from-the-flash-cast-warner-bros-1234885053
Lucasfilm Games' New Partnerships Mean the Galaxy's the Limit https://www.wired.com/story/lucasfilm-games-star-wars-ubisoft-indiana-jones-bethesda
WandaVision (Season 1 Episodes 1 & 2)
Cast
Elizabeth Olsen
Paul Bettany
Debra Jo Rupp
Fred Melamed
Kathryn Hahn
Teyonah Parris
Kat Dennings
Randall Park
Title: Episode 1
Directed by: Matt Shakman
Written by: Jac Schaeffer
Release Date: January 15, 2021
Summary
Newlywed couple Wanda and Vision move into the town of Westview during what appears to be the 1950s. They attempt to blend in, despite Vision being an android and Wanda having telekinetic abilities. One day they notice a heart drawn on a calendar but neither can remember what the occasion is. While Vision goes to his job at Computational Services Inc., Wanda decides that the heart represents their anniversary. Their neighbor Agnes introduces herself to Wanda and helps her prepare for the anniversary. At work, Vision amazes his co-workers with his speed but is unsure what his company actually does. His boss, Mr. Hart, reminds him that Wanda and Vision are hosting Mr. Hart and his wife for dinner that night, which is what the heart on the calendar represents. That night, Wanda and Vision struggle to hide their abilities while making a last minute dinner for the Harts. During the meal, Mr. Hart chokes on his food and Vision has to use his abilities to save him. All of these events are being watched by someone on a television screen.
Title: Episode 12
Directed by: Matt Shakman
Written by: Gretchen Enders
Release Date: January 15, 2021
Summary
During what appears to be the 1960s, Wanda and Vision begin to hear strange noises outside their house. The next day, they prepare their magician act for a neighborhood talent show. Wanda and Agnes then spend the day with Dottie and a group of women from the neighborhood while Vision attends a meeting of the neighborhood watch uninvited. Wanda befriends another neighbor, Geraldine, and begins to notice other strange things such as a voice on the radio that seems to be speaking to her. At the neighborhood watch meeting, Vision becomes friendly with the local men and they give him some Big Red Gum. When Vision arrives at the talent show he appears to be intoxicated, and reveals his abilities to the neighborhood. Wanda uses her own abilities to make Vision look like he is doing simple magic tricks. Their performance is well received, and they return home happy, but they see a strange beekeeper emerging from a manhole on their street. Wanda panics and their reality resets to before the figure appeared. The setting then changes to the 1970s.
The Expanse (Season 5 Episode 7)
Summary
Naomi makes a desperate attempt to save her son from Marco. On the Roci, Holden battles for the last sample of protomolecule.
The Expanse
Title: Oyedeng
Directed by: Marisol Adler
Written by: Dan Nowak
Release Date: January 12, 2021
Cast
Steven Strait … James Holden
Cas Anvar … Alex Kamal
Dominique Tipper … Naomi Nagata
Wes Chatham … Amos Burton
Frankie Adams … Bobbie Draper
Cara Gee … Camina Drummer
Shohreh Aghdashloo … Chrisjen Avasarala
Nadine Nicole … Clarissa Mao
Keon Alexander … Marco Inaros
Chad L. Coleman … Fred Johnson
Jasai Chase Owens … Filip Inaros
Anna Hopkins … Monica Stuart
Michael Irby … Admiral Delgado
José Zúñiga … Bull
Bahia Watson … Sakai
Sandrine Holt … Oksana
Brent Sexton … Cyn
George Tchortov … Leveau
Olunike Adeliyi … Karal
Vanessa Smythe … Michio
Stephan Tracey … Bertold
Wilex Ly … Serge
Samer Salem … Josep
Infamous Shirts for Naked Bodies

…

You'll feel "shirty" when you buy our gear from the Flying Pork Apparel Co.
New Comics This Week – Sponsored by comiXology

Brian
FUTURE STATE: DARK DETECTIVE #1
FUTURE STATE: ROBIN ETERNAL #1
FUTURE STATE: TEEN TITANS #1
STAR WARS DARTH VADER #9
Contact Us
The Infamous Podcast can be found wherever podcasts are found on the Interwebs, feel free to subscribe and follow along on social media. And don't be shy about helping out the show with a 5-star review on Apple Podcasts to help us move up in the ratings.
@infamouspodcast
facebook/infamouspodcast
instagram/infamouspodcast
stitcher
Apple Podcasts
Spotify
Google Play
iHeart Radio
contact@infamouspodcast.com
Our theme music is 'Skate Beat' provided by Michael Henry, with additional music provided by Michael Henry. Find more at MeetMichaelHenry.com.
The Infamous Podcast is hosted by Brian Tudor and Darryl Jasper, is recorded in Cincinnati, Ohio. The show is produced and edited by Brian Tudor.



Subscribe today!