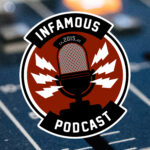 Everyone Get Trippy
This week on the podcast, Brian and Darryl talk about WandaVision Episode 3: Now In Color (don't forget to sign up at Patreon https://www.patreon.com/infamouspodcast to get our exclusive episode commentary), then they face the fact that with Episode 8: Hard Vacuum The Expanse only has 2 episodes left in season 5. And of course News Bites!
Episode Index
Intro: 0:45
Dunk & Egg: 4:09
Suicide Squad: 9:08
Morbius: 12:50
Black Widow: 20:12
Now In Color: 28:57
Hard Vacuum: 43:16
News Bites
'Game of Thrones' Prequel 'Tales of Dunk and Egg' in Early Development at HBO
James Gunn Promises "Cool Stuff" Coming Related To The Suicide Squad
Morbius Delayed to 2022 to Avoid No Time to Die
Black Widow May Be Delayed Again
WandaVision (Season 1 Episodes 3)
Cast
Elizabeth Olsen
Paul Bettany
Debra Jo Rupp
Fred Melamed
Kathryn Hahn
Teyonah Parris
Kat Dennings
Randall Park
Title: Now In Color
Directed by: Matt Shakman
Written by: Megan McDonnell
Release Date: January 22, 2021
Summary
The opening credits are shown in a 1970-sitcom style. It shows Wanda and Vision cleaning and Vision reading about pregnancy. Wanda and Vision, in what appears to be the 1970s, have a doctor check on her, due to her being pregnant unusually fast. The doctor, Dr. Nielson, explains everything is fine, and leaves, intending to go to Bermuda, with his wife. While Vision sees Nielson out, he sees his neighbor cut through the wall. The couple builds a new room for the baby. While debating on what the name should be, (Wanda calling the baby Tommy, while Vision calls it Billy), Wanda suddenly has her pregnancy elevate to six months, then goes through the Braxton Hicks contraction. This causes her to accidentally generate an energy surge, which shuts down the power of the entire town. She then gives birth to twins with the help of Geraldine, while Vision finds and takes Dr. Nielson to their house, then lets him go when Wanda gives birth. Vision catches Agnes and his neighbor, Herbert, gossiping and interrupts them. They talk about Geraldine, and Agnes stops Herb when he stutters repetitively that "She came here because we're…" Wanda interrogates Geraldine after she reveals she knows Ultron killed her brother. Wanda notices that her pendant has a S.W.O.R.D. emblem. Vision returns to find that Geraldine has disappeared, and Wanda says "she had to run." Outside of Westview, Geraldine is cast out from a wall of TV static, then S.H.I.E.L.D. and S.W.O.R.D. agents surround her.
The Expanse
Title: Hard Vacuum
Directed by: Marisol Adler
Written by: Dan Nowak
Release Date: January 12, 2021
Summary
Amos returns to Baltimore with Clarissa. on Luna, Avasarala's alliances begin to shift. Alone and adrift, Naomi becomes a deadly lure.
Cast
Steven Strait … James Holden
Cas Anvar … Alex Kamal
Dominique Tipper … Naomi Nagata
Wes Chatham … Amos Burton
Frankie Adams … Bobbie Draper
Cara Gee … Camina Drummer
Shohreh Aghdashloo … Chrisjen Avasarala
Nadine Nicole … Clarissa Mao
Keon Alexander … Marco Inaros
Chad L. Coleman … Fred Johnson
Jasai Chase Owens … Filip Inaros
Anna Hopkins … Monica Stuart
Michael Irby … Admiral Delgado
José Zúñiga … Bull
Bahia Watson … Sakai
Sandrine Holt … Oksana
Brent Sexton … Cyn
George Tchortov … Leveau
Olunike Adeliyi … Karal
Vanessa Smythe … Michio
Stephan Tracey … Bertold
Wilex Ly … Serge
Samer Salem … Josep
Infamous Shirts for Naked Bodies

…

You'll feel "shirty" when you buy our gear from the Flying Pork Apparel Co.
New Comics This Week – Sponsored by comiXology

Brian
EXPANSE #2
FUTURE STATE: NIGHTWING #1
STAR WARS DOCTOR APHRA #7
Contact Us
The Infamous Podcast can be found wherever podcasts are found on the Interwebs, feel free to subscribe and follow along on social media. And don't be shy about helping out the show with a 5-star review on Apple Podcasts to help us move up in the ratings.
@infamouspodcast
facebook/infamouspodcast
instagram/infamouspodcast
stitcher
Apple Podcasts
Spotify
Google Play
iHeart Radio
contact@infamouspodcast.com
Our theme music is 'Skate Beat' provided by Michael Henry, with additional music provided by Michael Henry. Find more at MeetMichaelHenry.com.
The Infamous Podcast is hosted by Brian Tudor and Darryl Jasper, is recorded in Cincinnati, Ohio. The show is produced and edited by Brian Tudor.



Subscribe today!