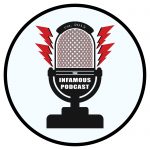 Why Do You Call Him Timmy?
This week on the podcast, Brian and Darryl interrupt your regularly scheduled Marvel Mystery with an explainer episode at the half-way point of WandaVision (don't forget to sign up at Patreon to get our exclusive episode commentary). Then they discuss the penultimate episode of The Expanse Season 5. And of course, there are News Bites!
Episode Index
Intro: 0:45
Star Wars Stamps: 1:30
Kong: Skull Island: 5:40
Apple Services: 8:16
Titans Season 3: 11:42
Godzilla vs. Kong: 24:44
We Interrupt This Program: 28:32
Winnipesaukee: 45:53
News Bites
The U.S. Postal Service Announced a New Line of STAR WARS Stamps Featuring Droids
Kong: Skull Island Show Coming To Netflix Following Shipwreck Characters
Apple Services Hits Record $15.8 Billion in Quarterly Revenue
'Titans' Season 3 Casts Jay Lycurgo as Tim Drake
Godzilla vs. Kong – Official Trailer
WandaVision (Season 1 Episodes 4)
Cast
Elizabeth Olsen
Paul Bettany
Debra Jo Rupp
Fred Melamed
Kathryn Hahn
Teyonah Parris
Kat Dennings
Randall Park
Title: We Interrupt This Program
Directed by: Matt Shakman
Written by: Bobak Esfarjani and Megan McDonnell
Release Date: January 29, 2021
Summary
Captain Monica Rambeau, an agent of S.W.O.R.D., returns to life following the Blip[b] to find her mother Maria has died of cancer. Three weeks later, Monica returns to work and is sent by Acting Director Tyler Hayward to help FBI agent Jimmy Woo with a missing persons case in Westview, New Jersey. They discover a hexagonal static field surrounding the town, which Monica is pulled into. Within 24 hours, S.W.O.R.D. establishes a base around the town and sends drones and an agent in to investigate. Dr. Darcy Lewis is asked to study the phenomena and discovers broadcast signals for the sitcom WandaVision. They use these to observe events inside the town, learn that the real residents have been "cast" as characters in the sitcom, and see Monica disguise herself as "Geraldine." Darcy and Jimmy unsuccessfully attempt to use the radio to contact Wanda. When Monica mentions Ultron, Wanda casts her out of the town. The sitcom illusion disappears, and Wanda sees Vision appear as he did when he died. Horrified, she restores the illusion.
The Expanse (Season 5 Episode 9)
Title: Winnipesaukee
Directed by: Breck Eisner
Written by: Daniel Abraham & Ty Franck and Naren Shankar
Release Date: January 26, 2021
Summary
Amos and Clarissa find hope and danger in the same place. Avasarala makes a choice that could affect the entire UN. The Rocinante and the Razorback race to save Naomi.
Cast
Steven Strait … James Holden
Cas Anvar … Alex Kamal
Dominique Tipper … Naomi Nagata
Wes Chatham … Amos Burton
Frankie Adams … Bobbie Draper
Cara Gee … Camina Drummer
Shohreh Aghdashloo … Chrisjen Avasarala
Nadine Nicole … Clarissa Mao
Keon Alexander … Marco Inaros
Chad L. Coleman … Fred Johnson
Jasai Chase Owens … Filip Inaros
Anna Hopkins … Monica Stuart
Michael Irby … Admiral Delgado
José Zúñiga … Bull
Bahia Watson … Sakai
Sandrine Holt … Oksana
Brent Sexton … Cyn
George Tchortov … Leveau
Olunike Adeliyi … Karal
Vanessa Smythe … Michio
Stephan Tracey … Bertold
Wilex Ly … Serge
Samer Salem … Josep
Infamous Shirts for Naked Bodies

…

You'll feel "shirty" when you buy our gear from the Flying Pork Apparel Co.
New Comics This Week – Sponsored by comiXology

Brian
AVATAR LAST AIRBENDER METALBENDING ACADEMY
DUNE HOUSE ATREIDES #4
FUTURE STATE: DARK DETECTIVE #2
FUTURE STATE: LEGION OF SUPER-HEROES #1
STAR WARS BOUNTY HUNTERS #9
STRANGE ADVENTURES #8
X-MEN #17 DAUTERMAN MARVEL VS ALIEN VAR
Contact Us
The Infamous Podcast can be found wherever podcasts are found on the Interwebs, feel free to subscribe and follow along on social media. And don't be shy about helping out the show with a 5-star review on Apple Podcasts to help us move up in the ratings.
@infamouspodcast
facebook/infamouspodcast
instagram/infamouspodcast
stitcher
Apple Podcasts
Spotify
Google Play
iHeart Radio
contact@infamouspodcast.com
Our theme music is 'Skate Beat' provided by Michael Henry, with additional music provided by Michael Henry. Find more at MeetMichaelHenry.com.
The Infamous Podcast is hosted by Brian Tudor and Darryl Jasper, is recorded in Cincinnati, Ohio. The show is produced and edited by Brian Tudor.



Subscribe today!