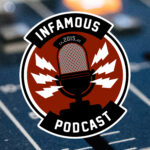 Comics Help Build Character
This week on the podcast, Brian is joined once again by comic book creator Matt Mitchell! (don't worry, Darryl took a last-minute trip to Disney World, we'll check in midweek to talk about WandaVision) to talk about the comic books that made them love comics! Plus, we'll be talking in-depth about the Gina Carano news from this week.
Episode Index
Intro: 0:45
Gina Carano: 1:58
Comics That Made Us: 31:00
Gina Carano Cancelled
Gina Carano Fired by Lucasfilm
Gina Carano No Longer Represented By United Talent Agency, ID PR Following Firing From Disney & Lucasfilm
Gina Carano To Produce And Star In Upcoming Film For The Daily Wire
Disney Execs Reportedly Shocked by Disney+ Cancellations
The Comics That Made Us
Matt
Star Wars 1978 or 9 first comic I remember adapted by Marvel
Wolverine 1-4 1982
Chris Claremont & Frank Miller
The Dark Knight Returns 1986, Frank Miller
Batman: The Killing Joke 1988 Alan Moore and Brian Bolland
Uncanny X-Men #251 1989 "Fever Dream" Chris Claremont & Art by Marc Silvestri
Darth Vader by Charles Sole
Spawn 1992 Tod McFarlin
Batman: Hush Jeph Loeb and Jim Lee
Samurai: the heart of the prophet Jean-Francois Di Giorgio and Fredric Genet
GI Joe A Real American Hero by Marvel Especially 34 Shakedown by Larry Hama & Rod Whigham
Brian
The New Teen Titans: The Judas Contract (1984)
Spider-Man: Kraven's Last Hunt (1987)
Batman: Kinghtfall (1994)
Green Lantern: A New Dawn (1994)
Rising Stars (1999 – 2005)
Powers: Who Killed Retro Girl
Green Arrow Quiver (2001)
Nightwing (Chuck Dixon's Run 1996)
Invincible (2006)
Star Wars: Vader Down (2015 – 2016)
Infamous Shirts for Naked Bodies

…

You'll feel "shirty" when you buy our gear from the Flying Pork Apparel Co.
New Comics This Week – Sponsored by comiXology

Brian
FUTURE STATE: NIGHTWING #2
RADIANT BLACK #1
STAR WARS DARTH VADER #10
Contact Us
The Infamous Podcast can be found wherever podcasts are found on the Interwebs, feel free to subscribe and follow along on social media. And don't be shy about helping out the show with a 5-star review on Apple Podcasts to help us move up in the ratings.
@infamouspodcast
facebook/infamouspodcast
instagram/infamouspodcast
stitcher
Apple Podcasts
Spotify
Google Play
iHeart Radio
contact@infamouspodcast.com
Our theme music is 'Skate Beat' provided by Michael Henry, with additional music provided by Michael Henry. Find more at MeetMichaelHenry.com.
The Infamous Podcast is hosted by Brian Tudor and Darryl Jasper, is recorded in Cincinnati, Ohio. The show is produced and edited by Brian Tudor.



Subscribe today!