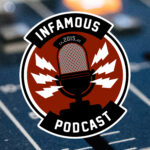 Why you gotta do Sparky like that!?!
This week on the podcast, Darryl is back, and he and Brian are talking WandaVision Episode 7! Plus news on Mortal Kombat, Black Adam casting, GSP in Falcon and the Winter Soldier, and updates on Cara Dune in the Mandalorian.
Episode Index
Intro: 0:11
Mortal Kombat: 4:55
Black Adam: 12:33
GSP in the MCU: 20:24
Cara Dune: 24:50
Invincible: 34:40
Breaking the Fourth Wall: 44:20
News Bites
Mortal Kombat  Official Restricted Trailer from HBO Max
Dwayne Johnson's Black Adam Movie Just Added A Kick-Ass Old Guard Star
Georges St-Pierre Confirms His Return to the MCU in THE FALCON AND THE WINTER SOLDIER
Gina Carano's Character Will Reportedly Not Be Recast in 'The Mandalorian'
Invincible Official Trailer from Amazon Prime
WandaVision (Season 1 Episode 7)
Title: "Breaking the Fourth Wall"
Directed by: Matt Shakman
Written by: Cameron Squires
Release Date: February 19, 2021
Summary
In a late 2000s setting, Wanda decides to have a day to herself. Agnes agrees to babysit Tommy and Billy and takes them to her house. Vision wakes up and finds the S.W.O.R.D. Agents inside the boundary are now members of a circus. He finds Darcy and releases her from the spell. Darcy tells Vision about his death and the events that led to the current situation. Wanda sees various parts of her house continually changing and is unable to control them. Outside of Westview, Monica and Jimmy meet with loyal S.W.O.R.D. Personnel and obtain a vehicle that should be able to cross the barrier. When this is unsuccessful, Monica decides to enter herself; she passes through the static wall and emerges with seemingly heightened vision. When Monica confronts Wanda, Agnes tells Monica to leave and takes Wanda to her house. Wanda looks for the boys in the basement and discovers a strange lair. Agnes introduces herself as Agatha Harkness and reveals that she is also a magic-user. It was Agatha who sent Pietro to Wanda, and she also killed Sparky. In the mid-credits scene, Monica investigates Agatha's house and discovers a basement, only to be seemingly caught by Pietro.
Cast
Elizabeth Olsen
Paul Bettany
Debra Jo Rupp
Fred Melamed
Kathryn Hahn
Teyonah Parris
Kat Dennings
Randall Park
Infamous Shirts for Naked Bodies…
You'll feel "shirty" when you buy our gear from the Flying Pork Apparel Co.
New Comics This Week – Sponsored by comiXology

Brian
EXPANSE #3 (OF 4) CVR A
TMNT THE LAST RONIN #2
X-MEN LEGENDS #1 CHRISTOPHER ACTION FIGURE VAR
Contact Us
The Infamous Podcast can be found wherever podcasts are found on the Interwebs, feel free to subscribe and follow along on social media. And don't be shy about helping out the show with a 5-star review on Apple Podcasts to help us move up in the ratings.
@infamouspodcast
facebook/infamouspodcast
instagram/infamouspodcast
stitcher
Apple Podcasts
Spotify
Google Play
iHeart Radio
contact@infamouspodcast.com
Our theme music is 'Skate Beat' provided by Michael Henry, with additional music provided by Michael Henry. Find more at MeetMichaelHenry.com.
The Infamous Podcast is hosted by Brian Tudor and Darryl Jasper, is recorded in Cincinnati, Ohio. The show is produced and edited by Brian Tudor.



Subscribe today!