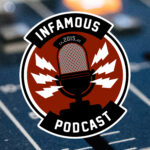 It's a Bird… It's a Plane… It's Emo?
This week on the podcast, Brian and Darryl are talking about the Superman & Lois pilot, WandaVision episode 8, and more News Bites than you can shake a stick at!
Episode Index
Intro: 0:45
Avatar Studios: 4:25
Spider-Man 3: 9:32
Jupiter's Legacy: 13:54
Aquaman 2 Rumors: 16:45
Superman Reboot: 24:12
Superman & Lois: 42:40
WandaVision: 1:00:07
News Bites
Nickelodeon Launches Avatar Studios, Will Expand World of 'Avatar: The Last Airbender,' 'The Legend of Korra'
'Spider-Man: No Way Home' Premieres in December 2021
Jupiter's Legacy Official Teaser only on Netflix
New Report Declares Emilia Clarke Is Replacing Amber Heard As Mera In Aquaman 2
'Superman' Reboot In The Works At Warner Bros With Ta-Nehisi Coates Writing, J.J. Abrams Producing
Superman and Lois (Season 1 Episode 1)
Title: "Pilot"
Directed by: Lee Toland Krieger
Written by: Teleplay by Todd Helbing; Story by Greg Berlanti & Todd Helbing
Release Date: February 23, 2021
Summary
Clark Kent and Lois Lane meet in Metropolis working for the Daily Planet. Eventually, they marry and raise their twin sons, Jonathan and Jordan; all while Clark fights crime as the superhero Superman. In the present day, Superman prevents a nuclear meltdown. The following day, Clark loses his job and his mother Martha passes away in Smallville. At her funeral, the Kents reunite with Lana Lang, her husband Kyle Cushing, and their two daughters, Sarah and Sophie. Jordan and Jonathan suffer no injuries after an accident in the barn. Clark learns from Lois' father, General Sam Lane, that the meltdowns are caused by an unknown figure, who knows Superman's Kryptonian identity "Kal-El". Lana reveals to Clark and Lois that Martha had a reverse mortgage on the farm, which they must either pay back or sell the property. Jordan and Jonathan discover the Kryptonian pod. They confront their parents, who confirm that Clark is Superman, which angers the boys. Superman confronts the stranger at another nuclear meltdown. Meanwhile, Jonathan and Jordan attend a bonfire with Sarah. Jordan kisses Sarah, which provokes her boyfriend and a fight breaks out; in the melee, Jordan's heat vision ability manifests to save his brother. The stranger stabs Superman with Kryptonite. Elsewhere, the stranger is revealed to be "Captain Luthor".
Cast
Tyler Hoechlin as Kal-El / Clark Kent / Superman
Elizabeth Tulloch as Lois Lane
Jordan Elsass as Jonathan Kent
Alex Garfin as Jordan Kent
Erik Valdez as Kyle Cushing
Inde Navarrette as Sarah Cushing
Wolé Parks as Captain Luthor
Adam Rayner as Morgan Edge
Dylan Walsh as Samuel Lane
Emmanuelle Chriqui as Lana Lang Cushing
WandaVision (Season 1 Episode 8)
Title: "Previously On"
Directed by: Matt Shakman
Written by: Laura Donney
Release Date: February 26, 2021
Summary
In Salem 1693, Agatha is held on trial by a coven of witches led by her mother Evanora for practicing dark magic. As they attempt to kill her, she drains their life forces. In the present, Agatha demands to know how Wanda is controlling Westview, threatening her with her children's lives. She forces Wanda to relive key moments of her life, during which she watched numerous sitcoms to keep herself going. Agatha learns Wanda has had magical abilities since birth, which were amplified when she came in contact with the Mind Stone. Additionally, Wanda visited S.W.O.R.D. to recover Vision's body, but Director Hayward refuses to let her bury him. Unable to feel any life in Vision, she leaves and drives to a lot in Westview that Vision had bought for her so they could live there together. In a fit of grief, she creates a house on the lot, manifests a new version of Vision, and extends the Hex across the entire town. Agatha concludes that Wanda possesses a legendary form of magic and deems her the "Scarlet Witch". In a mid-credits scene, Hayward reactivates the original Vision's reassembled corpse.
Cast
Elizabeth Olsen
Paul Bettany
Debra Jo Rupp
Fred Melamed
Kathryn Hahn
Teyonah Parris
Kat Dennings
Randall Park
Infamous Shirts for Naked Bodies

…

You'll feel "shirty" when you buy our gear from the Flying Pork Apparel Co.
New Comics This Week – Sponsored by comiXology

Brian
FUTURE STATE: DARK DETECTIVE #3
FUTURE STATE: DARK DETECTIVE #4
FUTURE STATE: LEGION OF SUPER-HEROES #2
NEW MUTANTS #16
X-MEN #18
Contact Us
The Infamous Podcast can be found wherever podcasts are found on the Interwebs, feel free to subscribe and follow along on social media. And don't be shy about helping out the show with a 5-star review on Apple Podcasts to help us move up in the ratings.
@infamouspodcast
facebook/infamouspodcast
instagram/infamouspodcast
stitcher
Apple Podcasts
Spotify
Google Play
iHeart Radio
contact@infamouspodcast.com
Our theme music is 'Skate Beat' provided by Michael Henry, with additional music provided by Michael Henry. Find more at MeetMichaelHenry.com.
The Infamous Podcast is hosted by Brian Tudor and Darryl Jasper, is recorded in Cincinnati, Ohio. The show is produced and edited by Brian Tudor.



Subscribe today!