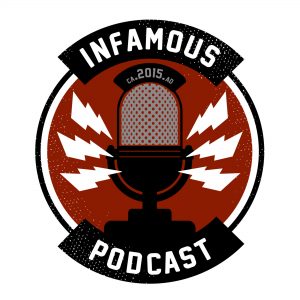 Let's Go Ahead and Call This Project 7734
This week on the podcast, Brian and Darryl are review BRZRKR #1, Supes and LoLo episode 4, and The Falcon and The Winter Soldier episode 1. Plus, News Bites on Tartakovsky's Close Wars, Netflix's Greed, and  Snyder's  DCEU Future.
Episode Index
Intro: 0:11
Gennedy Tartakovsky's Clone Wars: 4:37
Netflix: 10:22
Zack Snyder: 17:10
BRZRKR: 34:24
Supes and LoLo: 47:10
Falcon and the Winter Soldier: 01:07:26
News Bites
Star Wars: Genndy Tartakovsky's Clone Wars Coming to Disney+
Netflix Greed Reaches New Heights, Launches Program To Crackdown On Password Sharing
Zack Snyder Says JUSTICE LEAGUE Is the Last DC Universe Film He'll Make
BRZRKR #1
Written by: Matt Kindt and  Keanu Reeves
Pencils by: Ron Garney
Colored by: Bill Crabtree
Cover by: Rafael Grampa
Release Date: March 3, 2021
Summary
The man known only as Berzerker is half-mortal and half-God, cursed and compelled to violence… even at the sacrifice of his sanity. But after wandering the world for centuries, Berzerker may have finally found a refuge — working for the U.S. government to fight the battles too violent and too dangerous for anyone else. In exchange, Berzerker will be granted the one thing he desires — the truth about his endless blood-soaked existence… and how to end it.
Find it here https://comixology.sjv.io/jWW2dP
Superman and Lois (Season 1 Episode 4)
Title: "Haywire"
Directed by: James Bamford
Written by: Michael Narducci
Release Date: March 16, 2021
Summary
Sam comes to Smallville asking for Clark's help when a villain Thaddeus Kilgrave, leader of Intergang, is being transported out of Metropolis's prison, due to Superman's absence. Sam finds out about Jordan's powers and advises the brothers not to rely on their father. Superman appears too late to stop Kilgrave's escape. Morgan Edge goes around Smallville to appeal to the townspeople before they vote on allowing him to re-open the mines. Lois tries to publish a scathing article against him, but Lois's old contract prevents her. Lois tries to get Clark to show up to the meeting but gets tied up with Kilgrave. Lois and Lana bond over drinks. Meanwhile, Tag Harris, Jonathan's teammate who broke his arm, starts vibrating crazily and tries to hide it. Jordan tries to save Tag but fails. As Superman is struggling to fight Kilgrave, he hears Jonathan call for help, giving him strength. Tag is taken to the DoD to be monitored. Sam, seeing that Clark is putting his family at a higher priority than the world, creates Contingency Plan 7734 to be used against Superman. Meanwhile, Edge and Larr start digging into the mines and find X-Kryptonite to help expand his super-powered army.
Cast
Tyler Hoechlin as Kal-El / Clark Kent / Superman
Elizabeth Tulloch as Lois Lane
Jordan Elsass as Jonathan Kent
Alex Garfin as Jordan Kent
Erik Valdez as Kyle Cushing
Inde Navarrette as Sarah Cushing
Wolé Parks as Captain Luthor
Adam Rayner as Morgan Edge
Dylan Walsh as Samuel Lane
Emmanuelle Chriqui as Lana Lang Cushing
Brenden Fletcher as Thaddeus R. Killgrave
The Falcon and The Winter Soldier (Season 1 Episode 1)
Title: "New World Order"
Directed by: Kari Skogland
Written by: Malcolm Spellman
Release Date: March 19, 2021
Summary
After half of all life returned from the Blip, five years after they disappeared, Sam Wilson / Falcon works with the U.S. Air Force to track a plane hijacked by Georges Batroc and members of the terrorist group LAF. Wilson defeats the terrorists and recovers a hostage from the plane with support from Air Force member Joaquin Torres. Wilson was given the mantle of Captain America by Steve Rogers, but he struggles with this idea and instead decides to give Rogers' shield to the U.S. government so it can be displayed in a museum with Rogers' suit. Bucky Barnes attends government-mandated therapy, where he discusses his attempts to make amends for his time as a brainwashed assassin, the Winter Soldier. Torres investigates another terrorist group, the Flag Smashers, who believe life was better during the blip. Torres keeps Wilson informed about what he finds. Wilson wants to help his sister Sarah with the family business, but they are unable to get a bank loan. He then learns that the government has named a new Captain America: John Walker.
Cast
Anthony Mackie as Sam Wilson / Falcon
Sebastian Stan as Bucky Barnes / Winter Soldier
Daniel Brühl as Baron Helmut Zemo
Emily VanCamp as Sharon Carter / Agent 13
Wyatt Russell as John F. Walker/U.S. Agent
Infamous Shirts for Naked Bodies

…

You'll feel "shirty" when you buy our gear from the Flying Pork Apparel Co.
New Comics This Week – Sponsored by comiXology

Brian
EXPANSE #4
RADIANT BLACK #2
STAR WARS BOUNTY HUNTERS #10
Contact Us
The Infamous Podcast can be found wherever podcasts are found on the Interwebs, feel free to subscribe and follow along on social media. And don't be shy about helping out the show with a 5-star review on Apple Podcasts to help us move up in the ratings.
@infamouspodcast
facebook/infamouspodcast
instagram/infamouspodcast
stitcher
Apple Podcasts
Spotify
Google Play
iHeart Radio
contact@infamouspodcast.com
Our theme music is 'Skate Beat' provided by Michael Henry, with additional music provided by Michael Henry. Find more at MeetMichaelHenry.com.
The Infamous Podcast is hosted by Brian Tudor and Darryl Jasper, is recorded in Cincinnati, Ohio. The show is produced and edited by Brian Tudor.



Subscribe today!