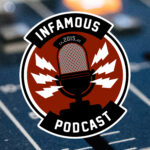 Nerd Dad Superman is the Best Superman
This week on the podcast, Brian and Darryl are talking Supes and LoLo for the last time until May, The Falcon and The Winter Soldier's new Captain America, and New Bites about Marvel Comics, Black Widow, Batwoman, and a possible future for the Avengers.
Episode Index
Intro: 0:11
The Suicide Squad: 2:05
Marvel Comics: 6:30
Black Widow: 12:20
Batwomans: 15:05
The Avengers: 24:02
Superman: 33:30
Falcon/Winter Soldier: 56:18
News Bites
The Suicide Squad – Official Red Band Trailer
How Marvel leaving Diamond for Penguin Random House affects comic book readers
'Black Widow' to Hit Disney+ Premier Access and Theaters Simultaneously
'Batwoman' Reveals Wallis Day Will Take Over Kate Kane Role
WandaVision: Will Monica Be Avengers' New Leader? Marvel Producer Hints at Possibility
Superman and Lois (Season 1 Episode 5)
Title: "The Best of Smallville"
Directed by: Rachel Talalay
Teleplay by : Brent Fletcher and Nadria Tucker
Story by : Todd Helbing
Release Date: March 23, 2021
Summary
The Harvest Festival comes to Smallville. Jonathan is upset as Eliza breaks up with him. As Jonathan acts out, from yelling at Clark about moving back to Smallville, to drinking at the Festival, Clark is reminded about the last Festival before he decided to move to Metropolis. Sharon comes back to the Smallville Gazette with her son Derek, who claims he was in a coma and had suffered from memory loss. Chrissy is immediately suspicious and tracks Derek after a fire breaks out at the Smallville Community Center (which Derek himself caused due to struggling with powers like Tag). Meanwhile, Captain Luthor introduces himself to Lois as Marcus Bridgewater and offers to help Lois with her investigation on Edge. Chrissy finds Derek with Larr, re-exposing him to X-Kryptonite radiation to stabilize his powers. Marcus tries to destroy both Derek and Superman, but only Derek is mortally wounded. Lana presents a bench to the town that serves as a memorial to Martha. Marcus sees Lois happy with Clark and is reminded of the Lois on his Earth who was his wife. After a date at the Festival, Sarah and Jordan decide to remain as friends. As Jordan is walking home, he is attacked by Tag.
Cast
Tyler Hoechlin as Kal-El / Clark Kent / Superman
Elizabeth Tulloch as Lois Lane
Jordan Elsass as Jonathan Kent
Alex Garfin as Jordan Kent
Erik Valdez as Kyle Cushing
Inde Navarrette as Sarah Cushing
Wolé Parks as Captain Luthor
Adam Rayner as Morgan Edge
Dylan Walsh as Samuel Lane
Emmanuelle Chriqui as Lana Lang Cushing
Brenden Fletcher as Thaddeus R. Killgrave
The Falcon and The Winter Soldier (Season 1 Episode 1)
Title: "The Star-Spangled Man"
Directed by: Kari Skogland
Written by: Michael Kastelein
Release Date: March 26, 2021
Summary
Walker makes an appearance on Good Morning America as Captain America and reveals his desire to live up to Rogers' mantle. Meanwhile, Wilson and Barnes struggle to work together as Barnes expresses disapproval in Wilson's decision to surrender Rogers' shield. They travel to Germany and find the Flag-Smashers smuggling medicine. Wilson identifies a possible hostage that is revealed to be the group's leader, Karli Morgenthau. The Flag-Smashers, all with superhuman strength, quickly overpower Barnes and Wilson until Walker and Lemar Hoskins come to their aid, although the Flag-Smashers escape. Walker requests Barnes and Wilson join him in aiding the Global Repatriation Council (GRC) to quash the ongoing violent post-Blip revolutions, but they refuse. Traveling to Baltimore, Barnes introduces Wilson to Isaiah Bradley, a veteran super soldier active during the Korean War, but he refuses to help them due to his troubled past with Barnes. Barnes is arrested for missing a court-mandated therapy appointment but is released when Walker intervenes. He once again asks Barnes and Wilson to work with him to track down the Flag-Smashers, but they refuse and Walker warns them to stay out of his way. Barnes suggests they visit Helmut Zemo, in prison in Berlin,[b] to gather intelligence related to the Flag-Smashers.
Cast
Anthony Mackie as Sam Wilson / Falcon
Sebastian Stan as Bucky Barnes / Winter Soldier
Daniel Brühl as Baron Helmut Zemo
Emily VanCamp as Sharon Carter / Agent 13
Wyatt Russell as John F. Walker/U.S. Agent
Infamous Shirts for Naked Bodies

…

You'll feel "shirty" when you buy our gear from the Flying Pork Apparel Co.
New Comics This Week – Sponsored by comiXology

Brian
ALIEN #1 YOUNG VAR
DUNE HOUSE ATREIDES #5
STAR WARS DOCTOR APHRA #8
Contact Us
The Infamous Podcast can be found wherever podcasts are found on the Interwebs, feel free to subscribe and follow along on social media. And don't be shy about helping out the show with a 5-star review on Apple Podcasts to help us move up in the ratings.
@infamouspodcast
facebook/infamouspodcast
instagram/infamouspodcast
stitcher
Apple Podcasts
Spotify
Google Play
iHeart Radio
contact@infamouspodcast.com
Our theme music is 'Skate Beat' provided by Michael Henry, with additional music provided by Michael Henry. Find more at MeetMichaelHenry.com.
The Infamous Podcast is hosted by Brian Tudor and Darryl Jasper, is recorded in Cincinnati, Ohio. The show is produced and edited by Brian Tudor.



Subscribe today!