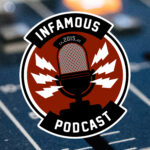 You Had ONE Job Warner Bros., ONE Job!
This week on the podcast, Brian and Darryl discuss Nightwing #78, The Falcon and The Winter Soldier, and trying to stay awake during Godzilla vs. Kong. Plus News Bites!
Episode Index
Intro: 0:11
Mortal Kombat: 4:27
Obi-Wan: 6:06
The Bad Batch: 14:30
Clone Saga: 18:26
Nightwing: 39:20
Falcon and Winter Soldier: 44:05
Godzilla vs Kong: 59:40
News Bites
The Release Date for MORTAL KOMBAT Has Been Pushed Back
Obi-Wan Kenobi Casting Reveals Which Star Wars Characters Will Return
The Bad Batch Official Trailer
Miles Gets a Clone Saga Starting in MILES MORALES: SPIDER-MAN #25
Nightwing #78
Summary
Nightwing is back—and his drive to keep Blüdhaven safe has never been stronger! But his adopted city has elected a new mayor with the last name Zucco. When Nightwing enlists Batgirl's help in investigating the politician bearing the same name as the man who murdered his parents, she unearths details that will shock and fundamentally change the hero. The New York Times bestselling team of writer Tom Taylor (DCeased, Injustice) and artist Bruno Redondo (Injustice, Suicide Squad) are about to take Nightwing to the next stage of his evolution as a hero!
Art by:
Bruno Redondo
Written by:
Tom Taylor
U.S. Price:
3.99
Sale Date:
Mar 16, 2021
Page Count: 32
The Falcon and The Winter Soldier (Season 1 Episode 3)
Title: "Power Broker"
Directed by: Kari Skogland
Written by: Derek Kolstad
Release Date: April 2, 2021
Summary
Barnes orchestrates a prison riot to help Zemo escape and he agrees to help stop the Flag Smashers. They travel to Madripoor, a criminal sanctuary city-state, and meet with high-ranking criminal Selby. She reveals it was former Hydra scientist Dr. Wilfred Nagel who was hired by the Power Broker to recreate the serum. Wilson's identity is exposed and Selby is killed. Sharon Carter, who has been living as a fugitive, saves the three from Selby's men and bounty hunters and brings them to Nagel's lab. They learn he recreated twenty doses of the serum, which Morgenthau stole. Zemo unexpectedly kills Nagel and the lab is destroyed, but Zemo steals a getaway vehicle. Carter stays behind, and Wilson agrees to obtain her a pardon. Walker and Hoskins arrive in Berlin and deduce that Barnes and Wilson helped Zemo escape. While the Flag Smashers raid a GRC storage facility in Lithuania for supplies, Zemo, Barnes, and Wilson travel to Latvia in search of Morgenthau. Barnes recognizes Wakandan tracking devices in the street and confronts Dora Milaje Ayo, who demands Zemo.
Cast
Anthony Mackie as Sam Wilson / Falcon
Sebastian Stan as Bucky Barnes / Winter Soldier
Daniel Brühl as Baron Helmut Zemo
Emily VanCamp as Sharon Carter / Agent 13
Wyatt Russell as John F. Walker/U.S. Agent
Godzilla vs Kong (2021)
Summary
Kong and his protectors undertake a perilous journey to find his true home. Along for the ride is Jia, an orphaned girl who has a unique and powerful bond with the mighty beast. However, they soon find themselves in the path of an enraged Godzilla as he cuts a swath of destruction across the globe. The initial confrontation between the two titans — instigated by unseen forces — is only the beginning of the mystery that lies deep within the core of the planet.
Directed by
Adam Wingard
Produced by
Thomas Tull
Jon Jashni
Brian Rogers
Mary Parent
Alex Garcia
Eric McLeod
Screenplay by
Eric Pearson
Max Borenstein
Story by
Terry Rossio
Michael Dougherty
Zach Shields
Based on Godzilla and Mechagodzilla by
Toho
King Kong by
Edgar Wallace
Merian C. Cooper
Starring
Alexander Skarsgård as Dr. Nathan Lind
Millie Bobby Brown as Madison Russell
Rebecca Hall as Dr. Ilene Andrews
Brian Tyree Henry as Bernie Hayes
Shun Oguri as Ren Serizawa
Eiza González as Maia Simmons
Julian Dennison as Josh Valentine
Lance Reddick as Guillermin
Kyle Chandler as Dr. Mark Russell
Demián Bichir as Walter Simmons
Kaylee Hottle as Jia
Music by
Tom Holkenborg
Cinematography by
Ben Seresin
Edited by
Josh Schaeffer
Production Company
Legendary Pictures
Distributed by
Warner Bros. Pictures (Worldwide)
Toho (Japan)
Release date
March 24, 2021 (International)
March 31, 2021 (United States)
Running time 113 minutes
Budget $160–200 million
Box office $123.1 million
Infamous Shirts for Naked Bodies

…

You'll feel "shirty" when you buy our gear from the Flying Pork Apparel Co.
New Comics This Week – Sponsored by comiXology

Brian
THE FLASH #768
STRANGE ADVENTURES #9
X-MEN #19
X-MEN LEGENDS #2 CHRISTOPHER ACTION FIGURE VAR
Contact Us
The Infamous Podcast can be found wherever podcasts are found on the Interwebs, feel free to subscribe and follow along on social media. And don't be shy about helping out the show with a 5-star review on Apple Podcasts to help us move up in the ratings.
@infamouspodcast
facebook/infamouspodcast
instagram/infamouspodcast
stitcher
Apple Podcasts
Spotify
Google Play
iHeart Radio
contact@infamouspodcast.com
Our theme music is 'Skate Beat' provided by Michael Henry, with additional music provided by Michael Henry. Find more at MeetMichaelHenry.com.
The Infamous Podcast is hosted by Brian Tudor and Darryl Jasper, is recorded in Cincinnati, Ohio. The show is produced and edited by Brian Tudor.



Subscribe today!