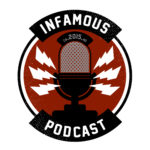 Amazon Prime's "Invincible" is a Thing On the Internet… I Guess
This week on the podcast, Brian and Darryl finally (FINALLY) talk about season 1 of Amazon Prime's "Invincible"! Plus the new trailers from A Quite Place II and Venom: Let There Be Carnage!
Episode Index
Intro: 0:11
A Quiet Place 2: 6:20
Venom 2: 12:06
Invincible: 17:15
Movie Trailers
A Quiet Place 2 Trailer
Venom: Let There Be Carnage Trailer
Amazon Prime's "Invincible"
Summary
Mark Grayson is a normal teenager, except for the fact that his father, Nolan, is the most powerful superhero on the planet. Shortly after his seventeenth birthday, Mark begins to develop powers of his own and enters into his father's tutelage.
Created by
Robert Kirkman
Based on Invincible by
Robert Kirkman
Cory Walker
Ryan Ottley
Voice Talent
Steven Yeun
Sandra Oh
J. K. Simmons
Composer
John Paesano
No. of episodes
8
Production
Executive producers
Simon Racioppa
Robert Kirkman
David Alpert
Catherine Winder
Seth Rogen
Evan Goldberg
Producer
Maude Lewis
Animator
T.A.P.
Running time
42–49 minutes
Production Companies
Skybound
Skybound North
Release
Original Network
Prime Video
Original release
March 25, 2021 – Present
Infamous Shirts for Naked Bodies

…

You'll feel "shirty" when you buy our gear from the Flying Pork Apparel Co.
New Comics This Week – Sponsored by comiXology

Brian
BATMAN: THE DETECTIVE #2
HEROES REBORN #2 (OF 7) CHRISTOPHER ACTION FIGURE VAR
THE JOKER #3
STAR WARS #13 CHRISTOPHER ACTION FIGURE VAR
X-CORP #1 YOUNG VAR
Contact Us
The Infamous Podcast can be found wherever podcasts are found on the Interwebs, feel free to subscribe and follow along on social media. And don't be shy about helping out the show with a 5-star review on Apple Podcasts to help us move up in the ratings.
@infamouspodcast
facebook/infamouspodcast
instagram/infamouspodcast
stitcher
Apple Podcasts
Spotify
Google Play
iHeart Radio
contact@infamouspodcast.com
Our theme music is 'Skate Beat' provided by Michael Henry, with additional music provided by Michael Henry. Find more at MeetMichaelHenry.com.
The Infamous Podcast is hosted by Brian Tudor and Darryl Jasper, is recorded in Cincinnati, Ohio. The show is produced and edited by Brian Tudor.



Subscribe today!