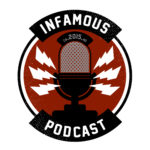 What Happens When Good Sidekicks Go Bad?
This week on the podcast, Brian and Darryl are talking about the latest episodes of Loki and the Bad Batch, then shaking up… News Bites! News this week includes the new Aliens TV series from Noah Hawley, Timothy Olyphant joins Netflix's Havoc, and Allison Mack gets sentenced.
Episode Index
Intro: 0:11
Loki: 1:31
The Bad Batch: 15.32
Alien TV Series: 26:14
Havoc: 34:10
Allison Mack: 43:35
Loki (Season 1 Episode 4)
Title: "The Nexus Event"
Directed by: Kate Herron
Written by: Eric Martin
Release Date : June 30, 2021
Summary
Sylvie tells Loki she escaped the TVA's custody as a child (after Renslayer captured her). Loki and Sylvie bond romantically, creating a unique branched timeline that alerts the TVA, allowing for their rescue and arrest before Lamentis-1 is destroyed. Mobius leaves Loki in a time loop from his past of Sif attacking him. B-15 has Sylvie show memories of B-15's past life, proving B-15's variant status. Renslayer tells Mobius that C-20 had died from a mental breakdown, but Mobius steals a recording showing Renslayer interrogating a mentally sound C-20, who insists that the TVA workers are all variants. Mobius frees Loki from the loop, but Renslayer confronts them and has Mobius pruned. Renslayer has Loki and Sylvie brought before the Time-Keepers, who order Loki and Sylvie deleted. B-15 assists Loki and Sylvie, who proceed to defeat Renslayer and the TVA guards. Sylvie beheads a Time-Keeper, revealing that the Time-Keepers are androids. As Loki prepares to tell Sylvie something, a recovered Renslayer prunes him. Sylvie holds Renslayer hostage, demanding from her the truth about the TVA. In a mid-credits scene, Loki awakens in an unknown realm, where other Loki variants invite him to join them.
Cast
Tom Hiddleston – Loki
Gugu Mbatha-Raw – Ravonna Renslayer
Sophia Di Martino – Sylvie (Lady Loki)
Eugene Cordero – Casey
Tara Strong – Miss Minutes (voice)
Owen Wilson – Mobius M. Mobius
The Bad Batch (Season 1 Episode 10)
Title: "Common Ground"
Directed by: Saul Ruiz
Written by: Gursimran Sandhu
Release Date : July 2, 2021
Summary
On Raxus, which was the homeworld of the Confederacy of Independent Systems during the Clone Wars, the Empire institutes new curfew laws with the support of local senator Avi Singh. While addressing the public, Singh speaks out against the Empire instead and is arrested. His protocol droid GS-8 hires Cid to help rescue Singh, and she sends the Bad Batch who are reluctant to help after fighting against the Confederacy in the Clone Wars. Omega is left behind due to the multiple bounty hunters that are targeting her, and she wins Cid enough money playing dejarik to pay off the Bad Batch's debt. With the help of GS-8, the Bad Batch rescue Singh and take him to Cid for payment.
Cast
Dee Bradley Baker as all of the clone troopers in the series, including the members of Clone Force 99 / the Bad Batch
Stephen Stanton as Admiral Tarkin
Bob Bergen as Lama Su
Gwendoline Yeo as Nala Se
Ben Diskin as AZI-3
Matthew Wood as battle droids.
Ian McDiarmid as Darth Sidious
Tom Kane as the narrator
Cara Pifko, Nika Futterman, and Kath Soucie as Suu, Shaeeah, and Jek Lawquane
Ming-Na Wen as Fennec Shand
News Bites
Noah Hawley Claims The Upcoming Alien TV Series Is A "Story About Inequality"
Timothy Olyphant Teams with Tom Hardy in Netflix Action Thriller Havoc
Former Smallville Actress Allison Mack Has Been Sentenced To Three Years In Prison Over Involvement In Sex-Trafficking Cult NXIVM
Infamous Shirts for Naked Bodies

…

You'll feel "shirty" when you buy our gear from the Flying Pork Apparel Co.
New Comics This Week – Sponsored by comiXology

Brian
CATWOMAN 2021 ANNUAL #1
DUNE HOUSE ATREIDES #8
STAR WARS DOCTOR APHRA #11 WOBH
Contact Us
The Infamous Podcast can be found wherever podcasts are found on the Interwebs, feel free to subscribe and follow along on social media. And don't be shy about helping out the show with a 5-star review on Apple Podcasts to help us move up in the ratings.
@infamouspodcast
facebook/infamouspodcast
instagram/infamouspodcast
stitcher
Apple Podcasts
Spotify
Google Play
iHeart Radio
contact@infamouspodcast.com
Our theme music is 'Skate Beat' provided by Michael Henry, with additional music provided by Michael Henry. Find more at MeetMichaelHenry.com.
The Infamous Podcast is hosted by Brian Tudor and Darryl Jasper, is recorded in Cincinnati, Ohio. The show is produced and edited by Brian Tudor.



Subscribe today!