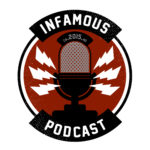 Recorded Before a Live Studio Audience
This week on the podcast, Brian and Darryl are LIVE on the Stage at Fretboard Brewing in Cincinnati, Ohio to celebrate the show's 6th Anniversary, and talking about some things you might not expect!
Episode Index
Intro: 0:11
The Show: 1:40
Darryl's Likes
Open World Games
These games don't force the player to follow a set upon roadmap. Yes, there is a main narrative, but the player is able to navigate the world before them, giving them the freedom to explore as they see fit. A secondary version of this concept are games where choices matter and you must be aware of the consequences of certain actions.
My first true experience with this was Fallout 3 in 2008. This was a massive game where one could stray so far from the main path with the abundance of side quests and a rich world with familiar locations (ravaged by war, of course) that it could be difficult—and less fun—finding your way back to the main story.
Why?
These games are more like real life. You have to take care not to get too distracted from your path lest ye be lost in the side quests of life. The freedom is exhilarating but is not without responsibility. Also, the replay value when so many choices are before you is incalculable (as are the hundreds of hours I've spent on these types of games).
MORE EXAMPLES
Infamous (such a great game where your decision to play as a good or evil character determines the way the citizens view you)
Horizon Zero Dawn (fabulous game with a solid open-world but not much in the way of weighty decisions)
The Witcher 3 (very subtle in its choices game to the point there are several endings based on how you treat a major person in Geralt's life).
Current examples: Assassin's Creed (Odyssey and Valhalla), Red Dead Redemption 2 (I'm way late to the party), Days Gone (only an hour or so in but looking good).
Urban Fantasy
Taking elements of the supernatural and mixing them into modern-day times.
My first in-depth experience with this in a visual medium was Buffy, shortly followed by both the Necroscope series and the longest-running genre show (15 years!!) Supernatural.
Every bit as powerful in this realm as Buffy and Supernatural is the Dresden Files series (by Jim Butcher). It follows Harry Dresden, Wizard (and PI) as he straddles the natural and supernatural worlds in Chicago.
Why?
For me, urban fantasy makes the events all the more accessible and interesting. It posits the question: if ghosts and ghouls, vampires and werewolves roamed your streets, would you know? And how would you react?
MORE EXAMPLES:
Anita Blake: Vampire Hunter series
Being Human (the US version with Sam Witwer, national treasure)
Blood Ties
SCI-FI
One of the more popular genres, sci-fi focuses on the advances of science in a fictional setting. These vary between the uber fantastical (say Valerian & the City of a Thousand Planets or Star Wars) or the ones more grounded in reality (The Expanse).
Why?
Sci-fi has always captured my imagination and it's a staple of how I was initiated into geek culture. My first remembered theater-going experience was at 6 when my family and I walked up to the Showcase Cinemas in Springdale towards a massive line of moviegoers awaiting their chance to see Return of the Jedi.
Sci-fi also makes us ask the question of "what is possible?".
MORE EXAMPLES
Star Trek
Battlestar Galactica (the original and reboot)
Peter F Hamilton and his Commonwealth saga
Star Wars The Expanded Universe (it's still canon to me, damn it!)
Edge of Tomorrow
Kevin J Anderson's A Saga of Seven Suns
And so many more…
Brian's Likes
Slice of Life Movies
Chef (2014) Written and Directed by Jon Favreau
A great look at his being unsatisfied with the career he thought he wanted. But self-sabotage blows it up. Then he finds his way back to what he loves.
Chef Carl Casper – Jon Favreau
Martin – John Leguizamo
Percy – Emjay Anthony
Inez – Sophia Vergara
Ramsey Michel – Oliver Platt
Garden State (2004) Written and Directed by Zack Braff
What happens when you don't let yourself feel anything and cut yourself off from healing. He has a crazy journey back to who he is after realizing he doesn't need to be shut off, but that he needs to experience life again.
Andrew Largeman – Zack Braff
Sam – Natalie Portman
Mark – Peter Sarsgaard
Dr. Gideon Largeman – Ian Holm
The Peanut Butter Flacon (2019) Written and Directed by Tyler Nelson and Michael Schwartz
A young man, Zak, with downs runs away from the state-run assisted living facility he lives in to make his dream of becoming a pro wrestler a reality.  He meets Tyler and they have a journey to meet Zak's favorite wrestler the Saltwater Redneck, while Eleanor tried to find Zak and bring him home.
Zak – Zack Gottsagen
Tyler – Shia LeBouf
Eleanor – Dakota Johnson
Saltwater Redneck – Thomas Hayden Church
Other Slice of Life Movies Worth Watching:
The Big Picture, Clerks, Don't Think Twice, Good Will Hunting, Hearts Beat Loud, Mr. Mom, Singles, The Tao of Steve, Mystery Date, That Awkward Moment, This is Where I Leave You, Whiplash
Movies and TV Shows About Media
Spotlight (2015) Written by Tom McCarthy and Josh Singer, Directed by Tom McCarthy
The true story of the Spotlight investigative journalism team at the Boston Globe and how they uncovered the Boston Archdioceses cover-up of priests abusing children.
Walter "Robby" Robinson – Michael Keaton
Sachs Pfeiffer – Rachel McAdams
Mike Rezendes – Mark Ruffalo
Marty Baron – Live Schneider
Ben Bradley Jr. – John Slattery
The Newsroom (2012-2014)/Sports Night (1998-2000) Created by Aaron Sorkin
Both The Newsroom and Sports Night were created by Aaron Sorkin.  They deal with news programs (news and sports respectively) trying to their shows "the right way" with varying degrees of success, and the interpersonal relationships of the staffs of both shows. While the subject matter is different the first season of both shows has similar stories and story beats.
The Newsroom
Will McAvoy – Jeff Daniels
Mackenzie McHale – Emily Mortimer
Jim Harper – John Gallagher Jr.
Maggie Jordan – Alison Pill
Don Keefer – Thomas Sadoski
Neal Sampat – Dev Patel
Sloan Sabbith – Olivia Munn
Charlie Skinner – Sam Waterson
Sports Night
Dan Rydell – Josh Charles
Casey McCall – Peter Krause
Dana Whitaker – Felicity Huffman
Jeremy Godwin – Josh Malina
Natalie Hurley – Sabrina Lloyd
Isaac Jaffe – Robert Guillaume
Pump Up the Volume (1990) Written and Directed by Allan Moyle
The story of an introverted teen finds his voice with his short wave pirate radio show without inhibitions where he breaks the status quo of a small Arizona town. (I like to consider this the first movie about podcasting)
Mark Hunter/Hard Harry – Christian Slater
Nora Dinaro – Samantha Mathis
Paige Woodward – Cheryl Pollak
Joey – Seth Green
Marla Hunter – Mimi Kennedy
Brian Hunter – Scott Paulin
Sports Movies
For Sports Movies I've put them into 3 categories; Fighting, Feel Good/Underdog, and The Kevin Costner Experience
Fighting Movies
I really enjoy these kinds of movies, obviously, the Rocky/Creed franchise is on the list there are a ton of great films in this category. Movies like:
The Karate Kid, Warrior, Embattled, Southpaw, Born a Champion, Gladiator, The Great White Hype, Million Dollar Baby, Bleed for This, The Power of One
Feel Good Underdog Stories
In this category, these movies are mostly "based on true events" and have the main group overcoming the odds. Movies Like:
The Mighty Ducks, Remember the Titans, Race, Moneyball, Miracle, The Bad News Bears, Varsity Blues, The Replacements, Mystery Alaska, Major League, Cool Runnings, Without Limits
The Kevin Costner Sports Movies as a genre
Since the 1980's Kevin Costner has been making some pretty all-timers in the sports genre. Movies Like:
Bull Durham, Tin Cup, For the Love of the Game, Field of Dreams, Field of Dreams, Draft Day, American Flyer
Infamous Shirts for Naked Bodies

…

You'll feel "shirty" when you buy our gear from the Flying Pork Apparel Co.
New Comics This Week – Sponsored by comiXology

Brian
BLUE & GOLD #1
CATWOMAN #33
JUPITERS LEGACY REQUIEM #2
NIGHTWING #82
STAR WARS DARTH VADER #14 CAMUNCOLI HEADSHOT VAR WOBH
STAR WARS WAR BOUNTY HUNTERS JABBA HUTT #1 HEADSHOT VAR
SUPERMAN & THE AUTHORITY #1
X-MEN LEGENDS #5 CHRISTOPHER ACTION FIGURE VAR
Contact Us
The Infamous Podcast can be found wherever podcasts are found on the Interwebs, feel free to subscribe and follow along on social media. And don't be shy about helping out the show with a 5-star review on Apple Podcasts to help us move up in the ratings.
@infamouspodcast
facebook/infamouspodcast
instagram/infamouspodcast
stitcher
Apple Podcasts
Spotify
Google Play
iHeart Radio
contact@infamouspodcast.com
Our theme music is 'Skate Beat' provided by Michael Henry, with additional music provided by Michael Henry. Find more at MeetMichaelHenry.com.
The Infamous Podcast is hosted by Brian Tudor and Darryl Jasper, is recorded in Cincinnati, Ohio. The show is produced and edited by Brian Tudor.



Subscribe today!