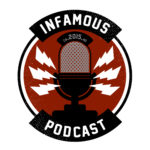 Celebrating 6 Years of Infamous
This week on the podcast, Brian and Darryl celebrate 6 years and 300 episodes of the Infamous Podcast with a look back at how we got here and a special 300 review.
Episode Index
Intro: 0:11
The Big Review: 29:49
300 (2007)
Summary
In 480 B.C. a state of war exists between Persia, led by King Xerxes (Rodrigo Santoro), and Greece. At the Battle of Thermopylae, Leonidas (Gerard Butler), king of the Greek city-state of Sparta, leads his badly outnumbered warriors against the massive Persian army. Though certain death awaits the Spartans, their sacrifice inspires all of Greece to unite against their common enemy.
Cast
Gerard Butler as Leonidas
David Wenham as Dilios
Lena Headey as Queen Gorgo
Giovanni Cimmino as Pleistarchus
Dominic West as Theron
Vincent Regan as Captain Artemis
Tom Wisdom as Astinos
Andrew Pleavin as Daxos
Andrew Tiernan as Ephialtes
Rodrigo Santoro as King Xerxes
Stephen McHattie as the Loyalist
Michael Fassbender as Stelios
Peter Mensah as a Persian messenger
Kelly Craig as Pythia
Eli Snyder as young Leonidas (7/8 years old).
Tyler Neitzel as young Leonidas (15 years old).
Robert Maillet as Über Immortal (giant)
Patrick Sabongui as the Persian General
Leon Laderach as Executioner
Tyrone Benskin as the whip-wielding Persian Emissary.
Crew
Directed by
Zack Snyder
Screenplay by
Zack Snyder
Kurt Johnstad
Michael B. Gordon
Based on 300 by
Frank Miller
Lynn Varley
Produced by
Gianni Nunnari
Mark Canton
Bernie Goldman
Jeffrey Silver
Cinematography
Larry Fong
Edited by
William Hoy
Music by
Tyler Bates
Production
Production Companies
Legendary Pictures
Virtual Studios
Atmosphere Entertainment MM
Hollywood Gang Productions
Distributed by
Warner Bros. Pictures
Release date
February 14, 2007 (Berlin)
March 9, 2007 (United States)
Running time
116 minutes
Country
United States
Language
English
Budget
$60–65 million
Box office
$456.1 million
Infamous Shirts for Naked Bodies

…

You'll feel "shirty" when you buy our gear from the Flying Pork Apparel Co.
New Comics This Week – Sponsored by comiXology

Brian
Contact Us
The Infamous Podcast can be found wherever podcasts are found on the Interwebs, feel free to subscribe and follow along on social media. And don't be shy about helping out the show with a 5-star review on Apple Podcasts to help us move up in the ratings.
@infamouspodcast
facebook/infamouspodcast
instagram/infamouspodcast
stitcher
Apple Podcasts
Spotify
Google Play
iHeart Radio
contact@infamouspodcast.com
Our theme music is 'Skate Beat' provided by Michael Henry, with additional music provided by Michael Henry. Find more at MeetMichaelHenry.com.
The Infamous Podcast is hosted by Brian Tudor and Darryl Jasper, is recorded in Cincinnati, Ohio. The show is produced and edited by Brian Tudor.



Subscribe today!