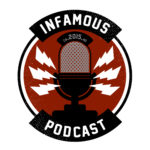 Who Keeps The Gates Open for the Gate Keepers
This week on the podcast, Brian and Darryl at talking about some Ethan Hawke/Blumhouse news, reviewing Heels episode 2, and dig deep into why it seems like actors, writers, and artists think it is okay to bully fans, call them names, and then expect their support.
Episode Index
Intro: 0:11
News Bites: 1:00
Heels: 9:55
Creators Bullying Fans: 27:08
News Bite
Ethan Hawke Horror Film 'The Black Phone,' Poised as Next Blumhouse Smash, Traumatizes CinemaCon https://variety.com/2021/film/news/ethan-hawke-the-black-phone-blumhouse-1235049261
Heels (Season 1 Episode 2)
Title: "Dusty Finish"
Directed by: Pete Segal
Written by: Michael Waldron
Release Date: August 22, 2021
Summary
As the wrestlers at the DWL worry about the fallout from the previous show, Jack struggles with what direction to take the narrative and the league, especially after an enticing offer from the FWD's Charlie Gully. After Ace's humiliating breakdown in the ring, he goes into a tailspin and disappears, causing Jack and Crystal to scour Duffy before Ace does anything too regrettable.
Cast
Main
Stephen Amell as Jack Spade
Alexander Ludwig as Ace Spade
Alison Luff as Staci Spade
Mary McCormack as Willie Day
Kelli Berglund as Crystal Tyler
Allen Maldonado as Rooster Robbins
James Harrison as Apocalypse
Roxton Garcia as Thomas Spade
Chris Bauer as Wild Bill Hancock
Recurring
David James Elliott as Tom Spade
CM Punk as Ricky Rabies
Bonnie Somerville as Vicky Rabies
When Creators Hate Their Fans
AwesomeCon Reportedly Claims There Have Been "No Incidents" After DC Comics Writer Tom King Boasts Of Cussing Out And Having Fan Removed Over Lack Of Mask https://boundingintocomics.com/2021/08/22/awesomecon-reportedly-claims-there-have-been-no-incidents-after-dc-writer-tom-kings-boasts-of-swearing-out-and-having-fan-removed-over-lack-of-mask/ 
Cowboy Bebop Actress Daniella Pineda Appears To Deride Fans Criticizing Netflix's Live-Action Faye Valentine https://boundingintocomics.com/2021/08/26/cowboy-bebop-actress-daniella-pineda-appears-to-deride-fans-criticizing-netflixs-live-action-faye-valentine/
Marvel Writer Dan Slott Polices Fan's Twitter Activity, Blocks Them For Following ComicsGate-Affiliated Accounts https://boundingintocomics.com/2021/08/24/marvel-writer-dan-slott-polices-fans-twitter-activity-blocks-them-for-following-comicsgate-affiliated-accounts/
Marvel Writer Dan Slott Doubles Down On Bullying Fan Over Twitter Activity, Demands Fan Delete Tweets Discussing Previous Incident https://boundingintocomics.com/2021/08/26/marvel-writer-dan-slott-doubles-down-on-bullying-fan-over-twitter-activity-demands-fan-delete-tweets-discussing-previous-incident/ 
Dan Slott Attacks Jimmy From Comic Quirks Over Comicsgate https://www.youtube.com/watch?v=UO7Hb08BGvw
AARON LOPRESTI'S: WRAITH OF GOD GRAPHIC NOVEL https://www.indiegogo.com/projects/aaron-lopresti-s-wraith-of-god-graphic-novel/x/3776080#/
Facebook Removes Bill Sienkiewicz's Anti-ComicsGate Rant For Violating "Community Standards On Harassment And Bullying," Ethan Van Sciver Reacts https://boundingintocomics.com/2021/08/27/facebook-removes-bill-sienkiewiczs-anti-comicsgate-rant-for-violating-community-standards-on-harassment-and-bullying-ethan-van-sciver-reacts/
Infamous Shirts for Naked Bodies

…

You'll feel "shirty" when you buy our gear from the Flying Pork Apparel Co.
New Comics This Week – Sponsored by comiXology

Brian
DUNE HOUSE ATREIDES #9
INFINITE FRONTIER #5
ROBIN #5
STAR WARS DARTH VADER #15 WANTED POSTER VAR WOBH
STAR WARS DOCTOR APHRA #13 WANTED POSTER VAR WOBH
SUPERMAN SON OF KAL-EL #2
Contact Us
The Infamous Podcast can be found wherever podcasts are found on the Interwebs, feel free to subscribe and follow along on social media. And don't be shy about helping out the show with a 5-star review on Apple Podcasts to help us move up in the ratings.
@infamouspodcast
facebook/infamouspodcast
instagram/infamouspodcast
stitcher
Apple Podcasts
Spotify
Google Play
iHeart Radio
contact@infamouspodcast.com
Our theme music is 'Skate Beat' provided by Michael Henry, with additional music provided by Michael Henry. Find more at MeetMichaelHenry.com.
The Infamous Podcast is hosted by Brian Tudor and Darryl Jasper, is recorded in Cincinnati, Ohio. The show is produced and edited by Brian Tudor.



Subscribe today!This