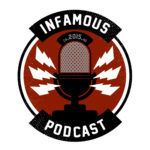 This week we play catch up on some of the best news this week
This week on the podcast Brian and Darryl take a break from the outrage to review Heels, Episode 3, and get caught up on some of the news they found interesting this week.
Episode Index
Intro: 0:11
Heels: 1:09
Al Ewing: 33:50
The Accountant: 48:21
Boba Fett: 56:58
Top Gun: 1:04:26
Dune: 1:19:27
Heels (Season 1 Episode 3)
Title: "Cheap Heat"
Directed by: Jessica Lowery
Written by: Bradley Paul
Release Date: August 29, 2021
Summary
As the wrestlers at the DWL worry about the fallout from the previous show, Jack struggles with what direction to take the narrative and the league, especially after an enticing offer from the FWD's Charlie Gully. After Ace's humiliating breakdown in the ring, he goes into a tailspin and disappears, causing Jack and Crystal to scour Duffy before Ace does anything too regrettable.
Cast
Main
Stephen Amell as Jack Spade
Alexander Ludwig as Ace Spade
Alison Luff as Staci Spade
Mary McCormack as Willie Day
Kelli Berglund as Crystal Tyler
Allen Maldonado as Rooster Robbins
James Harrison as Apocalypse
Roxton Garcia as Thomas Spade
Chris Bauer as Wild Bill Hancock
Recurring
David James Elliott as Tom Spade
CM Punk as Ricky Rabies
Bonnie Somerville as Vicky Rabies
News Bites
Marvel Writer Al Ewing Will No Longer Work With Joe Bennett After Artist Draws Pro-Jair Bolsanaro Artwork https://boundingintocomics.com/2021/09/03/marvel-writer-al-ewing-will-no-longer-work-with-joe-bennett-after-artist-draws-pro-jair-bolsanaro-artwork/
Director Gavin O'Connor Confirms THE ACCOUNTANT Sequel Is Happening with Ben Affleck and Jon Bernthal https://geektyrant.com/news/director-gavin-oconnor-confirms-the-accountant-is-happening-with-ben-affleck-and-jon-bernthal
New Rumor Provides Plot Details About Star Wars' The Book Of Boba Fett Series https://boundingintocomics.com/2021/09/02/new-rumor-provides-plot-details-about-star-wars-the-book-of-boba-fett-series/
Why Paramount moved 'Top Gun: Maverick' to next year, even as theater owners urge Hollywood to release its movies now https://www.msn.com/en-us/movies/news/data-shows-why-paramount-moved-top-gun-maverick-to-next-year-even-as-theater-owners-urge-hollywood-to-release-its-movies-now/ar-AAO1M2J
Venice: Denis Villeneuve Makes Plea for People to Watch His "Immersive" 'Dune' on the Big Screen https://www.hollywoodreporter.com/movies/movie-news/dune-venice-premiere-timothee-chalamet-zendaya-denis-villeneuve-1235008151/
'Dune' Premieres in Venice: Denis Villeneuve Urges Audiences to Watch Movie in Theaters, Timothée Chalamet Hopes for Sequel https://variety.com/2021/film/news/dune-timothee-chalamet-denis-villeneuve-venice-premiere-movie-theaters-1235055413/
Infamous Shirts for Naked Bodies

…

You'll feel "shirty" when you buy our gear from the Flying Pork Apparel Co.
New Comics This Week – Sponsored by comiXology

Brian
BATMAN: FEAR STATE: ALPHA #1
DARK AGES #1 (OF 6) YOUNG VAR
SINISTER WAR #4
Contact Us
The Infamous Podcast can be found wherever podcasts are found on the Interwebs, feel free to subscribe and follow along on social media. And don't be shy about helping out the show with a 5-star review on Apple Podcasts to help us move up in the ratings.
@infamouspodcast
facebook/infamouspodcast
instagram/infamouspodcast
stitcher
Apple Podcasts
Spotify
Google Play
iHeart Radio
contact@infamouspodcast.com
Our theme music is 'Skate Beat' provided by Michael Henry, with additional music provided by Michael Henry. Find more at MeetMichaelHenry.com.
The Infamous Podcast is hosted by Brian Tudor and Darryl Jasper, is recorded in Cincinnati, Ohio. The show is produced and edited by Brian Tudor.



Subscribe today!