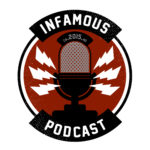 Now We All Needs PS5s
This week on the podcast, Brian and Darryl react to The Matrix Resurrections first trailer, talk PlayStation Showcase 2021, and review the latest episode of Heels on Starz! With maybe a small bit of AEW talk for good measure.
Episode Index
Intro: 0:11
AEW: 1:51
The Matrix Resurrections: 18:10
Playstation Showcase: 29:23
Heels: 49:00
News Bites
The Matrix Resurrections – Official Trailer https://www.youtube.com/watch?v=9ix7TUGVYIo
Marvel's Spider-Man 2 – PlayStation Showcase 2021: Reveal Trailer https://www.youtube.com/watch?v=qIQ3xNqkVC4
Marvel's Wolverine – PlayStation Showcase 2021: Announcement Teaser Trailer https://www.youtube.com/watch?v=Zcj9AzHv_l8
God Of War Ragnarok – PlayStation Showcase 2021 Reveal Trailer https://www.youtube.com/watch?v=EE-4GvjKcfs
Knights of the Old Republic Remake – PlayStation Showcase 2021: Official Cinematic Reveal Trailer https://www.youtube.com/watch?v=aw9RaACjZmM
Heels (Season 1 Episode 4)
Title: "Cutting Promos"
Directed by: Jessica Lowery
Written by: Daria Polatin
Release Date: September 5, 2021
Summary
After a house fire forces Jack and his family to move in with Carol and Ace, the two brothers put their differences aside and their heads together to generate a DWL promo to further grow the league's fan base.
Cast
Main
Stephen Amell as Jack Spade
Alexander Ludwig as Ace Spade
Alison Luff as Staci Spade
Mary McCormack as Willie Day
Kelli Berglund as Crystal Tyler
Allen Maldonado as Rooster Robbins
James Harrison as Apocalypse
Roxton Garcia as Thomas Spade
Chris Bauer as Wild Bill Hancock
Recurring
David James Elliott as Tom Spade
CM Punk as Ricky Rabies
Bonnie Somerville as Vicky Rabies
Infamous Shirts for Naked Bodies

…

You'll feel "shirty" when you buy our gear from the Flying Pork Apparel Co.
New Comics This Week – Sponsored by comiXology

Brian
BATMAN #112
INFINITE FRONTIER #6
STAR TREK MIRROR WAR #0
STAR WARS DOCTOR APHRA #14
STAR WARS WAR BOUNTY HUNTERS #4 (OF 5) JTC ACTION FIGURE VAR
Contact Us
The Infamous Podcast can be found wherever podcasts are found on the Interwebs, feel free to subscribe and follow along on social media. And don't be shy about helping out the show with a 5-star review on Apple Podcasts to help us move up in the ratings.
@infamouspodcast
facebook/infamouspodcast
instagram/infamouspodcast
stitcher
Apple Podcasts
Spotify
Google Play
iHeart Radio
contact@infamouspodcast.com
Our theme music is 'Skate Beat' provided by Michael Henry, with additional music provided by Michael Henry. Find more at MeetMichaelHenry.com.
The Infamous Podcast is hosted by Brian Tudor and Darryl Jasper, is recorded in Cincinnati, Ohio. The show is produced and edited by Brian Tudor.



Subscribe today!