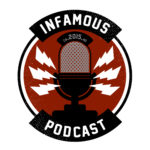 The House of Ideas… Other People's Ideas
This week on the podcast Brian and Darryl, have their requisite review of Heels on Starz, talk about the 2021 Cincinnati Comic Expo, and have a bunch of News Bites for you!
Episode Index
Intro: 0:11
Owen Hart: 2:12
Marcia Lucas: 9:07
Superhero Copyright: 23:17
Cincinnati Comic Expo: 31:58
Heels: 45:11
News Bites
AEW Partners With Owen Hart's Family to Celebrate His Legacy https://www.si.com/wrestling/2021/09/20/aew-owen-hart-foundation-tournament
'Star Wars' Editor Marcia Lucas Slams Kathleen Kennedy, J.J. Abrams and Sequel Trilogy: 'They Don't Get It' https://variety.com/2021/film/news/star-wars-marcia-lucas-kathleen-kennedy-jj-abrams-1235069465/
Steve Ditko Estate Files To Terminate Marvel Copyrights Over Spider-Man And Doctor Strange https://boundingintocomics.com/2021/09/24/steve-ditko-estate-files-to-terminate-marvel-copyrights-over-spider-man-and-doctor-strange/
2021 Cincinnati Comic Expo
K. Lynn Smith – Comic Book Creator, find K. Lynn at www.klynsmith.net
Tony Acree – Author, find Tony at www.tonyacree.com
Odfel – Cosplay, find Odfel at www.odfelcosplay.wixsite.com/odfel
Onrie Kompan – Comic Book Creator, find Onrie at www.hk-collectibles.com
Julian Thomas – Comic Book Creator, www.blackheartcomic.com
Heels (Season 1 Episode 6)
Title: "House Show"
Directed by: Peter Segal
Written by: Michael Waldron
Release Date: September 19, 2021
Summary
Everyone in town is getting ready for the DWL's premiere at the South Georgia State Fair, especially Jack who's running around prepping and promoting to sell 10,000 tickets. However, not all goes well on a podcast with former wrestler Dick Valentine who asked too many personal questions about his father, Tom "King" Spade's death. Meanwhile, 'god-daddy' Ace makes a heartfelt speech at Big Jim's baby's baptism, making him question his character with the people he's been hurting like Crystal and Bobby Pin who has a broken leg and can't wrestle thanks to him. Also, Rooster meets with Gully to discuss a contract in the FWD.
Cast
Main
Stephen Amell as Jack Spade
Alexander Ludwig as Ace Spade
Alison Luff as Staci Spade
Mary McCormack as Willie Day
Kelli Berglund as Crystal Tyler
Allen Maldonado as Rooster Robbins
James Harrison as Apocalypse
Roxton Garcia as Thomas Spade
Chris Bauer as Wild Bill Hancock
Recurring
David James Elliott as Tom Spade
CM Punk as Ricky Rabies
Bonnie Somerville as Vicky Rabies
Infamous Shirts for Naked Bodies

…

You'll feel "shirty" when you buy our gear from the Flying Pork Apparel Co.
New Comics This Week – Sponsored by comiXology

Brian
BATMAN #113
BATMAN THE DETECTIVE #5
DEATH OF DOCTOR STRANGE #1 (OF 5) YOUNG VAR
DUNE HOUSE ATREIDES #10
NIGHTWING $84
STAR WARS BOUNTY HUNTERS #16 VILLANELLI BLUEPRINT VAR WOBH
SUPERMAN SON OF KAL-EL #3
TMNT THE LAST RONIN #4
X-MEN ONSLAUGHT REVELATION #1
Contact Us
The Infamous Podcast can be found wherever podcasts are found on the Interwebs, feel free to subscribe and follow along on social media. And don't be shy about helping out the show with a 5-star review on Apple Podcasts to help us move up in the ratings.
@infamouspodcast
facebook/infamouspodcast
instagram/infamouspodcast
stitcher
Apple Podcasts
Spotify
Google Play
iHeart Radio
contact@infamouspodcast.com
Our theme music is 'Skate Beat' provided by Michael Henry, with additional music provided by Michael Henry. Find more at MeetMichaelHenry.com.
The Infamous Podcast is hosted by Brian Tudor and Darryl Jasper, is recorded in Cincinnati, Ohio. The show is produced and edited by Brian Tudor.



Subscribe today!