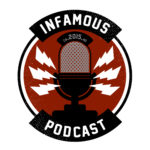 One For Them… One for Us
This week on the podcast, Brian and Darryl are talking Hawkeye episode 3, Wheel of Time episode 4, and the latest installment of what we're watching!
Episode Index
Intro: 0:11
Reacher: 6:24
Shut In: 13:02
Hawkeye: 23:50
Wheel of Time: 45:40
What Are You Watching: 1:01:21
New Trailers
Reacher on Amazon Prime Video https://www.youtube.com/watch?v=GSycMV-_Csw
Shut In from the Daily Wire https://www.youtube.com/watch?v=D5RjpC7_pYU
Hawkeye (Disney+)
Episode 3
Title: "Echoes"
Directed by: Bert and Bertie
Written by: Katie Mathewson & Tanner Bean
Release Date: December 1, 2021
Summary
Lopez interrogates Barton and Bishop about Ronin, who killed her father in the past. Barton manages to free himself and fend off the Tracksuit Mafia, though Lopez breaks his hearing aid in the process. After Bishop is freed, the pair escapes the Tracksuit Mafia and gets Barton's hearing aid fixed. Intending to learn more about the Tracksuit Mafia as well as Duquesne, Bishop convinces Barton to infiltrate Eleanor's penthouse and use her company account to look up Bishop Security's criminal database. However, Bishop is locked out of the system when attempting to bypass security, while Barton encounters Duquesne, who threatens him with Ronin's sword.
The Wheel of Time (Amazon Prime Video)
Episode 4
Title: "The Dragon Reborn"
Directed by: Wayne Yip
Written by: Dave hill
Release Date: November 26, 2021
Summary
Moiraine is healed by the Aes Sedai and shown Logain, who is imprisoned by the continual channeling of several Aes Sedai. Liandrin and some Aes Sedai want to "gentle" Logain, permanently severing his connection to the One Power, but Moiraine believes he might be the Dragon Reborn. Egwene and Perrin travel with the Tinkers, who are heading towards Tar Valon, and Egwene learns that as part of "the Way of the Leaf", they have vowed never to use violence. Rand, Mat, and Thom stay the night with a rural family. Thom tells Rand that he suspects Mat may be able to wield the One Power as his suspicious behavior resembles that of Thom's nephew Owyn, a man who could channel but who killed himself after being gentled by Aes Sedai. That night, the family is killed by a Fade and Thom distracts it, allowing Rand and Mat to escape. Logain's army of followers arrives just as Logain uses the One Power to escape his imprisonment. Kerene Nagashi of the Green Ajah is killed protecting Moiraine and Liandrin from Logain's attack while Lan's throat is slit. Nynaeve heals Lan and the injured Aes Sedai through a stunning display of the One Power that matches the prophecies of the Dragon Reborn. Logain is gentled by Liandrin and the Aes Sedai.
What Are You Watching?
Darryl
Arcane: League of Legends (Netflix)
Cowboy Beebop OG Anime
Christmas Movies (He's a Santa SIMP!)
Hellbound
Brian
Ip Man Film Series (all currently on Netflix!)
Summary
Ip Man is a series of Hong Kong martial arts films based on the life events of the Wing Chun master of the same name. The progenitor of the series was Ip Man, which was followed by two sequels – Ip Man 2, Ip Man 3, the spin-off Master Z: Ip Man Legacy, and the final installment Ip Man 4: The Finale.
Ip Man (2008)
Ip Man (2010)
Ip Man 3 (2015)
Ip Man 4: The Finale (2019)
Ip Man Movie Info
Directed by
Wilson Yip
Screenplay by
Edmond Wong
Based on
Ip Man
Produced by
Raymond Wong
Starring
Donnie Yen
Cinematography
O Sing-Pui
Poon Hang-sang
Kenny Tse
Edited by
Cheung Ka-fai
Music by
Kenji Kawai
Distributed by
Mandarin Films
Pegasus Motion Pictures (3-4)
Release Date
2008–2019
Running Time
322 minutes
Country
Hong Kong
Languages
Cantonese
Mandarin
English
Budget
US $140.6 million
Box Office
US$426.2 million
Infamous Shirts for Naked Bodies

…

You'll feel "shirty" when you buy our gear from the Flying Pork Apparel Co.
New Comics This Week – Sponsored by comiXology

Brian
BATMAN 2021 ANNUAL #1
BATMAN: FEAR STATE: OMEGA #1
DUNE HOUSE ATREIDES #12
NIGHTWING 2021 ANNUAL #1
ROBIN 2021 ANNUAL #1
THE JOKER 2021 ANNUAL #1
STAR WARS BOUNTY HUNTERS #18
STAR WARS DARTH VADER #18
Contact Us
The Infamous Podcast can be found wherever podcasts are found on the Interwebs, feel free to subscribe and follow along on social media. And don't be shy about helping out the show with a 5-star review on Apple Podcasts to help us move up in the ratings.
@infamouspodcast
facebook/infamouspodcast
instagram/infamouspodcast
stitcher
Apple Podcasts
Spotify
Google Play
iHeart Radio
contact@infamouspodcast.com
Our theme music is 'Skate Beat' provided by Michael Henry, with additional music provided by Michael Henry. Find more at MeetMichaelHenry.com.
The Infamous Podcast is hosted by Brian Tudor and Darryl Jasper, is recorded in Cincinnati, Ohio. The show is produced and edited by Brian Tudor.



Subscribe today!