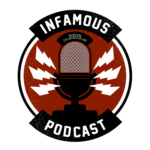 Holy Bat-Slap Batman!
This week on the podcast, Brian and Darryl talk about Will Smith (professional cuck) losing his mind and giving Chris Rock a "Fresh One" at the Oscars. Then Ezra Miller loses his mind on the 2nd anniversary of choke slamming a woman by celebrating with a bar fight. And if talking about celeb-ra-tard hi-jinx wasn't enough for you we have reviews of the latest episodes of Moon Knight and Supes and Lolo.
Episode Index
Intro: 0:11
Ezra Miller: 1:30
The Slap: 8:54
Moon Knight: 39:05
Supes and Lolo: 49:40
Ezra Miller Arrested, The Flash Star Lands In Jail After Altercation In Bar https://www.youtube.com/watch?v=WKT9tG2MXb4
Watch the uncensored moment Will Smith smacks Chris Rock on stage at the Oscars, drops F-bomb https://www.youtube.com/watch?v=myjEoDypUD8
Alan Ritchson Comment… https://www.instagram.com/p/CbpqpnpO2po/?utm_source=ig_web_copy_link
Moon Knight (Season 1 Episode 1)
Out of 5 Split Personalities
Darryl: 3/5
Brian: 2.5/5
Title: "The Goldfish Problem"
Directed by: Mohamed Diab
Written by: Jeremy Slater
Release Date: March 30, 2022
Summary
Museum worker Steven Grant occasionally suffers from blackouts and memories of another life. After going to sleep one night, he wakes up in another country, and witnesses a cult meeting led by Arthur Harrow, who demands a scarab Grant unknowingly had in his possession. He escapes and is nearly killed, but is unknowingly saved by a mysterious voice in his head. After waking up in his home and noticing several oddities, Grant realizes that two days have passed since he went to sleep. Upon returning home from a mis-scheduled date, Grant finds a hidden phone and keycard in his apartment. He gets a call from a mysterious woman called Layla, who calls him Marc. The next day at work, Grant is confronted by Harrow, who reveals that he is a servant of the goddess Ammit. Later that night, Harrow summons a jackal monster that attacks Grant at the museum. Just as Grant is cornered by the monster, his reflection in the mirror tells Grant to let him take control. Grant agrees and he transforms into a cloaked warrior who then kills the monster.
Superman and Lois (Season 2 Episode 9)
Out of 5 Jonathan Doppelgängers
Darryl: 4.5/5
Brian: 4.5/5
Title: "30 Days and 30 Nights"
Directed by: Ian Samoli
Written by: Katie Aldrin & Jai Jamison
Release Date: March 29, 2022
Summary
Ally is freed from the DOD and Superman chases her into the Inverse World. A month passes without his return, so Steel begins filling in for him. On Lana's election day, one parent complains to Jonathan about football season as Lana stands up for him. Jordan secretly rescues Kyle from a fire as Steel puts it out. Having been informed, Lois orders Jordan to not be a superhero. Natalie gets upset at John for not remembering that it is the day her mother died. Sam realizes that the fire was at an X-K dealing hub and promises Jonathan immunity for his source, so Candice comes forward. Sam and Lois are captured at an X-K manufacturing hub, but are rescued by Jordan. Lana wins the election. John and Natalie watch old videos of their Lois. Sarah is upset that Jordan missed the entire day and breaks up with him. Later, the Inverse Jonathan arrives at the Kent house and tells Lois and Jordan that their Clark was "too late." It then shows Superman on the ground.
Infamous Shirts for Naked Bodies

…

You'll feel "shirty" when you buy our gear from the Flying Pork Apparel Co.
New Comics This Week – Sponsored by comiXology

Brian
Contact Us
The Infamous Podcast can be found wherever podcasts are found on the Interwebs, feel free to subscribe and follow along on social media. And don't be shy about helping out the show with a 5-star review on Apple Podcasts to help us move up in the ratings.
@infamouspodcast
facebook/infamouspodcast
instagram/infamouspodcast
stitcher
Apple Podcasts
Spotify
Google Play
iHeart Radio
contact@infamouspodcast.com
Our theme music is 'Skate Beat' provided by Michael Henry, with additional music provided by Michael Henry. Find more at MeetMichaelHenry.com.
The Infamous Podcast is hosted by Brian Tudor and Darryl Jasper, is recorded in Cincinnati, Ohio. The show is produced and edited by Brian Tudor.



Subscribe today!