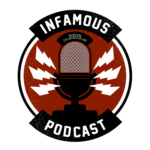 Get Your Titan's Badge!
This week on the podcast, Brian and Darryl follow up on the Ezra Miller Drama, Talk about all the Warner Media Exec Exits, and then review Moon Knight Episode 2, Morbius, and the Daily Wire's latest film release The Hyperions!
Episode Index
Intro: 0:07
Ezra Miller: 01:15
Warners Execs: 07:09
Moon Knight: 14:12
Morbius: 26:28
The Hyperions: 44:23
News Bites
Ezra Miller Arrest Prompts Emergency Warner Bros. Meeting About Star's Future https://www.rollingstone.com/movies/movie-news/ezra-miller-arrest-warner-dc-meeting-1331156/
WarnerMedia's Top Corporate Execs Cleared Out Ahead of Discovery Deal Close https://www.hollywoodreporter.com/business/digital/warnermedia-discovery-executive-departures-1235125772/
Moon Knight (Season 1 Episode 2)
Out of 5 Call Me Mr. Knights
Darryl: 3.5/5
Brian: 2.5/5
Title: "Summon the Suit"
Directed by: Aaron Moorhead & Justin Benson
Written by: Michael Kastelein
Release Date: April 6, 2022
Summary
After being fired for seemingly damaging the museum, Grant uses the keycard to find a storage facility containing the scarab. Grant's "reflection" reveals that he is Marc Spector, another identity living in Grant's body, an American mercenary, and the current Avatar of the Egyptian moon god Khonshu. Spector tries to convince Grant to let him resume control of their body, but Grant refuses and flees. He is confronted by Layla, Spector's wife who was unaware of Grant's existence, before being arrested by police officers working for Harrow. Harrow reveals that he was Khonshu's previous Avatar until he chose to follow Ammit instead and that he seeks the scarab to find her tomb and resurrect her so that she can purge humanity of evil. Layla rescues Grant, but Harrow summons another jackal monster to pursue them. Grant manages to summon a magical suit similar to Spector's and fights the jackal, but is overpowered and eventually allows Spector to take control. Spector kills the jackal, but loses the scarab to Harrow. Khonshu angrily confronts Spector, who promises to find Ammit's tomb before Harrow does. Khonshu threatens to claim Layla as his next Avatar should Spector fail before sending him to Egypt, Grant now helplessly trapped within his own mind.
Morbius (2022)
Out of 10 Living Vampires
Darryl: 6.5/10
Brian: 7.5/10
SYNOPSIS Dangerously ill with a rare blood disorder and determined to save others from the same fate, Dr. Morbius attempts a desperate gamble. While at first it seems to be a radical success, darkness inside of him is soon unleashed.
LENGTH 104 MINUTES
RELEASE DATE APRIL 1, 2002
RATING PG-13
DISTRIBUTION Sony Picture
DIRECTING Daniel Espinosa
WRITING Matt Sazama, Burk Sharpless
COMPOSITION Jon Ekstrand
STARING Jared Leto, Matt Smith, Adria Arjona, Jared Harris, Al Madrigal, Tyrese Gibson
The Hyperions (2022)
Out of 10 Faux Badges Behind the Glass
Darryl: 7/10
Brian: 7/10
SYNOPSIS The Hyperions are a broken-up team of superheroes, suddenly thrown into the spotlight again when two of them go rogue and attempt to gain back their lost superpowers.
LENGTH 1 Hour 30 Minutes
RELEASE DATE March 10th, 2022
RATING TV-14
DISTRIBUTION The Daily Wire
DIRECTING Jon McDonald
WRITING Jon McDonald, Mike Timm
COMPOSITION Oumi Kapila
STARRING Cary Elwes, Penelope Mitchell, Elaine Tan, Alphonso McAuley, Tanner Buchanan, Keli Price
Infamous Shirts for Naked Bodies

…

You'll feel "shirty" when you buy our gear from the Flying Pork Apparel Co.
Contact Us
The Infamous Podcast can be found wherever podcasts are found on the Interwebs, feel free to subscribe and follow along on social media. And don't be shy about helping out the show with a 5-star review on Apple Podcasts to help us move up in the ratings.
@infamouspodcast
facebook/infamouspodcast
instagram/infamouspodcast
stitcher
Apple Podcasts
Spotify
Google Play
iHeart Radio
contact@infamouspodcast.com
Our theme music is 'Skate Beat' provided by Michael Henry, with additional music provided by Michael Henry. Find more at MeetMichaelHenry.com.
The Infamous Podcast is hosted by Brian Tudor and Darryl Jasper, is recorded in Cincinnati, Ohio. The show is produced and edited by Brian Tudor.



Subscribe today!